Poster Session:  Thursday, May 2, Regents Hall 4th floor atrium:
Almost 200 students enrolled in Genetics and Cell Biology will participate in a joint poster session. These nearly 200 students have all studied the same important biological question (What is the effect of spinning Tetrahymena cells) from different perspectives and using different tools and techniques. We believe the scientific knowledge gained from this collaborative investigation will be important and broadly relevant to the research community.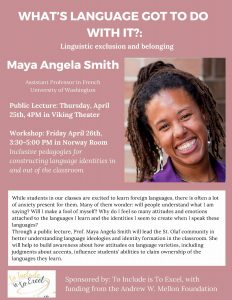 Public Lecture: Thursday, April 25th, 4PM in Viking Theater
Workshop: Friday April 26th,3:30-5:00 PM in Norway Room
Inclusive pedagogies forconstructing language identities in and out of the classroom.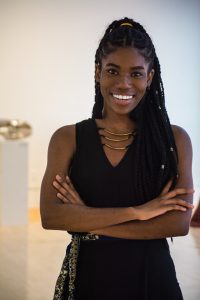 Uprising (February 8 – 24) Curated by Shaquille Brown '19, this annual series narrates the experiences of Black students, faculty, and staff at St. Olaf through the visuand performing arts.
A joint public reception for More Than That and Uprising (curated by Shaquille Brown '19 and generously supported by To Include Is To Excel) will take place on Thursday, February 21 from 7:00 – 9:00 p.m.
WE Project presents Traveling Perspectives, a short movement piece performed in the gallery, Thursday, February 28, 5:15 – 5:45 p.m.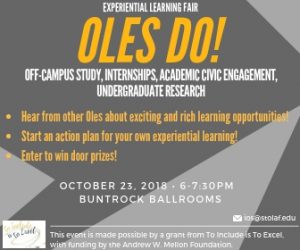 Oles Do!  Off-Campus Study, Internships, Academic Civic Engagement, Undergraduate Research
Discover pathways to exciting and rich learning opportunities! Hear from other Oles all they have DOne with their experiences and how they got there!
Tuesday, October 23 from 6:00-7:30 pm in the Ballrooms.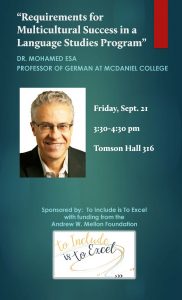 Requirements for Multicultural Success in a Language Studies Program;  September 21, 2018,  3:30-4:30pm – Tomson Hall 316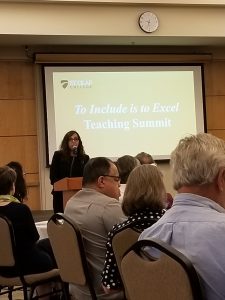 2018 Fall Teaching Summit;  August 30, 2018
Brave New Workshop's "Thank you" to St. Olaf for inviting them to present at the Teaching Summit.