Curated by Shaquille Brown '19
February 8 – 28, 2019
UPRISING is an annual series that narrates the experiences of Black students, faculty and staff at St. Olaf through the visual and performing arts. Hosted in February to coincide with Black History Month, this student-curated exhibition creates space for marginalized voices and fosters community interactions among Black students, faculty, and staff. UPRISING harnesses creative expression to demonstrate how the co-curricular can enhance curricula in departments that seek to improve access and inclusion within their majors.
ABOUT THE CURATOR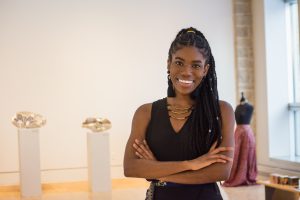 Shaquille Brown '19 is completing a major in Political Science with a concentration in Africa and the Americas. She is a junior from Kingston, Jamaica where she works as an education consultant with TASSLE, formerly Academic Solutions Jamaica, and specializes in managing co-curricular and gap year programs for high school students. In February 2018 she curated UPRISING | BLACK REIGN, an art exhibition that narrated Black expression at St. Olaf in celebration of Black History Month. After St. Olaf, she hopes to explore a career in Education Policy and Curriculum Development.
This exhibition is made possible with support from To Include is to Excel.
Portrait of Shaquille Brown by Aaron Lauby