In October 2018 Flaten Art Museum initiated scientific analysis of an unattributed portrait of the violinist Eva Mudocci, believed to be by Norwegian artist Edvard Munch. During the first phase of the noninvasive examination, analysts from Scientific Analysis of Fine Art (SAFA) collected minute samples – submillimeter in size – from discrete areas of the painting. Long wave ultraviolet light and x-ray fluorescence were used to identify the paint's molecular composition and layer structure. Results from the complete analysis have revealed that the painting is consistent with Munch's working methods, materials, and the time that he spent with Eva Mudocci.
To learn more, read The results are in: Scientists provide compelling clues in St. Olaf's Munch mystery .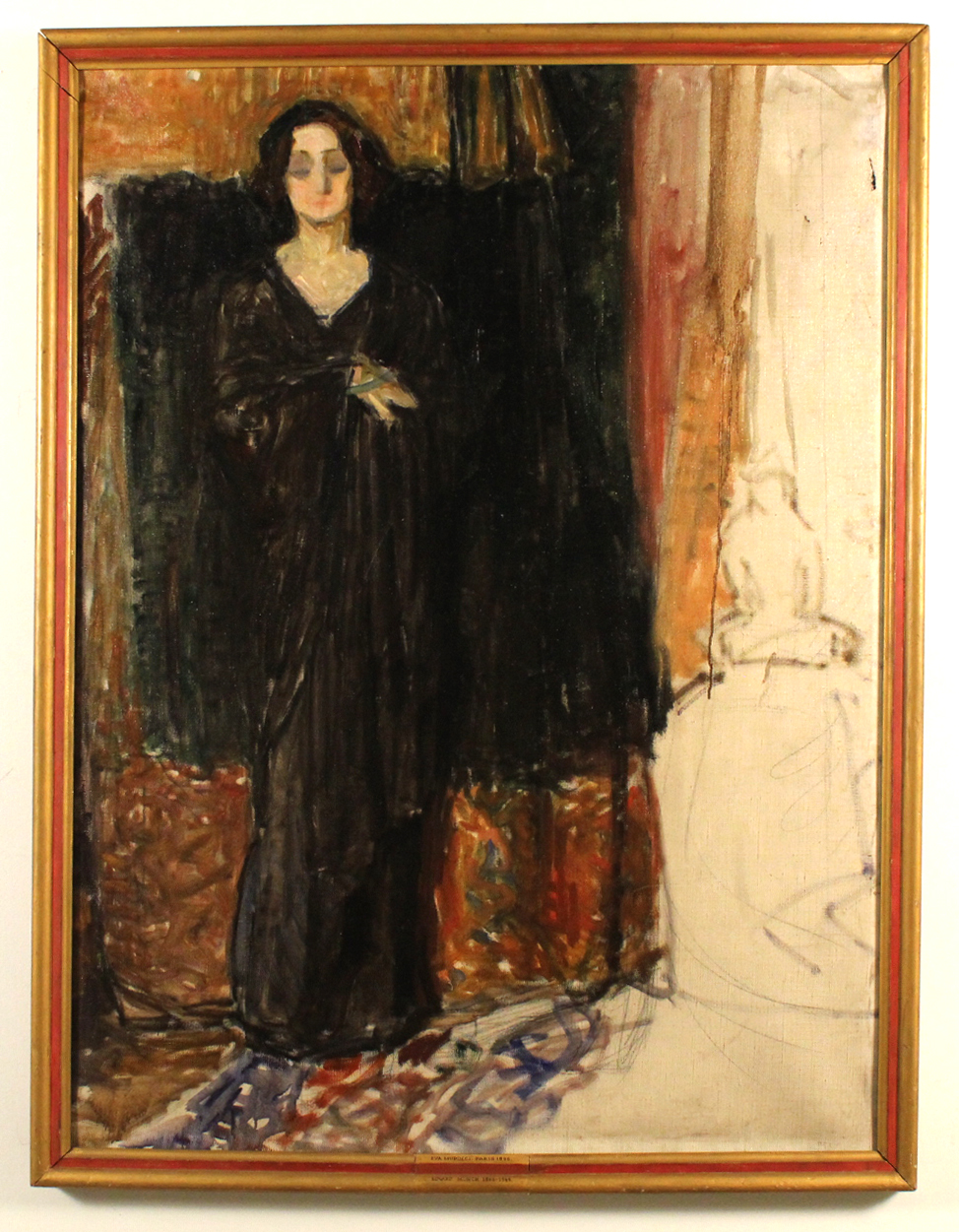 In the News…
The Wall Street Journal:  Minnesota College Has a Portrait by 'The Scream' Painter—Or It Doesn't. Experts Won't Say.
The Wall Street Journal:  "He Painted 'The Scream' and, Maybe, This Woman in Black" 
Minneapolis-St. Paul Business Journal:  "St. Olaf gets more clues in its maybe-a-Munch mystery" 
TV2 News Norway: "Kan ha avdekket ukjent Munch-skatt (May have uncovered unknown Munch)"
WCCO TV: "Analysis Lends Support To Rumors That St. Olaf Painting Is An Edvard Munch Original" 
Artnet News:  "This Small Minnesota College Thinks It Owns a Munch"
Minnesota Public Radio: "Likelihood grows that St. Olaf has a painting by Munch" 
MPR News "All Things Considered" segment: Likelihood grows that St. Olaf has a painting by Munch
Star Tribune: "Did famed artist Edward Munch paint this Minnesota portrait? Analysis points to 'yes'" 
FOX 9 News: "Real or Fake? Art mystery draws to a close at St. Olaf College" 
. . .
SAFA analysts Jennifer Mass, Ph.D. and Adam Finnefrock, Ph.D. spoke about technical art history, its applications, and the examination of this intriguing portrait in a public lecture on campus. The lecture is archived for on demand viewing.
To learn more about this project, read A Munch Mystery.
In the news…
Minnesota Public Radio: Experts Tackle Munch Mystery
Star Tribune: Mystery at St. Olaf: Is this an authentic painting by 'Scream' artist Edvard Munch?
Fox 9: Experts investigate art mystery at St. Olaf College
KSTP: An Edvard Munch original? Masterpiece mystery under investigation at St. Olaf
WCCO-TV: Experts say portrait donated to St. Olaf could be authentic Munch painting
BringMeTheNews: Portrait hanging at St. Olaf's College may be a genuine Edvard Munch