Flaten Art Museum holds a rare collection of 147 distinctive World War II propaganda posters and broadsides that are enhancing scholarship and undergraduate research at St. Olaf College.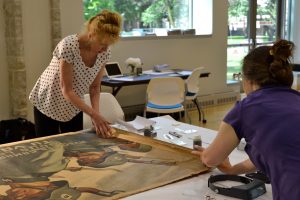 In 2015, St. Olaf College's Flaten Art Museum accepted a rare collection of World War II propaganda posters and broadsides through a bequest from the Estate of Richard N. Tetlie. The posters are distinctive in that they were produced for circulation throughout Nazi-occupied Europe, including France, Belgium, Luxembourg, and the Soviet Union. The material not only provides evidence of familiar Nazi efforts to encourage racial ideologies, foster distrust of the Allies, and rally Occupied peoples to the Nazi war effort, but also offers a visual vocabulary that illustrates how Nazis manipulated the traditions, anxieties, and political dynamics of Occupied populations in the service of pacification, persuasion, and terror.  
The posters were gathered by Major Duncan Emrich, historian for General Dwight D. Eisenhower, in the months following Europe's liberation from Nazi occupation. After a 1945 exhibition at the Museum of Science and Industry in New York, the posters were held in a private collection for seven decades before arriving at St. Olaf College.
In June 2016, Flaten Art Museum contracted the Midwest Art Conservation Center to complete a Detailed Conservation Assessment of the collection. Full conservation treatment is required before the collection can be actively used for exhibitions, teaching, and learning across a myriad of disciplines. Stabilizing, conserving, and digitizing the collection will ensure that this invaluable collection enhances scholarship and undergraduate research for generations to come.
Read more about the story of these historic posters in an article published by the Star Tribune in June 2017.
WWII Propaganda Poster Article (1) WWII Propaganda Poster Article (2)