The TRIO McNair Scholars Program is a graduate school preparatory program funded by the U.S. Department of Education and sponsored by St. Olaf College. The TRIO McNair Program was founded in 1989 and initiated at St. Olaf College in 2007. Nationally there are 200 McNair programs working with over 5,000 students.
The federally mandated goal of McNair is to increase the number of low-income, first-generation, and underrepresented students who participate in undergraduate research, graduate with a B.A., and immediately enter and complete graduate school, with a specific focus on obtaining a Ph.D.

Participants                                                                                                                     
Annually, 28 undergraduates participate in the St. Olaf TRIO McNair Scholars Program.
Two-thirds of the participants meet federal income guidelines and are from a family in which neither parent graduated from a four-year postsecondary educational institution.
One-third of the participants may be from groups that are traditionally underrepresented in graduate studies and the professoriate. (The federal government defines "underrepresented" to include: Black (non-Hispanic); Hispanic; and American Indian/Alaskan Native, Native Hawaiians and other Pacific Islanders.)
Participants have completed at least 2 courses in their area of research interest and have a GPA of 2.75 or higher.
Services
The TRIO McNair Program provides opportunities for participants to develop graduate school level skills necessary to gain admission to and complete graduate study. Scholars receive assistance with: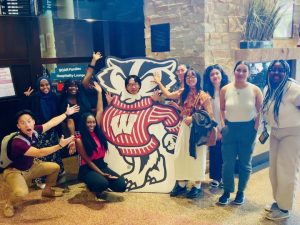 Proactive academic and personal advising
On or off-campus internship/research placement – summer of sophomore year to explore fields of study
On-campus research experience – participants are paired with a faculty mentor in their field
Summer research writing class (one credit & WAC)
Preparation for graduate school admissions tests
Graduate school search, grad visits and application assistance
Financial aid, fellowship, and scholarship application assistance
Objectives and Outcomes
All TRIO McNair projects must meet the federally approved program objectives each academic year. Following are the St. Olaf TRIO McNair objectives: Objective 1: 90% of participants will complete research or scholarly activities each academic year. Objective 2: 40% of B.A. recipients will enroll in graduate school immediately following graduation. Objective 3: 80% of first-year graduate students will continue to be enrolled in graduate school. Objective 4: 10% of participants will attain a Ph.D. within ten years. (Click here for the St. Olaf TRIO McNair Scholars Program Roster (2007-Present).
St. Olaf TRIO McNair Alumni Summary (2007-2022)
186 Students Served Since 2007; 82% are from backgrounds underrepresented in graduate school; 77% are from first-generation-to-college backgrounds
67% of McNair graduates are enrolled or have completed graduate school
45% of students have completed or are enrolled in a Master's program
22% of students have completed or enrolled in a Ph.D. or MD program
32% have completed or enrolled in a graduate program in STEM
41% of Scholars who enroll in graduate school, enroll immediately after graduation
Over 75 St. Olaf Faculty have served as Research Mentors
McNair Scholars Faculty Mentors
McNair faculty mentors are professors from all disciplines at St. Olaf College and are interested in guiding summer research experiences with high potential, first-generation, and minority undergraduates. McNair Scholars faculty members are recognized by colleagues and students as exceptional professors and campus leaders.
(Dr. Jean Porterfield is pictured with her 2022 summer research team.)

The St. Olaf TRIO McNair staff are members of the McNair Association of Professionals, Minnesota TRIO Association, Educational Opportunity Association, and the Council for Opportunity in Education. St. Olaf College is also an awarded First Gen Forward Institution.
Support Resources: St. Olaf College is committed to creating and maintaining an environment in which all members of the St. Olaf community are treated with respect and dignity, free from bias and harassment. Incidents of bias, harassment, and hate crimes all include some form of unwelcome conduct that is based on a person's race, color, creed, religion, national origin, sex, sexual orientation, disability, age, marital status, status with regard to public assistance, or any other protected class status. If you need assistance, please check out these resources or contact the McNair staff. Use this form to report any behaviors of concern involving St. Olaf students, faculty or staff. If you have any questions regarding filing an incident report, please contact the Director of Title IX and Equal Opportunity or the Vice President for Equity and Inclusion.