Pizza Thursday is an event hosted by the Philosophy department every Thursday during community time. This gathering is open to all interested in Philosophical discussion. A Philosophy faculty member typically hosts the discussion. Topics have ranged from 'Is There Life After Death', to 'Anarchy'.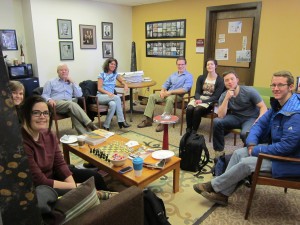 Above: Jane Barrash '78 interacting with Philosophy majors and faculty during the discussion on February 26, 2015.
Students gather in the Philosophy lounge to discuss the topic of the day.