New Faculty
The Philosophy department is pleased to announce that two new faculty will be joining us this fall.  Brian Soderquist, Endowed Kierkegaard Chair in Christian Philosophy and Anna Strelis-Soderquist, Curator of Hong Kierkegaard Library.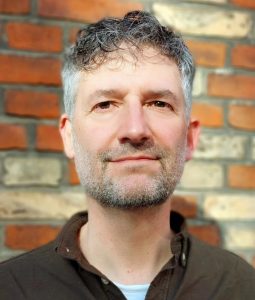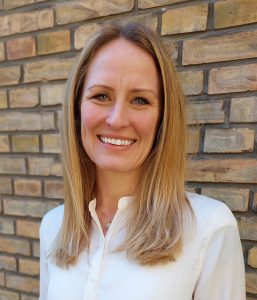 Student Presents papers at Conferences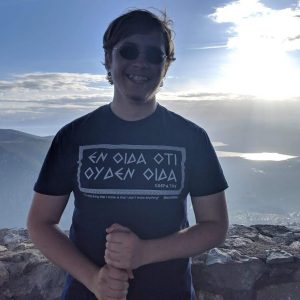 Alex Cavender, '19,  gave papers at two separate conferences.The first conference: "Is There a Secular Virtue of Chastity?" at Christopher Newport University (Newport News, VA), March 29-30. The title of his paper was: "Common Ground and the Roots of Disagreement Within the Church's Homosexuality Debate."
Note from Alex:  "I attended this conference thanks to funding from the Kent Johnson Fund in order to present a paper based on my past summer's research at the University of Iowa with Dr. Diana Cates in the religious studies department. It was an excellent conference, with speakers from all around the world covering a wide range of topics and perspectives on various questions concerning sexual ethics. My paper regarding the controversy of the morality of same-sex sexual acts in contemporary Christian sexual ethics was well-received, and I enjoyed the opportunity to present on the topic."
The second conference: Mountain-Pacific Meeting of the Society for Christian Philosophers at the College of Southern Nevada (Las Vegas, NV), April 5-6. Paper title: "An Alternate Possibility for the Compatibility of Divine Foreknowledge and Human Freedom."
Note from Alex: ." I was able to present at this conference as part of my Magnus the Good research fellowship (also funded by them) with Professor Arthur Cunningham regarding our proposed solution to the classic problem of divine foreknowledge and human free will. I greatly enjoyed meeting other philosophers at this conference and attending many interesting presentations centered on the theme of Christian materialism and the philosophy of mind. My presentation went over well, and I received more helpful feedback for Professor Cunningham and I to integrate into our research as we continue to co-write an article for publication in the near future."
Alex is the first student to receive a grant from the Kent Johnson fund.
New Funding for Undergraduate Research in Philosophy
The Philosophy department has received a generous gift of $25,000 for the purpose of funding mentored undergraduate research in philosophy. This gift was made in honor of Kent Johnson, a Paracollege student who worked with a number of philosophers and Classicists. He received an MA in philosophy from the University of Florida and a Ph.D. from Rutgers. He then earned tenure at University of California–Irvine in the Department of Logic and Philosophy of Science working on issues at the intersection of linguistics and philosophy of language.  In addition to being a successful scholar, Kent was a kind, thoughtful person, much loved by those who knew him.
Philosophy Major to Give Paper
Alexander Cavender '19, has recently been invited to present his paper, "Time: A Moving Image of Eternity," at the 2017 Minnesota Philosophical Society Conference and Undergraduate Conference, held at St Cloud University on Nov. 4th. Alex will be
presenting alongside other undergraduate philosophers from universities and colleges around Minnesota, as well as members of MPS.
Professor Douglas Headley Gave Lecture on Tuesday, November 15th, 2016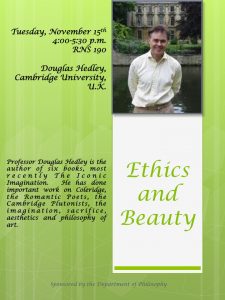 Professor Douglas Headley, from Cambridge University, gave a lecture on Tuesday, November 15th. His lecture was on Ethics and Beauty.
Professor Douglas Hedley is the author of six books, most recently Thelconic Imagination. He has done important work on Coleridge, the Romantic Poets, the Cambridge Plutonists, the imagination, sacrifice, aesthetics and philosophy of art.
All are welcome to attend.
Z Quanbech '17 Gave Talk in Chapel
Philosophy major Z Quanbeck gave a talk in the St. Olaf chapel on Monday, November 7. To watch the service, click here.
Endorsement From Routledge Publishing
When I needed to hire a new Editorial Assistant this spring, I tried an experiment.  Instead of relying exclusively on the recruiting system set up by our Human Resources Department, I also sent the job description to a handful of my trusted authors to see if they would like to suggest any former students for the job.  It was early June, so the timing was right.
It's a testament to Charles Taliaferro's advocacy on behalf of new St. Olaf alumni that he would respond as quickly as the next day with three names – all recent graduates who had majored in philosophy, and all of them stand-out undergraduate scholars.  All three ended up expressing interest in the position, and so I Skype interviewed each of them twice.
Editorial Assistants usually stay in the job for about two years before moving on to bigger things.  And given the length of my tenure as a commissioning editor,  I've now interviewed 40 or so EA candidates.  Never have I encountered a pool of candidates as cumulatively talented, professional, personable, knowledgeable and curious (both intellectually and about the particulars of the job) as this last one.  Because Routledge is located in New York, I've been fortunate enough over the years to interview plenty of sharp, former students from Ivy League and other elite schools in the northeast.   I found the three St. Olaf candidates to be just as, if not more, knowledgeable about the discipline of philosophy as were graduates from places like Columbia, Princeton, and Swarthmore.  But all of the Olaf grads also were naturally poised, knew a good deal about academic book publishing, seemed to lack fear or even any nervousness, and were eager to answer my questions thoughtfully and ask me both necessary and interesting ones of their own.   Their personalities—far from being wrung dry by four years of hard labor—appeared to have naturally absorbed the fruits of their learning.
In our increasingly technological and ever-practical age of career anxiety, a lot of questions are being asked about the value of the humanities.  Several philosophers have admirably risen to the challenge of answering these questions, but my experience with these St. Olaf graduates is the strongest testament I've encountered recently for the value of the humanities in general and philosophy in particular.  It was my deep pleasure to interview all three of them.
Andrew Beck, Senior Editor, Routledge, New York City
Professor Fuerstein Receives NEH 'Enduring Questions' Grant
St. Olaf College Assistant Professor of Philosophy Mike Fuerstein has been awarded a National Endowment for the Humanities Enduring Questions grant to fund a course centered on the question "What is value in the marketplace?"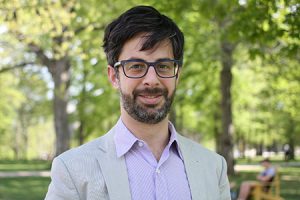 The course, which will be offered for the first time in the fall of 2017, will explore the complex intersection between economic value and moral value in the exchange of goods and services. Drawing on texts from economics and philosophy, it will trace and assess the connection between these two ways of valuing, from the ancient world to modern stock markets to bitcoins.
The Enduring Questions grant program supports the development of courses that foster deep and sustained engagement with fundamental concerns of human life. These courses encourage faculty members and undergraduate students to explore such enduring questions through encounter with influential ideas, works, and thinkers across the centuries.
The questions that Fuerstein's course will push students to ponder include those ranging from "What makes a price fair?" to "What is priceless?"
Fuerstein's interest in developing this course arose from his participation in an interdisciplinary group of social philosophers, economists, and business executives called the Society for Progress. "The primary aim of the group is to rethink the theory and practice of business in a way that better aligns profit with social progress," Fuerstein explains.
In the case of market values, "public discussion tends to be dominated by polarizing, unreflective ideologies that mask the true significance and complexity of what is at stake," says Fuerstein.
According to Fuerstein, market values are simultaneously the solution to and the source of many of the world's greatest challenges today. For example, market efficiency and market freedom can raise the standard of living for people around the world while at the same time threatening local cultures and engendering global inequality.
"This course aims to give students a basis for critically discussing and investigating these ideas, which at present figure in so many pressing political, social, and personal decisions," Fuerstein says.
Pedro Monque and Empoderando a Latinoamerica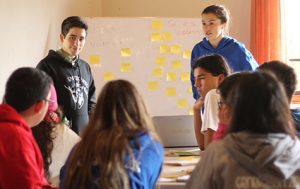 Pedro Monque was featured on St. Olaf's front page, when he discussed his work last summer with Empoderando a Latinoamerica, a non profit organization dedicated to empowering Latin American teens . To read Pedro's article, click on this link.
Maria Pontoppidan Gave a Lecture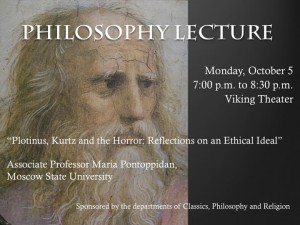 October 5, 7-8:30 pm
Viking Theater
"Plotinus, Kurtz and the Horror: Reflections on an Ethical Ideal"
Associate Professor Maria Pontoppidan teaches at Moscow State University. The lecture was sponsored by the departments of Classics, Philosophy, and Religion.
Philosophy Major Greg Gianopoulos receives an Explo at Yale internship
Greg Gianopoulos '16 received an Explo at Yale internship. He will receive room and board at Yale plus a small stipend and will be teaching an introductory philosophy course to high school students on the Yale campus.
For more details on this internship, visit: http://www.explo.org/360/yale
Two Philosophy Majors Co-present on the Philosophy of Aging at the University of MInnesota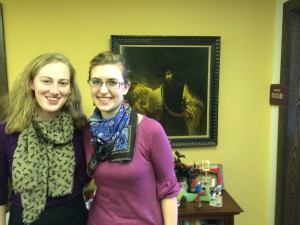 Two of our outstanding third-year philosophy majors, Meredith Varie '16 and Vera Lochtefled '16, joined Professor Charles Taliaferro in presenting a one-day "immersion" course at the LearningLife program of the University of Minnesota's College of Continuing Education on Saturday, December 6 (9am to 4pm) on the philosophy of aging.  They did a wonderful job presenting and discussing the nature and meaning of aging in different contexts, at different stages, and the many philosophical questions arise about health care.
Professor Charles Taliaferro and Christoph Porot '13 Discuss Homeland
Professor Taliaferro and Christoph Porot (Class of 2013) have an article published in a new book. The book's title is 'Homeland and Philosophy', edited by Robert Arp, and published by Open Court. The title of the article is 'Afraid to Get Your Hands Dirty?'