Please see Override Instructions for Students for additional information on Overrides.
---
Registration Instructions
1. Log in to the Student Information System (SIS) and complete any remaining registration holds. You will not be able to continue until all holds are completed.  If you need a proxy, please email Renae Althoff to discuss options.
2. Create a wishlist before your registration time. A wishlist allows you to add all courses you are interested in taking to one place.  By adding multiple course options in advance, you will be able to click on "Add" directly from your wishlist once registration opens.  Not creating a wishlist will slow down the registration process by having to search for each class and then click on the Add button.  Simply use the search feature, and then click "Add to Wishlist."
3. View the registration schedule here. Log in before your designated registration time so that you are ready by clicking on Registration on the left side for the correct term.  Registration is live and immediate once your time begins.  Add courses from your wishlist if you created one.
4. If you have been given a reserved seat for a particular course, you will see it at the top. Plan your other courses so that they do not conflict with the time of the course in which you have a reserved seat.

5. If you still have a WRIT 111, REL 121, WRIT 120, or FYS 120 course left to take, you'll see it in the purple First-Year course box. Click Find Courses to see the available sections, and then click the Add button to add the section you wish to add.


6. In the teal box labeled Course Placement, you will find any placement survey results. If you wish to add a course that you placed into this term, click Find Courses to see the available sections and click the Add button. Placement information can also be found in SIS under Advising Information.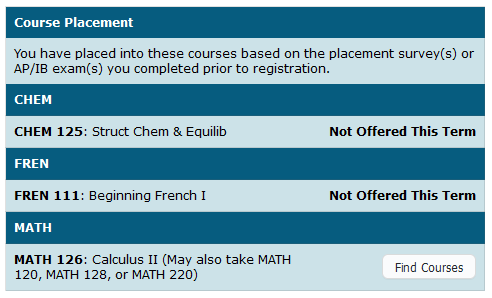 7. Complete your registration by using the various search parameters under Search for a Course.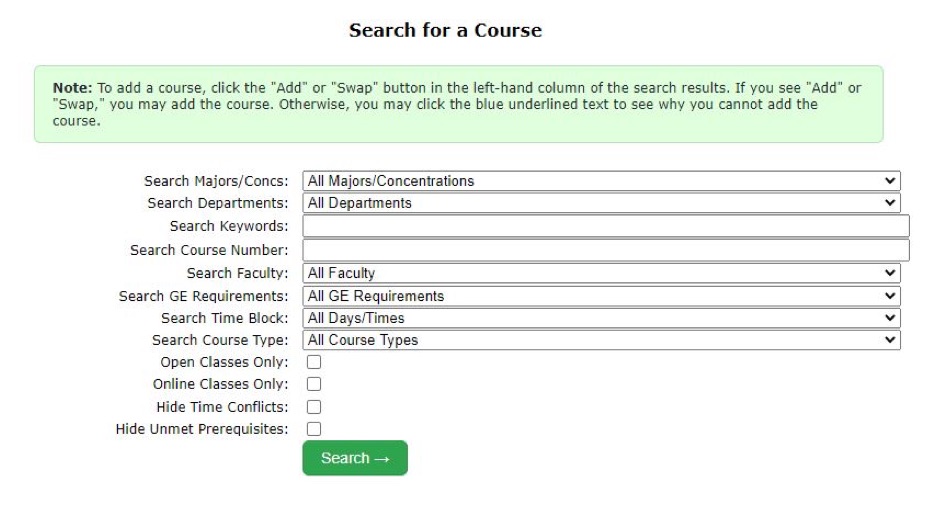 8. Use the Drop and Swap buttons to make registration changes. Remember that registration is live and another student may register for a course immediately after you drop it.  The course may close and not be available for you to add again. You will be able to add and drop courses until the day before classes begin for each term. The system will not allow you to drop to zero credits.  Contact the Registrar's Office if you have any questions.


7. If a course you want to register for says Prereqs Not Met or Course Full next to it, you cannot register for the course without permission from the instructor. Click on the button to access the Override Request form. See instructions for Requesting an Override.


8. If you have questions, use the chat function in SIS during our office hours: Monday-Friday 8:00 AM-5:00 PM Central Time. If you have questions outside of our regular working hours, the chat function will give you an option to email your question. We will respond when we are back in the office.
NOTE: The chat will be staffed during the early morning hours during registration week.