The Spanish faculty is committed to making the Spanish language and Hispanic literatures and cultures come alive for our students. Our immediate objective is to help students learn to communicate effectively in Spanish and to appreciate the cultural, linguistic, and ethnic diversity of the Latin American, Spanish, U.S. Latino/a and Hispanic-influenced cultures in general. We therefore offer a wide variety of courses in language, linguistics, literature, and culture that focus on the past and present of Spain, Latin America, and the Hispanic U.S. In addition, we encourage students to study in Spain or Latin America and to experience Hispanic cultures first hand.
Please click on the Ñ to see pictures of past events from our familia.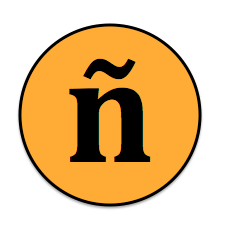 Are you a Spanish major? If so, then you are part of la familia Ñ!  Claim your Ñ button and wear it with orgullo! 
#spanishatstolaf #lafamiliaÑ
Use our hashtags to share your experiences as part of our Ñ family!
and follow us on Instagram under "SpanishEnStOlaf"
Why Study Spanish?
The President's Commission on Foreign Language and International Studies reported that knowing only one language has become a serious handicap for Americans in business, trade, and international relations. For these reasons, as well as personal and cultural ones, learning an additional language is important. And learning Spanish can be particularly important. Spanish is spoken in twenty countries, including most of our neighboring countries in Latin America, and in the U.S. Clearly, the coming decades will bring a rich diversity of challenges and multiple opportunities for bilingual professionals, and informed citizens.