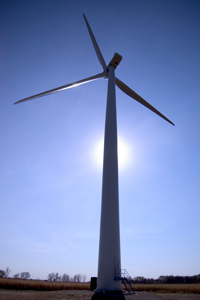 Environmental responsibility and sustainability are part of the fabric of St. Olaf College.
Long before sustainability became trendy across the nation's campuses, members of the St. Olaf community were attending to the college's natural surroundings and practicing thoughtful environmental stewardship while advocating greater social and political awareness.
From the curriculum to the preservation of St. Olaf's natural lands, from advanced research to energy conservation and local purchasing of food products, the college has been actively engaged in seeking out solutions and advancing the well being of the planet.
Here are just some of the many ways St. Olaf, as a college and as a community of individuals, is working toward environmental sustainability:
Curbing Carbon Emissions and Enhancing Energy Conservation — The college has worked to achieve a significant reduction in both per capita and total annual carbon emissions and has been able to achieve a very low carbon-per-student rate of 5.5 metric tons of carbon dioxide equivalencies.
Restoring St. Olaf College's Natural Lands — For several decades, St. Olaf has been involved in restoring natural habitats on neighboring lands owned by the college.
Recycling and Composting — Nearly 175 tons of food waste is composted annually and 100 percent of the compost that is generated is used on college-owned land, including in the landscaping and maintenance of the grounds.
Local and Sustainable Food Sources — Bon Appétit, the St. Olaf food service provider, purchases from 15 local producers of fruits and vegetables, beef, lamb, pork, and dairy. STOGROW, the student-run organic farm, provides food products directly to Bon Appétit.
New Buildings and Renovations — Regents Hall of Natural and Mathematical Sciences was designed and constructed to be St. Olaf's first LEED Platinum facility. Major new construction and renovations will be registered with the U.S. Green Building Council and have Gold certification as their goal.
Education and Research — In addition to a highly popular environmental studies major, where students may pursue tracks in natural science, social science, and the arts and humanities, faculty and students with the St. Olaf Center for Geophysical Studies of Ice and Climate are involved in important research on climate change in Antarctica, Alaska, and the Arctic.
Community Engagement — Some 15 environmentally focused student organizations and clubs operate under the umbrella of the St. Olaf Environmental Coalition, offering educational programming, building awareness on campus, and promoting public policy advocacy.