Last Spring Event: Controversial Conversations
Friday, April 15,  4pm , Taylor Center Lounge (BC111)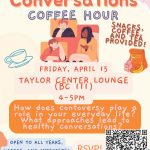 JOIN US! 
Coffee Hour is a monthly campus event that create opportunities for collaborative dialogues around issues that currently impact the lives of Oles, especially on areas of identity, global issues, social justice, student wellbeing and culture.
Each meeting is hosted by the Taylor Center Student Program Assistants and focuses on a different topic. It is a powerful way, through conversation, to learn and integrate new ideas about day to day issues.
We provide the space, coffee /tea, and refreshments* for students, faculty, and staff of all backgrounds to come meet new people and engage in meaningful conversations.
*Due to Covid-19 drinks and refreshments may be available for takeout only.
Have an idea for a discussion topic? let us know at charlt1@stolaf.edu