Faculty Research and ACE-related Projects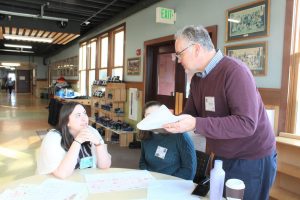 The Northfield News covered the 2020 iteration of "Opera Creation: Civic Engagement" course led by Dale Kruse (Music). They partner with the Prairie Creek Community School students and teachers to create a brand new opera during Interim. This year the opera's theme was, "Who is Prairie Creek?"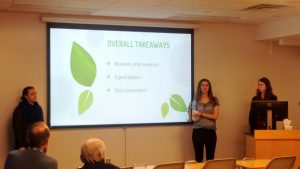 Seth Peabody, Visiting Assistant Professor in German, convened a session at the 2019 German Studies Association on "Sustainability and German Studies: From Ecocriticism to Community Engagement." Here is his reflection paper on the course and its impact that was shared to participants.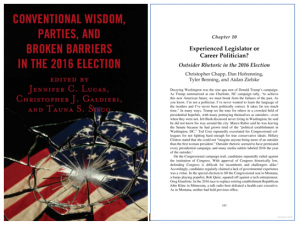 "Experienced Legislator or Career Politician?" by Professors Christopher Chapp and Dan Hofrenning and students Aidan Zielske ('18) and Tyler Benning ('17) article was published in the 2017 book Conventional Wisdom, Parties, and Broken Barriers in the 2016 Election, edited by Jennifer C. Lucas, Christopher J Galdieri, and Tauna Starbuck Sisco. The article was informed by work completed in two of Christopher's ACE courses from the Fall 2016.
Rural Immigration Network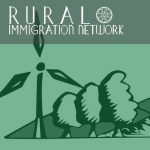 by Kathy Tegtmeyer Pak – "RIN allows community builders to learn from others like themselves, creating an online network that stretches across geographic distances and highlights efforts to empower and support immigrant newcomers in rural areas."
Immigration and Diversity Research by Kathy Tegtmeyer Pak – Research and events designed in cooperation with St. Olaf students and multiple community partners in Rice County, Minnesota, including the Faribault School District, Faribault Community Education, Growing Up Healthy, and the United Way of Faribault.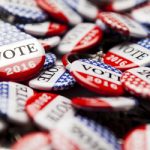 In January 2016, Dan Hofrenning took 20 students to New Hampshire to work with campaigns as part of his New Hampshire Primary January interim course. Some of the students blogged about their experiences for the Star Tribune. Professor Hofrenning also appeared with two students who took part in the course on the TPT program Almanac.  See also, St. Olaf News article on New Hampshire course.  Dan Hofrenning and co-authors Laurel Elder and Andrew Seligsohn examine the impact of working in a political campaign on students' civic attitudes and engagements in the article,  Experiencing New Hampshire: The Effects of an Experiential Learning Course on Civic Engagement (2007).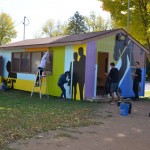 The Way Park Warming House – Art students in Michon Weeks' course Projects in Public Art painted the warming house for a local ice rink.  They also participated in a public event at the same park, the Pumpkin Festival, held on October 25, 2014.  St. Olaf students hosted a pop-up gallery in the warming house where community members of all ages congregated to create and share art.    Read more about the project in this Northfield News article.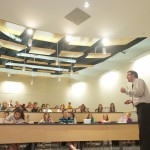 Students in Introductory Psychology were asked to develop a presentation about psychology to teach to students in a local elementary school.  Topics were selected by students from one chapter of the course textbook.   Read more about the "Students Teaching Students" project, which has been ongoing to approximately ten years, on the project website.  See also: Muir, G. M., & van der Linden, G. J. (2009). Students teaching students: An experiential learning opportunity for large introductory psychology classes in collaboration with local elementary schools. Teaching of Psychology, 36(3), 169-173.
Ethical Issues in Software Design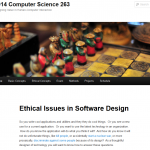 – In this Computer Science course, which is taught every spring by Chuck Huff, student-consultants analyze ethical and social issues associated with computing systems in a variety of client organizations.  Past clients have included on-campus clients, local government agencies, school systems, various non-governmental agencies, for-profit manufacturers, and Fortune 500 companies.  In this article, Computing Ethics: Toward a Pedagogy of Ethical Practice, Huff and Furchert explain how teaching ethics in this way brings together ethical knowledge and practice.