How long does commencement last?
The ceremony will last about two hours.
Where does my student get a cap and gown for commencement?
Students will pay for and pick up their caps and gowns at GradFest – a one stop shop for all their commencement needs. Orders must be placed in March through Jostens.
Do I need to register for the weekend events?
Pre-registration is required for on-campus housing and for certain meals. All other events during the weekend are free and open to the public. Meal tickets and housing assignment available for pick-up when you check in. Please register early and don't forget to register your graduating senior!
We will offer on-site registration in Buntrock Commons on Saturday and Sunday
Where can I order graduation announcements?
Graduation announcements can be purchased through Jostens.
How can I order photos from the ceremony?
St. Olaf works with GradImages to photograph students as they leave the platform. Visit GradImages to pre-register your permanent email address prior to commencement and they will contact you as soon as your photos are ready for viewing. GradImages will contact you by mail following the ceremony with information on ordering photographs. For further information or to view your photos after Commencement, visit gradimages.com or call 800-261-2576.
Can family members who are unable to attend view events online?
Yes! The Last Lecture, Celebration Concert, Illumination Ceremony, Baccalaureate, and Commencement will be streamed and available on-demand.
Are pets welcome on campus?
We request that you do not bring any animals, other than service animals to the St. Olaf campus.
Does St. Olaf have wheelchairs available?
Campus wheelchairs are limited to emergency use only. If you need a wheelchair for use throughout the weekend, you will need to make arrangements with your local medical supply store.
Hotels are full in Northfield. Where else can we stay?
Rooms in the residence halls are available for family and friends who wish to stay on campus for Friday, Saturday, and Sunday nights. The cost is $35 per person per night. Each room is furnished with one or two single beds. Bed linens (pillow, sheets, and a blanket) and towels are provided. Bathrooms are not located in your room. You may wish to bring an extra blanket, hangers, an alarm clock, a fan, and sleeping bags for children wishing to sleep on the floor. Keys are not issued for individual residence hall rooms, so we encourage you to leave your valuables at home. Out of consideration for students and guests, pets are forbidden in residence halls.
Hotel options are available in the nearby cities of Fairbault, Lakeville, Burnsville, Bloomington, or Eagan.
Where should I park on campus?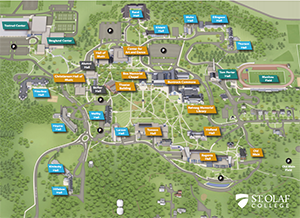 If you are staying on campus for the weekend: Please park in the lot nearest Ellingson Hall, or the lot between Mohn Hall and Kildahl Hall.
If you are coming to campus on Saturday: Please park in the Buntrock Commons lot, the lot near Rand Hall, or parking spaces on the roadway.
If you are coming to campus on Sunday: Please park in the Buntrock Commons lot, Old Main Field (the grass lot off Lincoln Street, between 1st Street and 2nd Street), the lot nearest Rand Hall, or the lot near Skoglund.  There will be a shuttle pickup from the grass lot for the Commencement ceremony.
Please note that some parking areas may be restricted for handicap accessible parking on Sunday.