How long does Commencement last?
The ceremony lasts about two hours.
Are tickets required for the Commencement ceremony?
No tickets are needed for general seating if Commencement is held outdoors.
If Commencement is indoors due to inclement weather, all seating in Skoglund Auditorium will require tickets. Every graduating senior participating in the ceremony is guaranteed at least three tickets.  Graduating seniors will be given access to select their seats via our online ticketing system from March 18, 2019 through April 26, 2019.  A step-by-step guide is available here for the online ticketing system.
The Commencement ceremony will be live-streamed to Viking Theater in Buntrock Commons, Tomson Hall 280, and Boe Memorial Chapel regardless of weather or ceremony location.  No tickets are required for these venues, but arrive early to ensure seating.  We encourage families with elderly guests or small children to take advantage of the air conditioned simulcast locations.
Is it required that each family register together on just one registration for Commencement Weekend?
It's up to you to register in a way that you feel is most comfortable.  While we generally encourage an entire party or family to register together on one registration (it helps keep registration materials together and cuts down on duplicate registrations), we do not require it.  If you prefer, you may keep your registrations separate, such as in the case of blended families or other circumstances.  We ask family members who register separately to make sure only one of the registrations includes the graduating senior.
How will I know if Commencement will be held indoors?
The decision to hold Commencement on the Campus Green or inside Skoglund will be announced during Baccalaureate. If the ceremony will take place inside, the news will be posted in Buntrock Commons, on the college website, and available at 507-786-2222.
Is accessible seating available at Commencement?
Accessible seating and sign language interpreting are available both on the Campus Green (outdoor ceremony) and in Skoglund Center Auditorium (indoor ceremony). Tickets for this section are required whether the ceremony is indoors or outside. Please contact the Events Management Office at 507-786-3811 or commencement@stolaf.edu to acquire tickets for this section.  Hearing devices are also available for use on the Campus Green or in Skoglund.
Where does my student get a cap and gown for Commencement?
Graduating seniors will pay for and pick up their caps and gowns at GradFest – a one stop shop for all their Commencement needs. Orders must be placed by March 18, 2019 through Herff Jones.  If you miss the deadline, the next opportunity to purchase cap and gown will be at GradFest on April 23.  Following GradFest, caps and gowns may be purchased in the Bookstore.  Prices for cap & gown increase on April 24.
Do I need to register for the weekend events?
Registration is required for all on-campus housing, the Grad Gala, and Sunday Brunch.  We invite you to register for all other events during the weekend which are free and open to the public, including the Celebration Concert, the Illumination Ceremony, Baccalaureate, and all Academic Department Receptions (view the full event list here). Meal tickets and housing assignments will be available to pick up when you check in for Commencement Weekend.
Please register early and don't forget to register your graduating senior!
We will offer on-site registration in Buntrock Commons on Saturday and Sunday of Commencement Weekend.
Are all Commencement Weekend events free of charge?
There is no cost to attend most of the events held during Commencement Weekend with the few exceptions listed below:
Grad Gala:  $35 per ticket (meal plans or Ole Cards are not valid for this event).
Sunday Brunch:  $13 for Adults and Children age 13 or older, $7 for Children ages 6-12, Free for Children 5 years old or younger.  Graduating seniors with an active meal plan do not need to pay for this event.  Any current students who are not graduating seniors will not have a valid meal plan (and therefore will need to pay the adult cost for the brunch) unless they are scheduled to work Commencement and Reunion Weekends.
Residence Hall Accommodations:  $35 per night for a single bed, no cost for children sleeping on the floor or for current or graduating students who remain in their own dorm rooms for the weekend.
Where can I order graduation announcements?
Graduation announcements can be purchased through Herff Jones and the St. Olaf Bookstore.
How can I order photos and/or video recordings from the ceremony?
St. Olaf works with GradImages to photograph graduating seniors as they leave the platform. Visit GradImages to pre-register your permanent email address prior to Commencement and they will contact you as soon as your photos are ready for viewing. GradImages will contact you by mail following the ceremony with information on ordering photographs. For further information or to view your photos after Commencement, visit gradimages.com or call 800-261-2576.
Digital video downloads and/or DVDs are available for purchase through the Commencement Weekend Registration process.  The cost is $25 for a digital video download or $35 for the digital video download and a DVD copy.  Otherwise, you can purchase downloads or DVDs anytime after Commencement Weekend at this link (applicable tax and shipping included). Please allow 6–8 weeks for delivery.
Can family members who are unable to attend view events online?
Yes! The Last Lecture, Celebration Concert, Illumination Ceremony, Baccalaureate, and Commencement will be streamed and available on-demand.
Are pets welcome on campus?
We request that you do not bring any animals, other than service animals, to the St. Olaf campus.
Does St. Olaf have wheelchairs available?
Campus wheelchairs are limited to emergency use only. If you need a wheelchair for use throughout the weekend, you will need to make arrangements with your local medical supply store.
Hotels are full in Northfield. Where else can we stay?
Rooms in Ellingson Hall with overflow in Hoyme Hall are available for family and friends who wish to stay on campus for Friday, Saturday, and/or Sunday nights only. The cost is $35 per person per night. Rooms are furnished with two single beds. Bed linens (pillow, sheets, and a blanket) and towels are provided. Bathrooms are not located in your room. You may wish to bring an extra blanket, hangers, an alarm clock, a fan, and sleeping bags for children wishing to sleep on the floor. Keys are not issued for individual residence hall rooms, so we encourage you to leave your valuables at home. Out of consideration for students and guests, pets are forbidden in residence halls.
Hotel options are available in the nearby cities of Fairbault, Lakeville, Burnsville, Bloomington, or Eagan.  Plan to make hotel reservations well in advance since rooms are usually in high demand due to Memorial Day Weekend.
Where should I park on campus?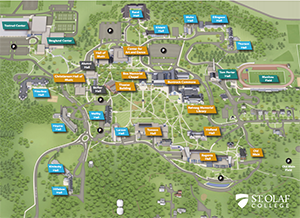 If you are staying on campus for the weekend: Please park in the lot nearest Ellingson Hall, or the lot between Mohn Hall and Kildahl Hall.
If you are coming to campus on Saturday: Please park in the Buntrock Commons lot, the lot near Rand Hall, or parking spaces on the roadway.
If you are coming to campus on Sunday: Please park in the Buntrock Commons lot, Old Main Field (the grass lot off Lincoln Street, between 1st Street and 2nd Street), the lot nearest Rand Hall, or the lot near Skoglund.  There will be a shuttle pickup from the grass lot for the Commencement ceremony.
Please note that some parking areas may be restricted for handicap accessible parking on Sunday.