Environmental issues are a major concern of public policy, and a profound influence on our daily lives.
Environmental Conversations ("EnCon") is an optional program for first-year students at St. Olaf who want to explore questions of environmental policy, science, and values – no matter what their intended major may be. EnCon is a three course sequence of regular elective and required courses.  In the fall and spring of their first year, EnCon students complete two regular St. Olaf first-year requirements (Religion 121 and Writing 111) in sections that focus specifically on environmental themes.  In the Interim, students take Environmental Studies 137, "Introduction to Environmental Studies."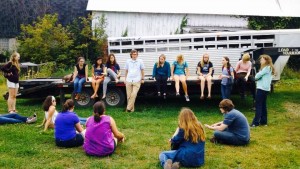 EnCon students engage in student-led sustainability initiatives, and learn about environmental questions and opportunities facing the college. They learn about campus food sourcing by visiting local farms and regional matters of environmental racism through field trips to the metro area. They become part of a larger community of students who seek to think clearly and responsibly about environmental policy, sustainability, and "the moral ecology of everyday life."
To apply, admitted students can visit the Admitted Student website.
"Most of us know, deep down, that we need an ecological revolution to build a world that is sustainable.…Uncovering the intellectual and emotional patterns that connect us to the degradation of nature, we'll discover new patterns of thinking and acting to create the world we want to live and work in."
–The Nature of College, James J. Farrell (1949-2013; Founding Director)