Environmental Conversations is an option available to any admitted student and is compatible with all prospective majors.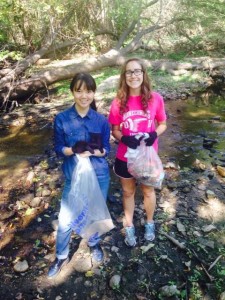 Once you have been admitted to St. Olaf, you can apply to the Environmental Conversations program though the Admitted Students page. If you decide you'd like to join the Environmental Conversations program, go to that webpage and answer some questions about yourself, your academic interests, and your interest in the program. We will fill the 38 available slots based mainly on how closely your interests fit with the spirit and goals of the program. You will be notified by mail whether you have been admitted, usually within a few weeks of applying. Though we will accept applications into the summer months prior to your coming to St. Olaf, we urge you to apply earlier rather than later in order to insure a place in the program. All students admitted to the program will be assigned to the "EnCon" first-year dorm for that year. The shared living arrangement allows the conversations to continue outside the classroom and helps create friendships among EnConners.
Because Environmental Conversations, American Conversations, Great Conversation and the Integrated Introduction to Chemistry and Biology (CH/BI) are all first-year programs, you may not be in both EnCon and AmCon, Great Con or CH/BI. However, you are free to combine EnCon with one of our other two sophomore-only Conversations programs, Asian Conversations and the Science Conversation.