Thursday, November 15th, 2018
11:20 a.m to 12:35 p.m.
Buntrock Commons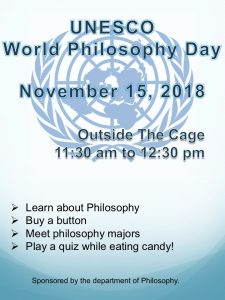 Thursday, November 16th, 2017
11:20 a.m to 12:35 p.m.
Buntrock Commons
See Dr. Nia's video talk here:
And replies from St Olaf students and staff here.
Tehran Times printed an article about the St Olaf students well wishes.
The event was featured in St. Olaf's Manitou Messenger.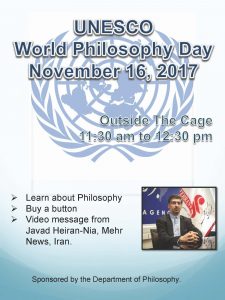 Thursday, November 19th, 2015
11:20 a.m to 12:35 p.m.
Buntrock Commons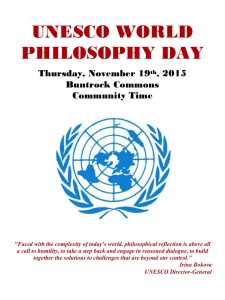 Thursday, November 20th, 2014
11:20 a.m to 12:35 p.m.
Buntrock Commons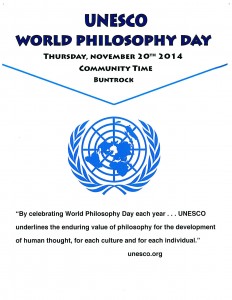 For the first time, the St. Olaf Philosophy Department hosted an event in Buntrock Commons during community time. They had tables located outside the Cafe, with buttons for sale, literature about World Philosophy Day and free Pause pizza! This year's UNESCO World Philosophy Day theme is 'Social Transformations and Intercultural Dialogue'.
The United Nations flag

Smiles all around!
Bailey Wheelock and Prof. Taliaferro.
Prof. Taliaferro waving the
United Nations flag.

A successful event!

Prof. Fuerstein and Bailey discussing the Subject of the Day – Philosophy.
Thursday, November 18th, 2010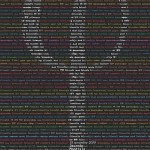 St. Olaf students and faculty gathered together in the Philosophy Commons in Holland Hall to celebrate United Nations Educational, Scientific, and Cultural Organization's World Philosophy Day. The celebration, one of many held around the world, was part of UNESCO's goal of fostering a time in which individuals could engage in a meaningful dialogue rooted in their personal convictions. In addition to an excellent conversation, pizza and pop — provided by the department — made the gathering irresistible.
"It was great to see so many students across the disciplinary board show up to celebrate philosophy in their daily lives. The critical thinking skills that philosophy requires remains an important, though often overlooked, foundational component of a quality liberal arts education. Our celebration today shows that these skills are alive and well at St. Olaf College," said Eric Erfanian '12.
Side by side with professors, strangers, and friends, students discussed the merits of a philosophical education, issues of equality and involvement in the college, and ways in which the "examined life" can sustain and benefit oneself for years to come. Given the success of this year's celebration, the department looks forward to continuing the tradition in the future.