We're headed to Carnegie Hall!
St. Olaf Orchestra at Carnegie Hall
881 7th Ave, New York, NY
Saturday, February 2, 2019 at 8p.m.
Tickets are now available through Carnegie Hall.
The St. Olaf Orchestra will get to live the dream of performing at Carnegie Hall. The performance will be followed by a reception for alumni and parents in the Shorin Club Room and Rohatyn Room.
Register for the post-show Carnegie Hall reception here.
Performing with the orchestra will be Sarah Chang, a world-renowned violinist and veteran of Carnegie Hall.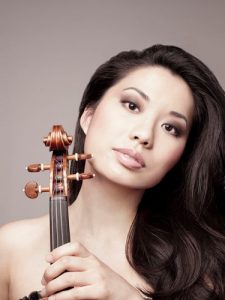 Recognized as one of the foremost violinists of our time, Chang has performed with the most esteemed orchestras, conductors, and accompanists in an international career spanning more than two decades. Since her debut with the New York Philharmonic at the age of eight, Chang has continued to impress audiences with her technical virtuosity and refined emotional depth.
Chang will also appear with the St. Olaf Orchestra at the ensemble's performance at Bucknell University in Lewisburg, Pennsylvania, during their 2019 Winter Tour. The tour will also feature additional stops throughout Virginia, including Fairfax County, Alexandria, and Charlottesville. Official dates and performance venues will be announced soon!
If you have specific questions about the tour, Carnegie Hall, or the reception, please contact Connor Smith, smith66@stolaf.edu. Click to see the full Carnegie Hall announcement.
Saturday, January 26 at 7 p.m.
Wayzata High School
Wayzata, MN
Sunday, January 27 at 4 p.m.
Bethlehem Lutheran Church
Minneapolis, MN
Thursday, January 31 at 7:30 p.m.
Weis Center for the Performing Arts, Bucknell University (With Sarah Chang)
Lewisburg, PA
Saturday, February 2 at 8 p.m.
Stern Auditorium/Perelman Stage at Carnegie Hall (With Sarah Chang)
New York City, NY
Sunday, February 3 at 7:30 p.m.
Wakefield High School
Arlington, VA
Monday, February 4 at 7:30 p.m.
The Paramount Theater
Charlottesville, VA
Tuesday, February 5 at 8 p.m.
Center for the Arts, George Mason University
Fairfax, VA