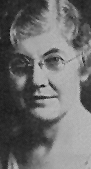 Elizabeth Walsingham Kelsey (1885–1953) is remembered as St. Olaf's pioneer in drama. She was an "instructor in spoken English" and director of dramatics at St. Olaf for more than 30 years. Her energy and creativity were instrumental in establishing a tradition of quality performance arts at the college. She brought a Shakespearian production to life each spring. One of the first dramatic productions heard on radio in the area was directed by Kelsey and broadcast in 1922 over WCAL, a radio station owned and operated by St. Olaf College from 1922 to 2004.
An article from the St. Olaf Alumnus printed in1953 stated, "Although she accomplished modern miracles of play production with the minimum of equipment, and her medium was in the field of acting and directing, she herself was no 'make believe.' Her sincerity and devotion captured the imagination of her students, and her big, old home was a constant 'open house haven' for St. Olaf students."
Born in Maiden Rock, Wisconsin, she attended high school in nearby Ellsworth, and went on to study dramatic art at the Minneapolis School of Dramatic Arts, MacPhail, Northwestern University, Belle-Watson-Melville Studios and Elias Day's School of Expression in Chicago. She began teaching in 1906 at the Minneapolis School of Oratory and Dramatic Art. She also toured in recital under the Ridpath-Slayton Bureau.
While teaching at St. Olaf, she completed work toward a degree at the college, graduating in 1940. At the time of her death, Kelsey was on a year's leave of absence from the speech department and was surveying drama departments in colleges and universities on an assignment for National Collegiate Players.
Kelsey was married to Raymond D. Kelsey, and they had four children: Roger '34, Franklin '47, Kenneth '36, and Betty Colby '39.
The portrait of Elizabeth Walsingham Kelsey that hangs in the lobby of the Elizabeth Kelsey Theater was made possible with a generous contribution from Lyle '41 and Ellen Siverson of San Jose, California.