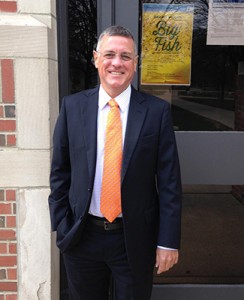 A $500,000 gift from St. Olaf College Alumnus Steven Fox '77 will provide significant support for the Theater program.
The spendable income from this endowed fund will be doubled each year through the Strategic Initiative Match (SIM), a St. Olaf Board of Regents program that provides matching funds for gifts above $50,000 that support the college's strategic plan.
With those matching funds, the Steve Fox Fund for Theater will more than double current funding for student theater productions. It will be used to cover expenses related to lighting, sound, sets, costumes, props and guest artists who serve as choreographers and designers.
"This is an astounding gift," says Professor of Theater Karen Peterson Wilson. "The impact will directly affect St. Olaf Students, faculty, staff and the community long into the future. We are all profoundly grateful to Steven."
In the fall of 2014, Fox established an endowed chair – the Patrick J. Quade Endowed Chair in Theater – in honor of retired St. Olaf Faculty member Patrick Quade who devoted his career to the college and made a positive impact on hundreds of students. Wilson is the first holder of the Quade Chair.