Welcome to the Department of Art and Art History
From the cave paintings of prehistoric times to the multimedia and cross-disciplinary art of today, the making of art has been a vital form of communication and personal expression. This department provides students the opportunity to create and interpret art, that they may better understand themselves, history, and the role of art-making in a rapidly changing world.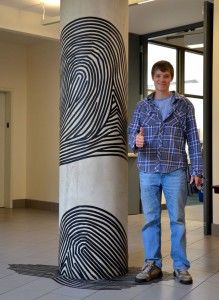 A fostering of critical thinking, innovation, and exploration of new ideas in a range of media balance our traditional concerns for design, history, and technical expertise. A variety of strengths makes this possible: an active, professional faculty; a demanding foundation program; numerous domestic and international programs; creative curriculum development in art history, including Asian and Indian art history; and innovative courses in video, digital media, photography, and architectural drawing and design.
We maintain on- and off-campus programs of the highest standard in order to give students the most profound experiences. The department, with 16 full- and part-time faculty and staff, offers B.A. degrees in art history, studio art, and art education and has come to serve more than 1,200 students–non-majors and majors alike–annually. Each year an average of 35-45 studio and 8-12 art history graduates go on to pursue professions ranging from museum curator to graphic designer, architect to studio artist.
We invite you to join them, to become part of what we are and are yet to be.
Visit Us
When you visit the St. Olaf Department of Art and Art History you will have the opportunity to talk with students and faculty, tour our incredible facilities, and get a feel for life in the department.
We ask that visitors schedule in-person visits through the Admissions Office.
Art Scholarships
St. Olaf art scholarships are merit-based scholarships that are awarded to incoming new students with exceptional art talent. Students may also qualify for additional need-based aid, in which case the art scholarship is a component of the student's financial aid package.
Scholarships of $6,000 per year are open to art majors and non-art majors. This merit-based award is potentially a $24,000 4-year scholarship. Recipients are strongly encouraged to participate in a minimum of one studio art course per year.
Art scholarship applications for students planning to enter St. Olaf in the fall of 2019 are due December 15, 2018.  A student applying for an art scholarship must also submit an application for admission to the college. The college application must be submitted no later than January 15, 2019. Visit the admissions website for more information and to apply.
Students who wish to apply under the binding Early Decision Application can submit the Art Scholarship Application early. A portfolio review may be required, so we encourage you to start this process well in advance of November 15th or January 8th.