Professor Emeritus Sculptor and Art Historian
St. Olaf College Department of Art and Art History
(H) Telephone 507-645-5225
gimse@stolaf.edu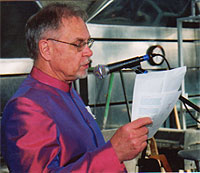 Mac Gimse joined the St. Olaf faculty in 1970, after earning his graduate degrees in art at the University of Iowa and teaching in Western Canada. He taught sculpture, built a bronze foundry and created art in his private studio. His art history topics included World Architecture, China, Japan, India, Southeast Asia and Africa. He was one of the four founding faculty in the Fine Arts major, taught several rounds in The Great Conversation and was a Paracollege tutor from 1973 to 2000.
Gimse was a National Endowment for the Humanities Visiting Scholar in the South Asian Institute at Columbia University in New York City, and in Chinese Art History at the University of Maryland. He was a Joyce Foundation Scholar to do sabbatical research on temples in India. Over the last 31 years he has taught more than 500 Oles on 20 programs around the world.
Four sabbaticals helped him teach non-Western art history and produce two theme sculpture exhibits, SACRIFICE and MERCY. The St. Olaf Associates cast his bronze CHRISTUS VICTOR in an edition of 1,000. Since 1989, the St. Olaf Nobel Peace Prize Forum commissioned him to create four different sculpture/poetry presentations for six Nobel Peace Prize Laureates. The first was STRIVING FOR PEACE, given to Norman Borlaug (1970) and the United Nations Peacekeeping Operations (1988). The second, CHILDREN OF THE WORLD was presented to Rigoberta Menchu (1993). The third was given to David Trimble and John Hume, co-Laureates from Ireland (1999) called BEARING THE BURDEN OF PEACE. His piece for 2004 is called ROOTS AND WINGS and was presented to Jimmy Carter, Nobel Laureate for 2002.
The Gimse International Photo Contest was named to honor the extensive photography done by Gimse during his international travels with students and is in its 16th year. The metal-casting area in Center for Art and Dance has been named the Gimse Foundry. His sculpture has been exhibited in more than 70 colleges, galleries, and churches in the USA, and his work is included in collections in 11 countries around the world.