View the Academic Catalog for course information.
Major Requirements for a Studio Art and an Art History major.
Architecture / Urban Design / Sustainable Building
Students interested in architecture (historic and new), urban design, and the relationship of the built environment and sustainability ethics are advised to consider a mixture of design and history courses within the Art and Art History Department, augmented by other courses of topical variety and personal interest. Read more HERE.
Animation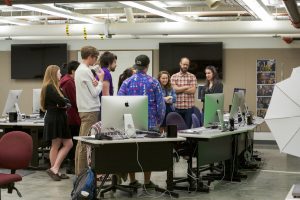 Students interested in animation (digital art, computer graphics, digital special effects) are advised to consider a mixture of studio and art history classes through the Department of Art and Art History as well as classes through the Computer Science Department, the management studies concentration, media studies, the Theater Department, the English Department, and the Dance Department, etc. Read more here …
Illustration
Students interested in illustration …