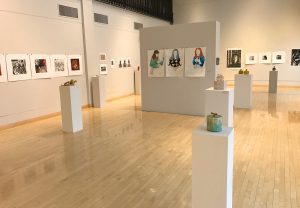 St. Olaf art scholarships are merit-based scholarships that are awarded to incoming new students with exceptional art talent. Students may also qualify for additional need-based aid, in which case the art scholarship is a component of the student's financial aid package.
Scholarships of $6,000 per year are open to art majors and non-art majors. This renewable merit-based award is potentially a $24,000 4-year scholarship. Recipients are strongly encouraged to participate in a minimum of one studio art course per year.
Art scholarship applications for students planning to enter St. Olaf in the fall of 2018 are due December 15, 2017.  A student applying for an art scholarship must also submit an application for admission to the college. The college application must be submitted no later than January 15, 2018. Visit the admissions website for more information and to apply.
Students who wish to apply under the binding Early Decision Application can submit the Art Scholarship Application early. A portfolio review may be required, so we encourage you start this process well in advance of November 15th or January 8th.
Please read the following instructions before beginning the online application.
The link for the online art scholarship application is at the bottom of this page.
When you begin the online art application, please use the same email address which you used/will use for the Common Application. This email address will link the two applications.
You may save/exit as many times as you wish before submitting your scholarship application, but once you click 'submit' you may not make any changes to the application.
Please do not create an application for viewing only.
The Art Scholarship Application consists of the following:
1.  Your written response to these questions:
What are the names of art courses taken at high school, colleges or universities, community art centers, museums, or from private instructors?
Why are you interested in the studio art and/or art history program at St. Olaf College?
What would you consider as your areas of strength in art and/or art history?
Have you had a significant mentor in art? If so, briefly describe that experience.
List any art exhibitions you have been a part of, and please indicate if they were competitions you entered.
List honors and awards you have received.
Is there a significant art event or exhibition that you have attended that made a lasting impression on you?
To what other schools do you intend to apply? (optional)
Briefly summarize any other information that you feel would strengthen your application.
2.  The submission of 10 digital images of your work.
3.  Following the December 15 deadline, selected applicants will be invited to the Fine Arts Scholarship Program for an on-campus interview/portfolio review in late February.
4.  In addition to the art scholarship application, the St. Olaf College application for admission is due January 15
---
September 15 – December 15, 2018
Online application process open
December 15, 2018
Completed art scholarship application must be received.
January 15, 2019
Completed St. Olaf College Application for Admission must be on file in the Admissions Office.
Late January, 2019
Invitations to the Fine Arts Scholarship Program will be sent to invited applicants.
February 22, 2019
Invited applicants will attend an on-campus portfolio review session with art faculty for the Fine Arts Scholarship Program.
A note about the art portfolio review session during the Fine Arts Scholarship Program:
If you are an art scholarship finalist and invited to the Fine Arts Scholarship Day on February 23 you do not need to bring any artwork with you to campus. You will be showing work from your online portfolio that you submitted with your application. The portfolio sharing session is an opportunity for applicants to show and discuss their work in a friendly setting. This is not a critique session. It is a group exercise with all applicants and St. Olaf studio faculty present. Each applicant will have about 2 to 3 minutes to present one piece of their choosing. After the presentations there will be time for questions by applicants and faculty. Each applicant will pre-select the piece they wish to present from the set of images they submitted for their application when they RSVP for Fine Arts Scholarship Day. Applicants do not need to bring actual work or additional digital images to campus.
Late-March, 2019
Art Scholarship decisions are mailed
May 1, 2019
National Candidate Reply Date (date by which all students must respond to offers of college admission and to scholarship awards.)
**  Application is Currently Closed  **
Contact Us:
Patty Cohn
Academic Administrative Assistant
Department of Art and Art History
1520 St. Olaf Ave.
Northfield, MN 55057
art@stolaf.edu
507-786-3248