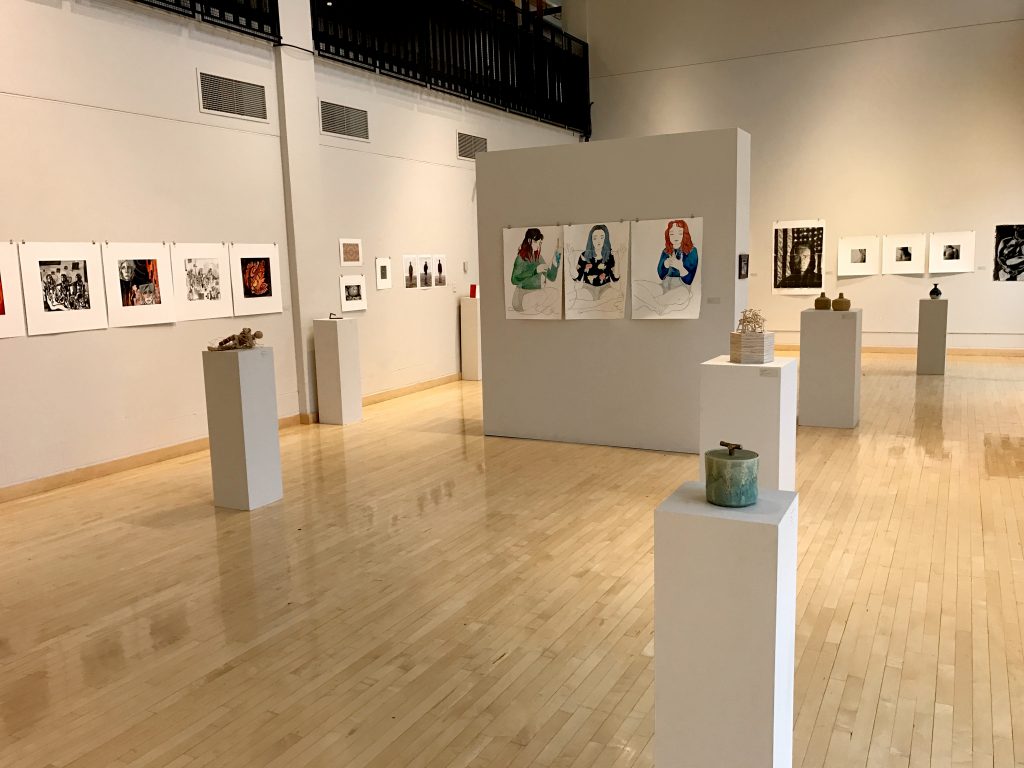 The St. Olaf Student Juried Show always takes place in late February to early March.  Watch your email for specific dates for this years show!  
See a list of jurors from previous juried shows.
This show is a component of your interest and commitment as a studio art major.  A record is kept of all entrants. Studio Art Majors must participate in two juried shows to fulfill the requirements of the studio art major and studio art education licensure. Each student must either enter our student juried show in spring semester twice, or enter our student juried show once and one other non-class related exhibition on or off campus.  Students unable to meet this requirement must speak with their advisor or the department chair.
Listed below are the details and requirements for selection/exhibition:
Eligibility

: Any St. Olaf student who has taken a studio art course is welcome to enter the Juried Show.  Studio art majors with first-year, sophomore, and junior standing are strongly encouraged, as entering at least two juried shows before senior year is a requirement of the major.

Work:

All media and combinations are eligible.

Number:

Each student may submit two works (a series can be considered one work) in any media (2D, 3D, or 4D).

Presentation:

All work submitted must be

ready for display

! If you need help in regards to mounting or matting please see that these issues are addressed well in advance of drop off day. 2-Dimensional work must be ready with appropriate wall mounting devices. (Questions? See your professor or the technical staff for advice.)

Digital/screen-based work is acceptable.

Linear videos, interactive pieces and websites are all eligible for submission. These will count towards the 2-work maximum. If you are considering submitting artwork of this nature, please follow these guidelines: Submit your work via USB drive. For all works, submit at the normal place and time. Due to the unpredictable nature of servers and live websites, we require that website/online works be presented intact to insure that your piece will be viewable. Before submitting, confirm that all files necessary for the presentation of the work are included in their correct relationships – all links functioning.

DELIVERY:

  The day before the show opens, you will need to deliver your work to the Groot gallery between 

10 AM – 4 PM.

All work to be considered for judging and entry into this competition

must

be delivered to the Student Gallery in CAD.  No work will be considered if delivered before 10 am or after 4 pm.

Judging:

The works to be exhibited will be selected the following day between 8:00 – noon. 

All work accepted into the exhibition will be mounted that afternoon.  

All work

NOT ACCEPTED into the exhibition

must be picked up

between

1:30 and 4:00 p.m

.  

Please ask a friend to pick up your work if you are unavailable at that time.  

You must stop by the gallery to see if your work was accepted or not.

Works in the show must be removed on the show closing date before noon.
Opening Reception:

Everyone is invited to a reception from 4:30-5:30 on the show opening date, to see the exhibit and visit with the artists and juror.  Snacks will be served.