Collaborative Undergraduate Research and Inquiry (CURI)
Erika Terwilliger, Evan Weselmann and Visiting Assistant Professor of Art Michon Weeks are working collaboratively to plan and fabricate wall-drawing installations in three locations on campus. The team began the project by researching wall drawings from ancient and contemporary sources. The team is developing the project by finding locations in St. Olaf buildings for the wall drawings, writing proposals, creating prototypes, and testing materials.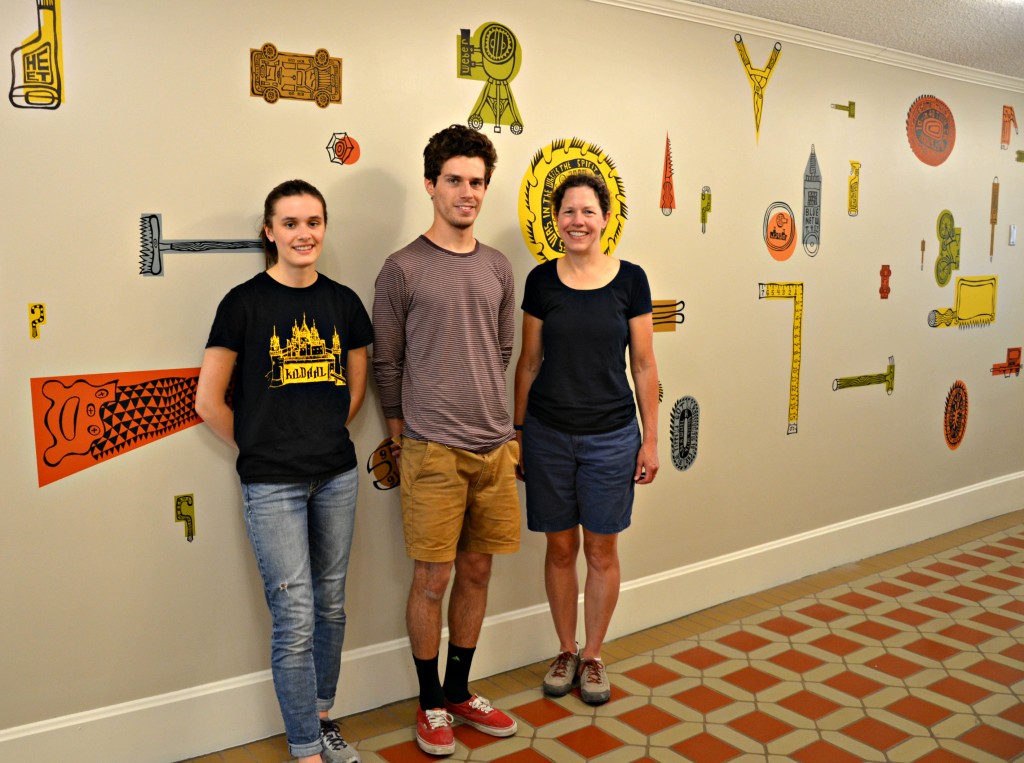 ---
 Weekly Updates From Evan and Erika
---
July 15
Erika finished her piece in the Link between the Center for Art and Dance and the Hall of Music. Be sure to check it out once the new area is open!
July 8
Evan Weselmann completed his wall-drawing in Regents Hall. His installation is located near room 190.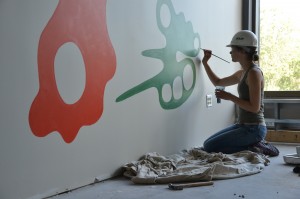 Erika Terwilliger working on her large-scale wall-drawing in the new link to the Center for Art and Dance.
July 1
This week Evan started putting up his installation in Regents. He's been working out the best way to string thread between a running board of nails at the base of his wall and hooks 21 feet in the air.
June 25
Erika is currently creating wall drawings in the bathrooms at the Center for Art and Dance. Swing by and check them out!
June 18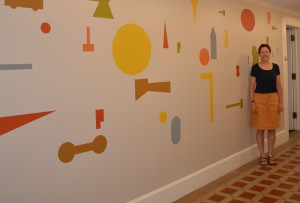 Michon Weeks' project is on the third floor of Old Main. This week she painted color shapes onto the wall. Next week she will add black lines, defining the objects.
June 11

On Thursday Evan and Erika helped Michon start laying out her wall drawing on the third floor of Old Main. Once all the shapes are outlined in tape painting can start!
June 4

This week the team created prototypes and met with the Public Art Committee for permission to begin installation. Michon is translating her garage object drawings to fit onto a large wall. Erika is exploring the organic shapes left by snow melt, while Evan is playing with thread and geometric shapes.
May 28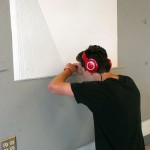 Evan Weselmann creating a prototype made from thread and push pins