---
Remembering Dr. Z 
Big Cat Conservation
Loose Ends: Tying Some, Unraveling Others
Natural Lands Update
---
Jim Zischke was instrumental in the growth of many young biologists' lives during his 33 years of teaching at St. Olaf. Here are some of the many recollections you shared and some pictures we found that may trigger more memories.
"Dr. Zischke was inspirational to me in biology – He encouraged me and provided a stimulating environment to further belief in and promotion of good ecology and good environmental management.  A strong force for tending to our endangered planet, I will miss him and his enthusiastic, happy and encouraging spirit."  John Torseth '76

"I credit Dr. Z. in part for the decision that took my entire life on an alternative route, one that ended up leading me into the tropics and beyond with my research. Dr. Z made biology fun, exciting, and meaningful.  I'm sure he did the same for so many others. I only hope that when I leave the world behind, I will have made as big a difference in some student's life as he did in my own." Ola Fincke '71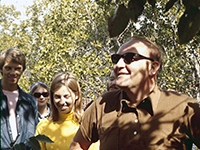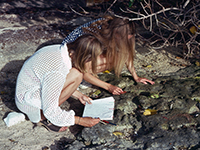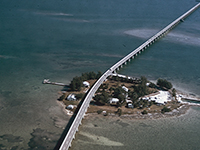 "Dr. Zischke had an important impact on my career trajectory." Philip Nyhus '89

"The most memorable class I took in my 4 years at St. Olaf was marine biology taught by Dr. Z.  He "ruled" the Cayman Islands.  He brought a few of us to his "hang-outs" there and it was like a flashback to "Cheers."  He was enthusiastically greeted with "Dr. Z!" everywhere we went.  I will never forget watching the '87 Vikings-Redskins NFC championship game with him on the only TV on the Island.  I loved Dr. Z."  Kris  Hjerpe "Jerp" '88

"My favorite all time professor." Steve Rovelstad '77

"I look back on Dr. Zischke's influence on me and consider it to be profound…even though he barely knew my name when I was his student. He was so enthusiastic about all things biological, he spoke to students as adults and almost as equals, and he knew SOOOO much but was yet willing to admit when he didn't – and offer to find an answer. He was quite simply a natural or "real" person, who walked the earth with a love of life and his chosen vocation." Jerry Bouquot '67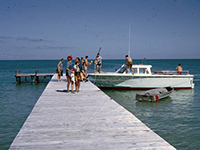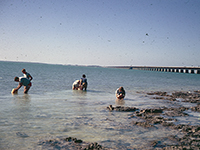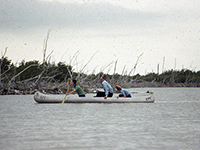 "Dr. Z's class was always as witty as it was instructional.  After class I always felt smarter, and refreshed.

Here are two anecdotes of his that I remember most fondly.

On the comparative anatomy and digestion of Protozoans.
During an upper level class on Zoology, we were discussing metabolism and comparing the various ways in which small, microscopic organisms obtain and process their food. We were down at the cellular level, talking about all sorts of specialized cells present in organisms whose body is shaped like a vase.  Introducing the next specimen, with a body was shaped like a tube, Dr. Z asked the class what benefits might we ascribe to this organism.  After letting us sit for a moment in stumped silence, Dr. Z delivered the punch line and started the discussion of the alimentary canal by saying, "Well for one thing, your food tastes a lot better."

On the joys and defeats of field zoology.
As seniors, we all went to the Florida Keys for January where we enjoyed Interim studying marine biology.  On our first night in an old University of Miami research station, we encountered our first Floridian fauna, 3″ long cockroaches. Discussing this with Dr. Z, he shared his own cockroach story with us. On a trip to Central America, he was enjoying a cold cerveza in a local cantina when he spied a rare, albino cockroach. He immediately began to hatch a plan to catch the creature. Unfortunately, before he could act a local patron spotted the 1-in-100 million organism, and with a shout of "Una cucaracha blanca!" the local flattened it with his shoe.

Thank you Dr. Z for being such a great teacher." Kent Steinnagel '75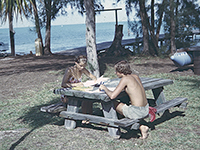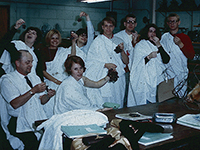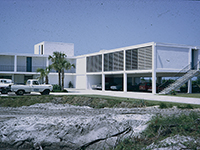 "'His enthusiasm for his work and teaching was extraordinary." Nancy Baker '75

"My memories of Dr. Z are some of the most vivid and cherished of my academic experience at St. Olaf. He was an outstanding professor and a great man. He was also funny, subtle and had a dry sense of humor to go along with his easy-going intelligence. You wanted to do well in his classes because you liked him and wanted to please him. He didn't intimidate or try to "wow" you with his knowledge. He was easy to approach, easy to ask questions to, friendly and non-judgmental. You easily became active in his classes because he made them so interesting and fun. His students loved him, including yours truly." Roger C. Beard '75

"I have such fond memories of Dr. Z. He had one of those grins/smiles that is etched in your memory. He was an inspiring and encouraging teacher; you had the feeling that he loved what he taught and took "sciencing" to heart. He was one of the teachers/professors who inspired me to go into science. I was fortunate enough to have him as instructor and fearless leader during the Marine Biology interim class to the Grand Cayman Islands as well as being in one of his bio classes. He is definitely at the top of my list when it comes to Ole Prof's!!" Kim Nordstrom McCaw '83
---
By Andrew Jacobson '06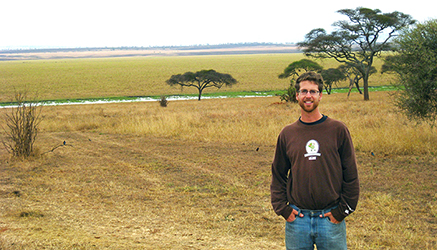 Research and conservation of big cats is just about the coolest biology job one could hope for. Yet the reality is not camping in Africa 24 7 365, handling lions and cheetah, or getting into tight spots with dangerous animals or people. While that still happens, many of the biological and conservation questions we study, like population size and structure, habitat occupancy, and connectivity, are departing from invasive techniques that require sedating and handling animals. As we discover more about the effects of the stress we put on animals via the typical process of handling and collaring them, we realize that non-invasive monitoring techniques are necessary. Sacrificing a few animals for the good of the population, particularly when they are endangered or threatened is a losing proposition. Alternative methods such as camera traps, drones, or spoor (footprint) tracking are rapidly improving and allowing researchers to identify individual animals and extract relevant information without physically touching the animal. While these methods do still require time in the field, more of researchers' time is increasingly behind a desk and computer screen.
The term "big cats" is not an exact biological definition, it includes nine species of felid: cougar/puma, jaguar, tiger, snow leopard, clouded leopard, Sunda clouded leopard, lion, cheetah, and leopard. Big cats are some of the largest terrestrial carnivores and are often the apex predator in the ecosystem. Big cats range across four of the seven continents, including North America, South America, Asia and Africa. As the apex predator, big cats are at the top of the food chain and help balance predator/prey/plant dynamics. However, their role as top predator brings them into conflict with people and some, such as tigers, lions, and leopards, are well-known man killers. Or the carnivores may attack livestock and erode living conditions for locals. Either way, big cats are often persecuted and killed. Alternatively, as top predators, big cats are often held in high regard and are important cultural or religious symbols. Yet this symbolism naturally leads to another source of conflict with people, as demand for pets and animal products, are used as luxury items or equivocal medicines. Tigers are particularly at risk for the illegal wildlife trade, but cheetah and lion are increasingly targeted.
The Big Cats Initiative (BCI) is a National Geographic Society mission program aimed at halting the decline of big cats. BCI began in 2009 focused on the African lion with a three-pronged strategy: assess, protect, and communicate. Assessment involves research into big cat populations, distribution, connectivity, threats, and appropriate conservation action. Protection is achieved through funding field-based, innovative people and organizations addressing threats to big cats. Most BCI grantees are NGOs, with a focus on carnivore conservation and community engagement. However some are also individual researchers investigating the causes of population decline, or attempting novel strategies to combat mortality. The third component to our strategy is the part most associated with National Geographic: communication. The annual Big Cat Week on NatGeo Wild, a cable television channel, and regular features in the magazine are spreading the word of the importance and plight of big cats. To find out more about the Big Cats Initiative, please visit causeanuproar.org.
I act as the Big Cats Initiative Duke intern's team coordinator. The majority of my time is spent at Duke University, organizing research activities and conducting literature reviews. The Duke team is responsible for providing population assessments for each of the big cats and identifying important conservation actions and actors. However, not all my time is spent at a computer. I've spent several months in Africa conducting research or contributing in workshops. I participated in a lion population and distribution study in Mozambique, led drone research in Madagascar, and assisted with community-based conservation NGOs in Tanzania and Kenya. With this background, I will start a Ph.D. on cheetah conservation as part of the University College of London's Geography Department this spring.
After St. Olaf, Andrew completed a Master of Environmental Management program at Duke University.
---
Loose Ends: Tying Some, Unraveling Others
By Charles Umbanhowar Jr.
Sabbatical is a wonderful opportunity to focus on one's research.  My sabbatical was spent trying to tie down loose ends on multiple projects and – of course – creating new loose ends. Highlights include:
Last summer, I and a colleague spent three weeks near Churchill Manitoba coring peat bogs.  This is part of a broader project to document changes in carbon accumulation in northern ecosystems.  We collected peat cores (ranging in length from 0.5 – 4.0 m) from 16 different locations.  We also collected water samples from over 60 lakes and rivers and spotted 14 polar bears from our plane.
I continued searching for herbarium specimens collected in 1838-1839 by Charles Geyer as part of the J.N. Nicollet expeditions in Minnesota and the eastern Dakotas. To date, over 600 specimens representing 460 species have been relocated.  Images of these specimens and many documents from the expeditions are available at

https://www.stolaf.edu/academics/nicollet/

.
I completed a paper documenting changes in barrens and water bodies over the past 60 years in northern Manitoba. This paper is based on analysis of remote sensing imagery that was started in an Environmental Studies seminar course in 2011 and it will likely be published (with students as co-authors) sometime later this year in Canadian Journal of Earth Sciences.
New loose ends include analysis of D/H isotopic ratios in lignin from wood, comparison of different analyses of charcoal extracted from lake sediments, and a project to document variability in lake level responses to drought in the 1930s in Minnesota.
Photo: Coring peat bogs. Professor Umbanhowar is standing to the left.
---
By Kathy Shea, Professor of Biology and Curator of Natural Lands
Excerpt from Chapel Talk on Feb. 21, 2013
We are fortunate that environmental stewardship is seen as part of the culture at St. Olaf and has been shaped and supported by faculty, staff and administration over many years. St. Olaf is a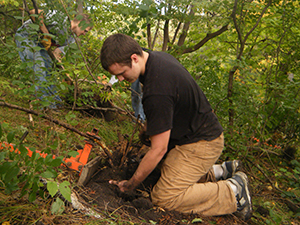 college of the church where people are called to service and to practice our values. We are fortunate to be rich in land holdings and I have been privileged to be part of the group that has designed and implemented the development of our Natural Lands since the late 1980's. We now have 350 acres of former farmland that has been restored to forest, prairie and wetland habitats and 400 acres of agricultural land. Original goals to reduce soil erosion and provide habitat for waterfowl and other wildlife, have been met and the St. Olaf Natural Lands are a resource for the whole community to enjoy and use. The Natural Lands are used for environmental education activities for people of all ages, for student projects in a variety of classes, for recreational use and for cross-country races. We welcome volunteers to help in maintenance projects, from removing invasive species to planting trees or collecting prairie seed. Next time you visit campus take time to go on a walk in the Natural Lands. As you learn to recognize parts of the natural environment you will appreciate its beauty and how the plants and animals change over time.
Through various academic and non-academic options St. Olaf students have the opportunity to learn about and practice living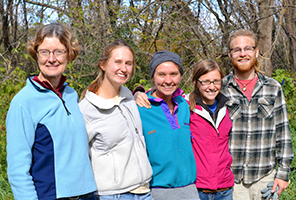 a sustainable life-style. I have worked with many young people who are dedicated to environmental stewardship issues and are sharing their excitement about the natural world with others, especially children. I oversee the St. Olaf Student Naturalist Program, employing up to four students each year to help with environmental education about the Natural Lands and further conservation efforts through long-term research projects and maintenance activities. The Student Naturalists write articles for "Biomass", the biology department monthly publication, and help conduct tours of the Natural Lands for preschool and elementary school students, as well as the college community. The protection of nature is a universal value and through the Natural Lands programs we want to help others understand that we will have happier, healthier, and more fulfilling lives if we have a basic understanding of ecological relationships and practice environmental stewardship.
---
Email Us!
We love hearing from you and finding out the paths you have taken – we'll include your updates in our next newsletter. Email bioalumnews@stolaf.edu and let us know what you are (or aren't!) doing with your biology degree. Pictures are great too!