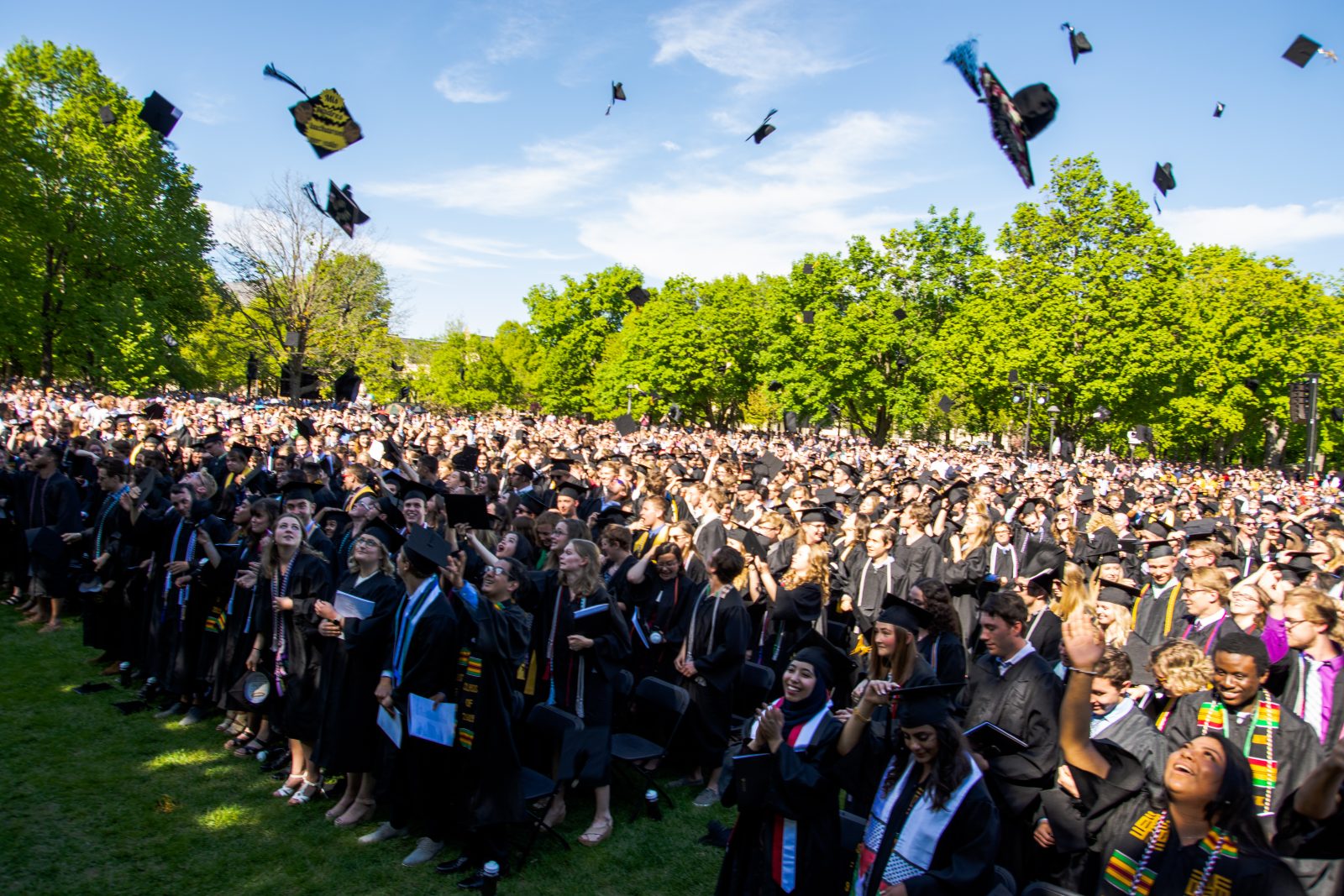 Commencement Class of 2022
5/29/22 LOCATION UPDATE:  OUTSIDE ON MELLBY LAWN
We invite you to register for Commencement Weekend events now. Please register your entire party, including graduating seniors, in a single registration.
St. Olaf College is eager to welcome guests to campus for Commencement Weekend 2022.
COMMENCEMENT WILL BE HELD OUTDOORS ON MELLBY LAWN (Updated 5/29/2022).
The College has planned for this event with our consulting epidemiologist to best determine our requirements and guidelines for vaccination, masking, testing and other protocols, to ensure the safety of visitors and our campus community.
Given that faculty, staff, and students will continue to live and work on the Hill during the 2022 Commencement Weekend, the College requests that all visitors take note of and abide by these guidelines, including our requirement that all visitors must be up to date on all recommended COVID-19 vaccines, including boosters OR provide proof of a negative COVID test. To learn more about St. Olaf College's response to COVID-19, please visit here.
Our community has shown great care and cooperation throughout the pandemic, and we trust that our 2022 Commencement Weekend visitors will follow in that tradition. Please visit our COVID-19 Information page for more details about our policy for Commencement 2022.
Signature events will be live-streamed and available to view on St. Olaf's website.
OUR CURRENT MASKING POLICY:  OPTIONAL, BUT STRONGLY ENCOURAGED, ESPECIALLY INDOORS (as of 5/27/2022)
PLEASE NOTE – YOU MUST PROVIDE PROOF OF VACCINATION OR A NEGATIVE COVID TEST IN ORDER TO BE CLEARED TO BE ON CAMPUS.   See the full policy details here
We look forward to welcoming families and friends to the Hill to celebrate the Class of 2022!
For information on how the college is handling the coronavirus pandemic, please visit St. Olaf's COVID-19 webpage.