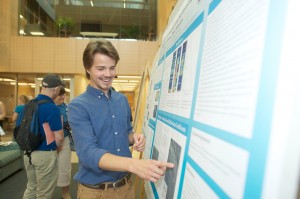 Have a Question? Find the Answer!

The St. Olaf Collaborative Undergraduate Research and Inquiry (CURI) program provides opportunities for St. Olaf students of all academic disciplines to gain an in-depth understanding of a particular subject through working closely with a St. Olaf faculty member in a research setting.
CURI promotes collaborations between students and faculty during the academic year through directed undergraduate research (DUR) and during the summer, both on and off-campus. Throughout the experience, students gain insight and learn about how research is performed in the discipline of their choice. The program is also a good time for students to reflect and further evaluate where their skills, interests, and values best fit with their future professional endeavors.
CURI's summer research program involves 80-90 students who work together with faculty on faculty research projects. Each year the project results are presented on research posters and in oral presentations during the final symposium in early August. Recent research topics have included:
Drug Analysis in Commercial Products
Teaching Lab Development
Isotope Ratio Mass Spectrometry: Differentiation of Cotton Fibers
Using Textual Comparison Tools to Track John Locke's Use of Scripture
Exploring Computational Biology
Civility and Its Discontents: Rudeness and Refinement in Modern Political Thought

Exploring the Development and Sustainability of Social Capital in Local Communities
The Polaris Project: Assessing the Impacts of Climate Change in Minnesota and Siberia
Learn firsthand about the excitement and opportunity involved in research and inquiry!
Gain new insight into a potential discipline, allowing a student to confirm or reconsider their professional interests
Become familiar with the kinds of questions pursued by scholars in a particular discipline and participate in examining them.

There are many different models for collaborative faculty-student work. Inquiry is commonly associated with, but not limited to, work done by scholars in the Arts, Humanities, and Social Sciences. In contrast, the commonly perceived notion of research is associated with, but not limited to, work done by faculty in the natural sciences.
What will I learn through undergraduate research with CURI?
Our intended learning outcomes include:

The ability to recognize and articulate meaningful questions in the chosen area of study.
The ability to conduct research using methods appropriate to the field(s) of study.
The ability to find and interpret scholarly and creative works relevant to their project.
The ability to explain the research project and present the results to a variety of audiences.
The ability to work collaboratively.

A student interested in applying for the CURI program must be enrolled as a St. Olaf student and be a rising sophomore, junior, or senior. There is no GPA requirement that must be met in order to apply for the program, but a student's academic record will be considered during the selection process.
Talk to faculty members and see if they are working on any research projects or other areas of inquiry. In some instances (Regents Hall of Natural Science and Regents Mathematical Sciences), there are posters hanging in the halls that display recent projects, giving students a better idea of what field of study the professor specializes in.
For CURI summer research, a general announcement inviting students to apply appears via email early in the second semester.  This email will direct students to a list of descriptions of projects for which faculty are seeking student collaborators.
During the academic year, directed undergraduate research (DUR) opportunities are listed in the Class and Lab section of SIS (Student Information System).  Students are encouraged to discuss these opportunities with associated faculty, as there are typically a low maximum number of students. For more information on directed undergraduate research, click here.
Each spring, students who have successfully completed Stat 272 are invited to apply to be fellows in the Center for Interdisciplinary Research (CIR) for the following academic year.  More information on the CIR is available at https://wp.stolaf.edu/cir/.
Talk to faculty members to see if they know of any summer programs that could be of interest. Faculty may have various connections with outside institutions or
know of students who have completed research in the past that the inquiring student
could get in touch with.
Look outside faculty members' doors for postings regarding experiences offered on and off campus
Visit the Piper Center by clicking here or stopping into their offices.

For science students, join Professor Michael Swift's alias to receive summer
research and job advertisements

To subscribe:

From the St. Olaf homepage, find "Account Services" in the Quick Links drop down menu on the right
Sign in, then go to "Work with mailing lists"
Click on "Show public mailing lists (that I can subscribe to)" and then check the box next to "jobs11"

Explore websites of other colleges and universities. Use key words such as "summer undergraduate research" to see if another college or university offers summer research programs to students affiliated with outside institutions. (Note: Make sure to check the eligibility requirements for each program! (Examples of requirements include GPA and class year.)

A list of some programs offered at outside institutions can be found here. Near the bottom third of the web page, there is a section titled "Opportunities by Academic Discipline," where students can learn more about summer research programs offered at institutions across the country.

Online Alumni Directory The Online Alumni Directory contains a wealth of information, including the class year, major, occupation, and place of employment of St. Olaf alumni. The Online Alumni Directory is a great resource for students who are researching career options, often carried out in the form of an informational interview. In the context of the informational interview, students may be informed of available research positions that are less readily advertised or not posted at all.
What is expected of me as an undergraduate research student?
Frequent communication with collaborators, whether that be faculty members or other students working on the same project
Ability to work in team-oriented settings with other students when applicable
Self-motivation to guide progress of research
Summer:

By the end of the summer, students should have a poster and/or presentation ready to display and demonstrate the work that they completed over the summer
Conducting research or inquiry for at least 40 hours/week

Semester/Academic Year:

Meeting with faculty and/or other research team members one or more times per week
All students involved in undergraduate research are strongly encouraged to disseminate the results of their work by presenting at a conference. CURI provides up to $1000 of a student's cost to travel to and participate in a conference.
Can I take a summer school course and do research?
Students accepting summer undergraduate research positions are expected to work 40 hours per week on their research projects.  If a student is interested in taking a St. Olaf summer school course while employed as a summer researcher, the student should work with their faculty supervisor to write a proposal that describes how the student will meet both the course and research demands.  The proposal is submitted to the CURI Director, who will confer with the supervising faculty member before approving the request.

Yes. During the academic year, you can enroll in a Directed Undergraduate Research (DUR) courses with a variety of departments to earn credit. Center for Interdisciplinary Research (CIR) participants can also earn credit. Summer CURI researchers, however, do not earn credit.

Summer: Yes – students will receive a taxable stipend of $440 per week, as well as housing support if they live on campus.
School Year: Not usually – students may earn credit with DUR. Some programs do provide for stipends during the academic year, e.g. the CIR offers a modest stipend.