News
Some of the many excellent student-faculty research projects have engendered articles on the results of their work. To read the articles follow the links below.
St. Olaf student receives the American Geophysical Union's Lumley Award – Megan Behnke '16 conducted research on the transformation of dissolved organic carbon into greenhouse gases in Siberia and presented her work at the AGU Fall Meeting, which is the largest Earth and space science meeting in the world. (2015)
St. Olaf student is awarded the National Science Foundation research fellowship – Serena Robinson '15 has been a St. Olaf Beckman Scholar, Fulbright Scholar, and now receives a research fellowship through the National Science Foundation to continue her studies at the University of Minnesota's Ph.D. program in microbiology, immunology, and cancer biology. (2015)
La Géographie Musicale de Paris 1924 – "Thanks to Associate Professor of Music History Louis Epstein and a team of student researchers, historic work by composers, musicians, writers, artists, and actors who captivated Paris during the 1920s are brought to life in a set of interactive maps that illustrate the musical geography of La Ville-Lumière." (July 2015)
Student wins prestigious award from American Geophysical Union – St. Olaf College student Megan Behnke '16 has received the American Geophysical Union's prestigious Lumley award. (December 5, 2014)
St. Olaf student's clinical research published in medical journal – The research that Beret Amundson '15 did this summer as part of a St. Olaf College internship program at Hennepin County Medical Center has been published in the journal of Clinical Chemistry and Laboratory Medicine. (December 3, 2014)
Student's soybean research published in scientific journal – St. Olaf College student Emily Butka '18 is the second author of a research article published this fall by Scientific Reports,an online scientific journal from the publishers of Nature. (November 14, 2014)
Student's research examines radioactivity of the sky – St. Olaf College student Emily Witt '17 spent her summer researching the radioactivity of the sky with other undergraduates at the University of Chicago's Materials Research Science and Engineering Center. (October 13, 2014)
St. Olaf student awarded Harvard Stem Cell Institute internship – St. Olaf College student Alexa Roemmich '15 is one of 40 undergraduate students from around the world selected to participate in the 2014 Harvard Stem Cell Institute (HSCI) Internship Program, which provides participants with a challenging summer research experience in a cutting-edge stem cell science laboratory. (July 28, 2014)
Two students awarded NIST summer research fellowship – This summer St. Olaf College students Mara Stutzman '16 and Signe Braafladt '16 are conducting research in Gaithersburg, Maryland, as part of the National Institute of Standards and Technology's Summer Undergraduate Research Fellowship. (June 9, 2014)
An interdisciplinary approach to studying the nervous system – Andrew Kleven '14 worked with Associate Professor of Biology and Physics Jay Demas to develop a yearlong research project using optogenetics. (June 2, 2014)
Student wins award for presentation at national STEM conference – St. Olaf College student Carlos Rivera '15 won a second-place award for his presentation at the Emerging Researchers National Conference in Science, Technology, Engineering, and Mathematics in Washington, D.C. (April 11, 2014)
Student presents research at American Chemical Society meeting – St. Olaf College junior Jorden Johnson recently presented her research at the national meeting of the American Chemical Society. (April 4, 2014)
Students present research at national STEM conference – St. Olaf College students Guttu Maskalo '14, Lansa Dawano '14, and Carlos Rivera '15 traveled to Washington, D.C., last week to present their research at the Emerging Researchers National Conference in Science, Technology, Engineering, and Mathematics. (February 19, 2014)
Student discusses digital humanities with Chronicle of Higher Education – St. Olaf College computer science major Maggie Wanek '15 tells the Chronicle of Higher Education that the digital tools she's developed to help humanities faculty members with their research "illustrate the relevance and the versatility of computer science as pertaining to other disciplines." (January 13, 2014)
Student research helps organization earn grant– Research by St. Olaf College students and faculty helped the Northfield Healthy Communities Initiative earn a $50,000 grant from the Blue Cross and Blue Shield of Minnesota Foundation to support wellness and community in Rice County. (December 30, 2013)
Student's research aims to make paper more sustainable – If Jamison Watson '14 has his way, the distinction paper he recently presented at St. Olaf College will one day be made from the byproducts of ethanol. (December 23, 2013)
Students study mathematical learning from a linguistic perspective – James Lodovic '14 and Katherine Canon '14 aren't as interested in whether their research subjects know that "1+1=2″ as they are in how quickly they can identify the accuracy of "1+ dos = three," "five – 4 = one," or "drei + 3 = 6." (December 17, 2013)
Earth sciences journal publishes findings of St. Olaf research course – The Canadian Journal of Earth Sciences recently published the collaborative research efforts of Professor of Biology and Environmental Studies Charles Umbanhowar Jr. and students in his Landscape and Regional Change in the Arctic course. (December 13, 2013)
Research internship opens doors to postgraduate opportunities – A cancer research internship this summer opened numerous doors for St. Olaf College student Brandon Khor '15: the possibility of having a paper published, an opportunity to gain valuable insight into a future career in medicine, and even the chance to return next year to finish the lab work he started. (December 2, 2013)
Student brings mathematical modeling into the ceramics studio – This semester, Taisha Kushner '14 is putting her nose to the grindstone — or in this case, the pottery wheel — to develop predictive mathematical formulas for ceramic glazes through a very unique independent research course. (October 31, 2013)
St. Olaf receives Mellon Foundation grant for digital humanities project – A four-year, $700,000 grant from the Mellon Foundation will provide St. Olaf faculty with digital tools to explore new ways of teaching and new lines of inquiry for their research. The "Digital Humanities on the Hill" project also enables students to learn digital research methodologies relevant to careers in the humanities and humanistic social sciences. (October 22, 2013)
Professor wins NIH grant to conduct research in organometallic chemistry – St. Olaf College Assistant Professor of Chemistry Dipannita Kalyani will use a $280,000 grant from the National Institutes of Health to conduct research in organometallic chemistry. (October 21, 2013)
Two students win prestigious EPA fellowship – "St. Olaf College students Will Lutterman '15 and Serina Robinson '15 each received a prestigious two-year research fellowship from the United States Environmental Protection Agency (EPA)." (October 1, 2013)
Students use new technology to document big archaeological find – "A group of St. Olaf College students working on an archaeological dig in Turkey became some of the first researchers in the world to use a new technology that could change how scholars study artifacts." (September 24, 2013)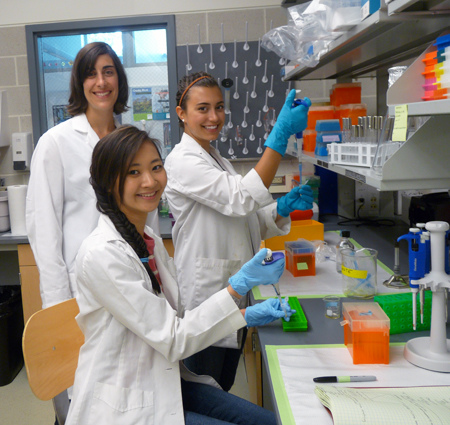 Medical Internship program makes room for researchers – "This summer, Adam Hadro '14 is working with Hennepin County Medical Center researcher Marco Pravetoni to examine how vaccines might help prevent drug addiction." (July 31, 2013)
Researchers look for clues in mutant bacteria – "When researchers at St. Olaf College deleted a single gene from a common type of bacteria, they dramatically altered the cell cycle of the organism. In the process, they created a mutant that had never been studied before." (July 12, 2013)
Student researchers present at geology conference – "Each year, the Geological Society of America (GSA) hosts a meeting that features some of the best, brightest, and most innovative scientists in the field. And this year the society's annual meeting included a research presentation by three St. Olaf students." (October 19, 2011)
Art, collaboration, conversation – "Anders Nienstaedt '12 and James Wilson '12 lived any aspiring artist's dream this summer: they were paid to work full-time on pieces for an established artist's show." (September 12, 2011)
The proof is in the fiber – "Suppose that fibers from a white T-shirt are found at a crime scene. When tested against fibers from a shirt strewn in the prime suspect's closet, they are found to be a perfect match. Case closed? Not exactly. But such a match would certainly be a key piece of circumstantial evidence." (September 1, 2011)
The science behind excess fat – "It's a simple concept: each cell in the human body has the ability to store excess fat in a compartment known as the lipid droplet. This compartment plays an important role in protecting cells from toxic overloads of fat and is key to understanding obesity-related disorders like heart disease and diabetes." (August 12, 2010)
VIDEO NEWS: Tale of a trout stream – "Each summer St. Olaf science students and faculty engage in a wide range of research for 10 weeks. One of this year's projects involved students looking at how links between water and land influence the "food web" of the Rice Creek ecosystem. In other words, they took a close look at who is eating what in the ecosystem's food chain in order to help improve management of the area." (October 8, 2010)
Student research turns pond scum into energy – "You'd think it would take another Einstein to make a scientific breakthrough as far-fetched as making a car run off of pond scum. But a young scientist has recently proven that just such a thing is possible. And he doesn't go by Einstein. He goes by Ben." (October 5, 2010)
Research experience leads to pursuit of grad school – "When Kosaizee Yang '11 arrived at St. Olaf nearly four years ago, she was not only the first member of her family to attend college, but the first to have left high school with a diploma in hand.As more articles appear we can post them as well." (November 24, 2010)
If you have an article you would like to post regarding your summer research contact curi@stolaf.edu.