Fling Wide the Gates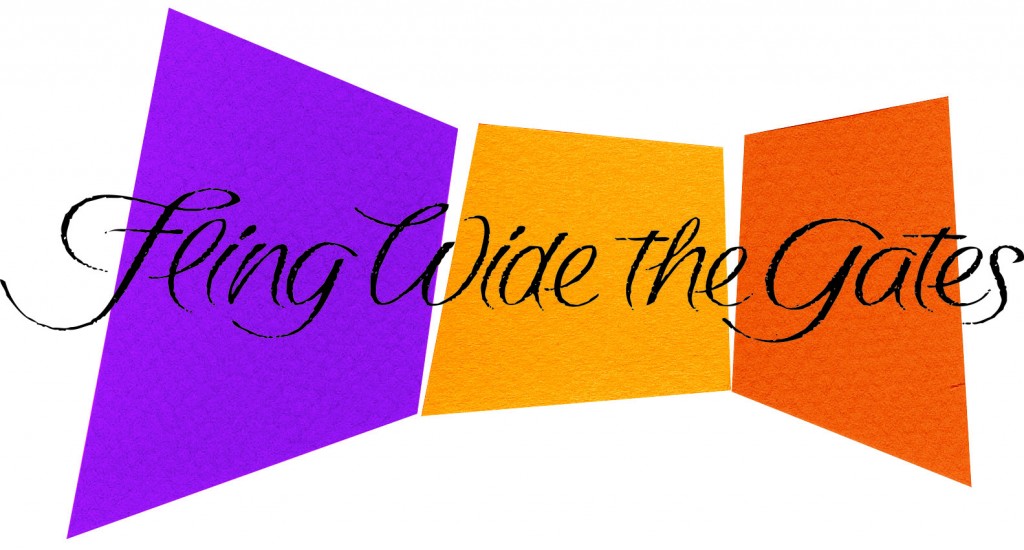 The theme "Fling Wide the Gates" calls us to examine in scripture and worship how we open wide the gifts of Christianity for others and for our own hearts.
It is a strange thing about humans, but true: open gates and open doors generally feel more welcoming than no gate at all. The absence of walls, boundaries, fences and gates gives no signal about welcome or unwelcome, while a gate, thrwon open, says, "Come on in." The New Jerusalem of John's Apocalypse has 12 gates to the city — a gracious, extravagant welcome.
The 2008 CWTA contemplated and celebrated open gates:
Daily worship, always a highlight of the conference, served as a gateway into the welcoming presence of Grace.
The gates of a beautifully renovated Boe Memorial Chapel will were thrown open for conference participants to enjoy, featuring the newly built Holtkamp pipe organ.
Thoughtful lectures, plenary addresses and seminars opened gates to new understanding.
And through the lively mix of learning and worship, all were called to a renewal of life in a covenant where love and justice work together to "Fling Wide the Gates."
Worship Services
Faculty
Mary Albing
Lutheran Church of Christ the Redeemer, Minneapolis
James Alison
Author and Theologian
Christopher Aspaas
St. Olaf College
Bruce Benson
St. Olaf College
Mary Louise (Mel) Bringle
Brevard College, Brevard, North Carolina
David Davidson
Highland Park United Methodist Church, Dallas, Texas
Steve Edwins
SMSQ Architects, Northfield, Minnesota
Randy Engle
North Hills Christian Reformed Church, Troy, Michigan
John Ferguson
St. Olaf College
David Hagedorn
St. Olaf College
Marty Haugen
Composer
He Qi
Christian Artist
Therees Tkach Hibbard
University of Nebraska-Lincoln
Jennifer Anderson Koenig
St. Olaf College
Robert Mahoney
Robert F. Mahoney & Associates
Jill Mahr
St. Olaf College
Jeffrey O'Donnell
St. Olaf College
Scott R. Riedel
Scott R. Riedel & Associates, Ltd.
Catherine Rodland
St. Olaf College
Pete Sandberg
St. Olaf College
Elizabeth Shepley
Northfield Youth Choirs
Judith Seleen Swanson
Liturgical Artist
Bradley Hunter Welch
Highland Park United Methodist Church, Dallas, Texas
Paul Westermeyer
Luther Seminary
In-depth Seminars
Christopher Aspaas and Therees Hibbard
For the Choir Director
Receive renewed inspiration, instruction and ideas for the challenges and adventures of leading the church choir. This seminar will address myriad roles and responsibilities that every choir director, minister of music and church musician faces in a modern worship setting. Philosophical and theoretical discussions will balance useful, down-to-earth suggestions centering on individual and group instruction. Interested participants may conduct in a master class setting, receiving immediate feedback about gesture and rehearsal. Sessions will include demonstrations, discussions and practical applications of the following: developing effective communication between director and singer through gesture vocabulary and rehearsal techniques for deeper musical interpretation and understanding; vocal health and development for lifelong singing; finding, evaluating and determining appropriate repertoire for every Sunday, every service, every season; continuing self-evaluation techniques; and applying the principles of direct instruction in the choral rehearsal.
James Alison
Reading the Bible with the Help of René Girard
This seminar will look at the instruments provided by the "mimetic hypothesis" of René Girard then see how they enable us to read scripture in a way that is both very fresh and entirely in accordance with the most ancient Christological perspectives. This seminar will contribute to both the general exegetical education of those participating and the particular preparation of selected texts from the Cycle A fall material and the Cycle B Lenten material for those in ministry formation. This includes an introduction to the thought of Girard plus material from Joshua 7; Emmaus material and Christ's living hermeneutical presence; reading some apocalyptic texts and Cycle A fall material; from Transfiguration to Gethsemane; and Cycle B Lenten material.
Mary Louise (Mel) Bringle
Singing Isaiah
Few authors have proven more adept at "flinging wide the gates" than Isaiah, who conveys God's joyous invitation: "My house shall be called a house of prayer for all peoples" (56:7). In this seminar, Isaiah's poetic and prophetic vision will be examined, both as it has been reflected in the existing hymnody of the church and as it inspires us to try our hands at crafting new texts to honor the God who is perennially doing "a new thing" (43:19).
John Ferguson
Improvisation in Service Playing
Ferguson will explore musical concepts with potential to enrich a congregation's experience when singing at worship. Systematic methods to grow one's skills in the improvisation of hymn accompaniments and introductions will be the major focus. The challenge of leading cross-cultural song from the organ will be explored as well. Participants are encouraged to bring their organ shoes and ideas to share with the class and be coached by Ferguson. This seminar is especially beneficial for organists seeking to expand their creativity in leading congregational song.
David Hagedorn
Ethnic Percussion in the Church
Get in the groove as you make authentic sounds on congas, bongos, djembe and "toys." Learn West African and African rhythms, improvisation and how to use effective percussion with ethnic hymnody in your church. Bring instruments if you have them; they will be securely locked in the seminar room for the week.
Marty Haugen
Faithful Worship in Changing Times
Worship is at the heart of our identity as people of God and followers of Jesus. Through word and sacrament the Spirit calls, forgives, renews, inspires and sends us out to be the presence of Christ in the world. In these times of rapid and radical social change, of fear and conflict and or divisions throughout the world and even within our own communities, it is more important than ever that our worship is deeply grounded in a living tradition and deeply engaged in the world around us. These sessions will address how leaders of worship, lay and ordained, collaboratively prepare and lead worship that is faithful, prophetic, relevant and engaging. In particular, the role of music will be explored in supporting the word proclaimed and preached and in the sacraments celebrated.
He Qi
Christianity in Living Color
Committed to the artistic creation of modern Chinese Christian art since 1983, He Qi is arguably China's most internationally sought after contemporary Christian artist. His brilliant, colorful and highly contemporary paintings emerge unmistakably from ongoing Chinese contexts. In his works, He Qi has blended together Chinese folk customs and traditional Chinese painting techniques with the western art of the Middle and Modern Ages and has created an artistic style of color-on-paper painting. Learn about his inspirations, approach to his art and how he works with colors and paints. Then try your hand in the studio at bringing Christianity to life in living color.
Jill Mahr
Handbells — Less Is More
What do you do when you don't have enough ringers for a full choir? Ring more with less. Sometimes fewer ringers are a necessity. Come explore ringing in smaller ensembles, from bell trees with piano to trios and quartets. We will explore literature hands on and develop skills to become comfortable with fewer ringers.
Catherine Rodland and Bradley Welch
From Prelude to Postlude
The aspects of playing a church service from beginning to end will be covered through lecture and master class. Welch will discuss the playing of hymns and accompaniment of anthems. Participants are encouraged to bring anthems from their own churches to discuss and play. Rodland will present new as well as "tried and true" material for preludes and postludes appropriate for the liturgical year. She will also coach participants on prepared literature from all style periods. This seminar is an exceptional opportunity to learn new performance insights into the traditional repertoire for preludes and postludes from highly accomplished, inspiring organists.
Paul Westermeyer
Theological Unpacking of the ELW
Evangelical Lutheran Worship (ELW) was published in 2006 for the Evangelical Lutheran Church in America and the Evangelical Lutheran Church in Canada. It is a Lutheran confessional book, conceived to express the Christian faith compellingly for North American worshipers in the twenty-first century. This workshop will seek to discover what theological themes might undergird it or what theological themes it might imply. Any good denominational hymnal like the ELW brings with it the wisdom of checks and balances. Part of the task here will be to unpack those checks and balances theologically. Ideal for pastors and musicians seeking to enrich worship through a deeper understanding of the theological richness of the ELW.
Exhibitors
Adorn This House, Jeanette Paulson
Duluth, Minnesota
Augsburg Fortress Worship Music
Minneapolis, Minnesota
Choristers Guild
Dallas, Texas
Concordia Publishing House
St. Louis, Missouri
Faith Alive Christian Resources
Grand Rapids, Michigan
GIA Publications, Inc.
Chicago, Illinois
InSpirita Art Quilts and Paraments
Northfield, Minnesota
Interwoven: Textiles for Spirit and Space
Forest City, Iowa
Logos Productions
Luther Seminary Master of Sacred Music Program
St. Paul, Minnesota
MorningStar Music Publishers, Inc.
Fenton, Missouri
Musical Resources
Toledo, Ohio
Penscriptions Calligraphy, Judy Dodd
St. Paul, Minnesota
Sing For Joy Radio Program
Northfield, Minnesota
The Leadership Program for Musicians, Inc.
SMSQ Architects
Northfield, Minnesota