Living Breath of God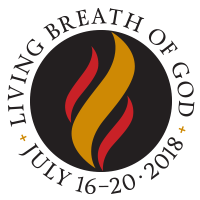 The Holy Spirit is the Living Breath of God. From the foundation of the world, the Holy Spirit creates new life. Through prophets old and new, the Holy Spirit provokes us, opening our eyes to God's justice and mercy. Today and every day, the Holy Spirit empowers us in faith and action. Our conference week will focus on these workings of the Holy Spirit and our daily worship will be built on this foundation.
The St. Olaf Conference on Worship, Theology and the Arts offers professional development, spiritual nourishment and networking opportunities for persons engaged in congregational ministry.
At this conference, participants are invited to experience the "Living Breath of God" with the choral, organ and handbell faculty of St. Olaf College and guest faculty from a range of denominations and ministries.
Worship Services
Conference Recital Series
Faculty
Anton Armstrong
St. Olaf College
Anthony Bateza
St. Olaf College

CathyAnn Beaty
InterPlay
James E. Bobb
St. Olaf College
Lisa Brown
St. Olaf College

Brian Childers
Myers Park UMC, Charlotte, North Carolina

John Ferguson
St. Olaf College, Emeritus

Katherine E. Fick
St. Olaf College

David Hagedorn
St. Olaf College
Therees Tkach Hibbard
St. Olaf College
David Levold
Northfield, Minnesota

Jill Mahr
St. Olaf College
Matthew Marohl
St. Olaf College
Dee McIntosh
LightHouse Covenant Church, Minneapolis, Minnesota

Jeffrey O'Donnell
St. Olaf College
Mark Patterson
Salisbury Presbyterian Church, Midlothian, Virginia

Catherine Rodland
St. Olaf College

Donald E. Saliers
Emory University, Atlanta, Georgia

Mark Stover
St. Olaf College
Jer Swigart
The Global Immersion Project

Deanna Thompson
Hamlin University, St. Paul, Minnesota

Sean Tonko
St. Olaf College

Joshua Wyatt
St. Olaf College
In Depth Seminars
Working with the Developing Singer
Anton Armstrong
Dr. Armstrong will explore rehearsal goals, strategies, and techniques which can nurture healthy and artistic singing for people of all ages.
Singing With Your Whole Self: Integrating Body, Mind, Voice and Spirit Through BodySinging
Anton Armstrong and Therees Hibbard
Focusing on the musical, technical, and expressive development of singers of all levels through the integration of voice, breath and body in rehearsal and performance, Dr. Hibbard and Dr. Armstrong will explore the pedagogy and philosophy that underpins this approach to singing. Participants will experience how the engagement of the whole self when singing and moving can have a profound effect on a person's understanding of tone, phrasing, rhythmic integrity, and musicality; and create a holistic approach to their expression and embodiment of music in themselves and others.
From Prelude to Postlude: The Organ in Worship
James E. Bobb and Catherine Rodland
This In-Depth Seminar will assist participants in preparing to lead worship from the organ bench. The entirety of the service can be shaped by the choices and styles of the pieces played. Part masterclass, part workshop, this seminar will offer coaching as well as sharing of suggestions for repertoire for the church year.
Creating in the Spirit with InterPlay
CathyAnn Beaty
InterPlay uses word, movement, voice and stillness to tap into our creative selves. Based in an Ethic of Play and using simple to-do forms, it allows for nurturing curiosity, connection, ritual, prayer, fun, ease and community. Creating in this way, we are playfully reminded of our vulnerability as well as our choices as "enspirited" beings, affirming and celebrating being created in the image of God.
The Impossible Made Possible: Weaving, Bell Switches, and Coordination Exercises for the Faint of Heart
Brian Childers
This In-Depth Seminar will cover a variety of handbell challenges, helping ringers and directors add a broad range of tools to their "handbell toolkit" and remove the phrase "I can't ring that" from their vocabulary! The first day will walk ringers step-by-step through the process of weaving with a variety of applications. The second day will focus on developing hand independence and coordination skills necessary to problem solve many different handbell applications with an eye towards building confidence in attaining a consistently high level of ringing.
Organ Masterclass
John Ferguson
This In-Depth Seminar is designed to coach participants in repertoire or hymn playing. One goal of the class will be the generation of a list of basic concepts that can assist in practice and performance of repertoire and hymns. Participants interested in being coached are welcome to be in touch with Dr. Ferguson ahead of the conference to agree upon repertoire or hymns to be coached. A list of known repertoire will be sent in advance to any who request it from him. As always in a master class, observers are welcome and will be invited to participate in the discussions leading to the list of basic concepts explored during each two-day master class.
Ethnic Percussion in the Church
David Hagedorn
Get in the groove as you make authentic sounds on congas, bongos, djembe and "toys." Learn West African and African rhythms, improvisation and how to use effective percussion with ethnic hymnody in your church. Bring instruments if you have them; they will be securely locked in the seminar room for the week.
* Please note: this is a four-day seminar, designed to allow for more practical applications of the concepts being presented. If you choose this seminar you will not be able to choose another one.
Spirit in the Psalms
Donald E. Saliers
So often we equate the animating work of the Holy Spirit with praise and doxology in Christian worship. The accent falls on "excitement" or "being lifted up." I propose that the life-giving energy of the Holy Spirit works within all the modes of prayer, including lament. In this seminar we explore how a mature theology of the Holy Spirit is discerned in, with, and through a wide range of selected psalms. Singing and praying the Psalter opens the reality of the "person and work" of the Holy Spirit. Both singing and lectio divina will be featured.
Mending the Divides: How Creative Love Restores our Conflicted World
Jer Swigart
Conflict, injustice, and hatred seem to be gaining momentum in our communities. The divides between us are severe…so much so that our desire to co-create a just future is being dampened by a paralyzing despair. Mending these divides are courageous women and men who, fueled by their faith, understand ourselves not as "bridge builders" but as "expanse-eliminators." We are modern-day peacemakers who dare to move toward the radical center of conflict and injustice equipped with the tools to heal rather than to win. In this In-Depth Seminar, we'll explore how the intersection of restorative theology, everyday peacemaking, and movement leadership awakens our creative imaginations, reshapes our congregational cultures, and redefines our mission in the world.
Spotlight Sessions
Solo Repertoire for Worship

James E. Bobb
Karen Wilkerson
If you are a soloist, accompanist, or plan repertoire for worship, this is for you. Some time will be spent coaching soloists and accompanists, so contact Karen Wilkerson or James Bobb if you would like to sing or play. Some time will be spent exploring solo repertoire lists for worship. Playing spirituals and folk songs from chord symbols/lead sheets will also be part of the discussion.
Spotlight on Handbells

Brian Childers
Brian Childers will lead this one hour session for those who ring handbells as well as those who are interested in learning about ringing.
The Zen of Music Making

Brian Childers
Every bell ringer (and director) struggles with how to best prepare scores for performance, what to mark and how much to mark. This Spotlight Session will provide interactive opportunities for participants to walk through several standards of bell repertoire, providing markings that are clean, informative, and helpful.
Ethnic Percussion in the Church: A Crash Course

David Hagedorn
Get in the groove as you make authentic sounds on congas, bongos, djembe and "toys." Learn West African and African rhythms, improvisation and how to use effective percussion with ethnic hymnody in your church. This Spotlight Session is designed for those who are not enrolled in the In-Depth Seminar.
BodySinging
Therees Hibbard
In this Spotlight Session, Dr. Hibbard will lead participants in the practical and technical aspects of BodySinging as taught in the In-Depth Seminar. Participants will experience how the engagement of the whole self when singing and moving can have a profound effect on a person's understanding of tone, phrasing, rhythmic integrity, and musicality; and create a holistic approach to their expression and embodiment of music in themselves and others. You do not need to be enrolled in the In-Depth Seminar to participate in this Spotlight Session.
Energizing Rehearsals and Empowering Young Musicians

Mark Patterson
This session will provide practical ideas for adding energy to your children's or youth choir rehearsals, and will provide useful rehearsal techniques that help cultivate better musicianship among your singers.
Spotlight on Choristers Guild

Mark Patterson
Come and discover what Choristers Guild has to offer your congregation.
Organ Preludes and Postludes for Pentecost and Ordinary Time

Catherine Rodland
A survey of music appropriate for preludes and postludes on the Living Breath of God theme.  Music will range from the tried and true to some newer offerings.
Teaching the Children's Choir Through Rhythmic Speech

Catherine Rodland
Joanne Rodland
Catherine and Joanne Rodland will join together to show how to teach elements of musical skills, Christian Education, and biblical stories through rhythmic speech chants.
The St. Olaf Christmas Festival: A Retrospective

Anton Armstrong
The St. Olaf Christmas Festival has been presented by St. Olaf College since 1912.  Anton Armstrong has served as Artistic Director of the event since 1990 and provides a unique perspective of the evolution of the nationally acclaimed holiday offering through a review of historical documents and recordings.  A chance to gain an insider's view of this beloved holiday tradition!
Exposing Vulnerability and Bearing the Truth: Exploring the Writings of  James Baldwin and Martin Luther as Resources for Justice
Anthony Bateza
In politics and throughout the wider culture we find ourselves wrestling with the ongoing realities of racism in America. It can be difficult to find honest and authentic ways to engage in these conversations in our congregations. In this session we will explore the legacies of two important figures – Martin Luther and James Baldwin – who can help us in these challenging times.  Join us for an examination of Luther's theology of baptism and confession, and how Baldwin's passionate writing and trenchant social criticism can push us to bear more truth.
The Alzheimer's Journey

John Ferguson
Donald E. Saliers
John Ferguson and Don Saliers lost their wives to Alzheimer's disease and frontal lobe dementia, respectively. In this session they will share their experiences as caregivers— both the challenges and the spiritual insights of their mutual journeys in faith.
A View from the Tractor Seat

David Legvold
David Legvold is a retired educator and farmer of the St. Olaf agricultural lands.  Legvold and his wife Ruth operate approximately 800 acres and practice restorative farming.  He has been designated by Minnesota Governor Mark Dayton as a "Minnesota Water Hero." Legvold Farms has been designated as a Minnesota Agricultural Water Quality Certified farm by the Minnesota Department of Agriculture.  David serves as mentor for Carleton and St. Olaf students as they research agricultural issues and provide valuable research.  Conservation challenges relating to water and soil degradation may also be examined as theological issues.
Move Over, Millennials: Meet Generation Z
Matthew Marohl
Katherine Fick
Pastors Matt Marohl and Katie Fick will lead a discussion about this new generation of emerging adults, what sets them apart from previous generations, and how this information relates to church life.
The Spirit's Working through the Virtual Body of Christ

Deanna Thompson
How do we think about the role and presence of the Spirit in our digitized age? Whether we're critics or enthusiasts of the current state of technology, this is the world we live in. And our theology of the Spirit needs to speak into and about this reality. In this session we will explore ways in which the healing presence of the Spirit can be present in and through the virtual body of Christ.
Incorporating Movement and Story into Worship

CathyAnn Beaty
Learn InterPlay's easy-to-do and easy-to-lead forms using movement and story to help parishioners tap into their creative selves. When we create thru playful movement and storytelling we are reminded of our choices as "enspirited" beings in relationship with ourselves, others and God.
Intercultural Leadership 101: Cultivating a Culture of Worship
dee Mcintosh
Sunday morning worship has a profound way of bringing the people of God together in unison, collectively singing the praises of our most high God. However the same spiritual practice that can draw people together across racial and cultural lines has also been used to divide us. This Spotlight Session will look at how to establish a culture of worship that will mend the divides of racial and cultural exclusion and inspire congregations to tap into the reconciling spirit of God.
Technology in Worship: Sound Reinforcement, Recording and Webcasting
Jeffrey O'Donnell, Joshua Wyatt, and Sean Tonko
This demonstration session will explore the challenges and opportunities for sound reinforcement, recording, webcasting, lighting and other technologies for worship spaces. Using the audio, visual, and lighting systems of Boe Memorial Chapel as an example, we will demonstrate techniques and concepts that will help improve many aspects of audio and video distribution operations in your church. Will include Q & A – come with questions!
Plenary Sessions and Conference Gatherings
Clergy Connection
The CWTA Clergy Connection is an opportunity for pastors to gather and to consider the ways in which our teaching, preaching and pastoral care reflects the Holy Spirit as the Living Breath of God. On Tuesday, we will discuss the ways that we might emphasize this work of the Spirit in our preaching. On Thursday, we will focus on the work of the Holy Spirit in our teaching and pastoral care. Sandwiched between these two sessions will be, well, sandwiches! We will meet together on Wednesday for lunch, networking and conversation. All three sessions will be led by Rev. Dr. Anthony Bateza, Rev. Dr. Matthew Marohl and Rev. Katherine Fick.
Plenary Sessions
Mark Stover, Anthony Bateza, and Anton Armstrong
Dee McIntosh
Donald E. Saliers
Jer Swigart
Dee McIntosh, Donald E. Saliers, and Jer Swigart
Exhibitors