A Sanctified Art
A Sanctified Art emerged as a ministry to support worshiping communities in integrating art and creativity into their spiritual practices. Initially representing the art and ministry of Lisle Gwynn Garrity, A Sanctified Art expanded to become a team of artists and pastors in January, 2016. In 2019 they began intentionally welcoming guest contributors and partnering with organizations, musicians, creatives, and scholars to bring new energy, insight, and wisdom into our resources. Their creative team formed as the result of each of them discerning ways to blend their creative talents with ministry. They are trained theologians and pastors in addition to being artists and creators. They are called to be artists just as much as ministers; in order to faithfully offer their gifts to the Church and world, they cannot set creativity aside. They offer their creative gifts to resource, provoke, guide, facilitate, and enrich the spiritual lives of worshipers around the world.
---

Anton Armstrong
Anton Armstrong, Tosdal Professor of Music at St. Olaf College, became the fourth conductor of the St. Olaf Choir in 1990. Dr. Armstrong also serves as Artistic Director of the St. Olaf Christmas Festival which features nearly 600 student musicians who are members of five St. Olaf Choral ensembles and the St. Olaf Orchestra. He is a graduate of St. Olaf College and earned advanced degrees at the University of Illinois (MM) and Michigan State University (DMA). He is editor of a multicultural choral series for Earthsongs Publications and co-editor (with John Ferguson) of the revised St. Olaf Choral Series for Augsburg Fortress Publishers. In June 1998, he began his tenure as founding conductor of the Oregon Bach Festival Stangeland Family Youth Choral Academy. In March 2017, The St. Olaf Christmas Festival was featured by invitation in two major performances at the 2017 National Conference of the American Choral Directors Association at Orchestra Hall, Minneapolis, MN. In January 2006, Baylor University selected Armstrong from a field of 118 distinguished nominees to receive the Robert Foster Cherry Award for Great Teaching. In October 2009 he received The Distinguished Alumni Award from Michigan State University. In June 2013, Armstrong received the Saltzman Award from the Oregon Bach Festival, which is the festival's highest honor. In the Fall of 2014, The St. Olaf Choir and Armstrong received a Regional Emmy for the PBS television program Christmas in Norway with The St. Olaf Choir.
---
Joe Davis
Joe Davis is a nationally-touring artist, educator, and speaker based in Minneapolis, MN. He employs poetry, music, theater, and dance to shape culture. His work has been featured on BET, CNN, and VH1. He is the Founder and Director of multimedia production company, The New Renaissance, the frontman of emerging soul funk band, The Poetic Diaspora, and co-creator of JUSTmove, racial justice education through art. He has keynoted, facilitated conversation, and served as teaching artist at hundreds of high schools and universities including programs in New York, Boston, and most recently as the Artist-in-Residence at Luther Seminary where he earned a Masters in Theology of the Arts. To connect, book, or learn more, please visit JoeDavisPoetry.com.
---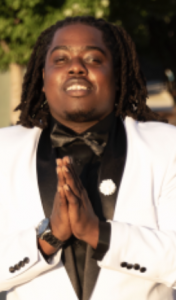 Antron McKay-West
A serial entrepreneur from Robinsonville, MS with a passion for uplifting his community. He is Owner at the Village Kitchen in Jackson, Mississippi. McKay-West says he was "born into activism," and he works to develop grassroots leadership in African American communities in Mississippi, and strives to end the school-to-prison pipeline.
---
Deanna Thompson
Dr. Deanna A. Thompson is Director of the Lutheran Center for Faith, Values, and Community and Martin E. Marty Regents Chair in Religion and the Academy at St. Olaf College in Northfield, Minnesota. Prior to St. Olaf, Thompson taught religion for over two decades at Hamline University in St. Paul, MN. Thompson is a sought-after speaker on topics ranging from Martin Luther and feminism to the intersections of cancer, trauma, and faith, and what it means to be the church in the digital age. She is author of five books, including The Virtual Body of Christ in a Suffering World (Abingdon, 2016), and most recently, Glimpsing Resurrection: Cancer, Trauma, and Ministry (Westminster/John Knox, 2018).
---
Tesfa Wondemagegnehu
With a love of music as big as his last name, Tesfa Wondemagegnehu has been sharing joy and a vision for equity and justice through song for over a decade. Through a triumvirate of teaching, conducting, and performing, he has found a way to transform both students and audiences and to reach those seeking resolutions of peace, equality, and respect … through music. Tesfa Wondemagegnehu serves as the conductor of the Viking Chorus and the Chapel Choir at St. Olaf College. He maintains an active voice studio and teaches Music & Social Justice with the goal of helping bridge the gap of social injustice through music, dialogue, and inspiring participants to take action in their communities. Wondemagegnehu most recently was the Director of Choral Ministries at Westminster Presbyterian Church of Minneapolis, where he co-founded the Justice Choir movement with noted composer Abbie Betinis. In the summer of 2018, Tesfa served as guest conductor of the children's choir at the Aspen Music Festival, leading them in a week-long journey on the Justice Choir Songbook. Tesfa has conducted and given masterclasses, workshops, and clinics both nationally and internationally. In 2017 he co-led the American Choral Directors Association's national high school honor choir, working collaboratively with Eric Whitacre. In June of 2017, he was named the composer-in-residence for Choirs of America at Carnegie Hall, where he had the opportunity to conduct and lift over 600 voices in singing the world premiere of his composition May the Road. Wondemagegnehu made his Severance Hall debut in 2017, co-conducting with Cleveland Orchestra Chorus Master Dr. Lisa Wong a choir comprising high school students from the Cleveland area, and in 2016 he worked with Los Angeles Master Chorale artistic director Grant Gershon, co-conducting their 1,000 student honor choir in the majestic Walt Disney Concert Hall. ​Tesfa holds a Master of Music degree in Choral Conducting and Vocal Performance from the Florida State University and a Bachelor of Music degree in Vocal Performing from the University of Memphis. While teaching high school, Tesfa was named Orange County Public School Teacher of the Year and received the Macy's National Magic of Teaching Award. This award celebrated an innovative voice program started at Freedom High School in Orlando, where the class participants, who received free voice lessons and vocal coaching, obtained over $3 million in college scholarships from some of the most prestigious music schools in the country.