Jessica started participating in TRIO ETS as a 7thgrader at Humboldt Senior High School. She says that one of the main reasons she is now attending college is because of her ETS advisors, and how much they encouraged her throughout her years in high school.  As a senior they kept her on track with college preparation and financial aid applications, and were a support system as she prepared for the transition to college.
Currently, Jessica is a junior at the University of Minnesota where she is majoring in African American History and Social Studies. She is the Co-Chair for TRIO Student Alliance, where she helps fellow college TRIO students navigate their way at the U of MN. She also participates in Multicultural Center for Academic Excellence and is a President's Emerging Scholar student.
Jessica's advice to current high school students is to take your studies seriously. Even if you're not sure you want to attend college, it's important to think about the future. "It's also okay if you're not sure what you want to do next," she adds.  "Take your time and choose what's best for you."
Jessica has many educational and professional goals for her life, but the primary one that continues to motivate her is that she wants to make a difference. "Even if it's small," she says, "I'd like to know that my life experience can help others."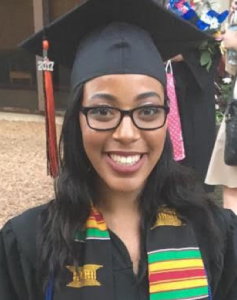 Read more ETS Success Stories…..