Please note that the IRS Data Retrieval Tool is currently down. It appears to be available within the FAFSA, but is not functional. Families will need to manually enter their 2015 financial information. If a student is selected for federal verification, they will need to request a Tax Return Transcript instead of utilizing the Data Retrieval Tool in the FAFSA. We have been told by the US Dept of Education that it will be up and running in October 2017.
#1. Go to the FAFSA website (www.fafsa.ed.gov). If the student has never filed a FAFSA before, click on "Start a New FAFSA". If the student has filed a previous FAFSA, click on "Login".

#2. If the student/parent previously filed a FAFSA for the upcoming academic year, they will want to click on "Make FAFSA Corrections".
If the student/parent have not previously filed a FAFSA for the upcoming academic year, fill out the relevant information. Upon reaching the "Financial Information" tab, please jump to Step #4 on this page.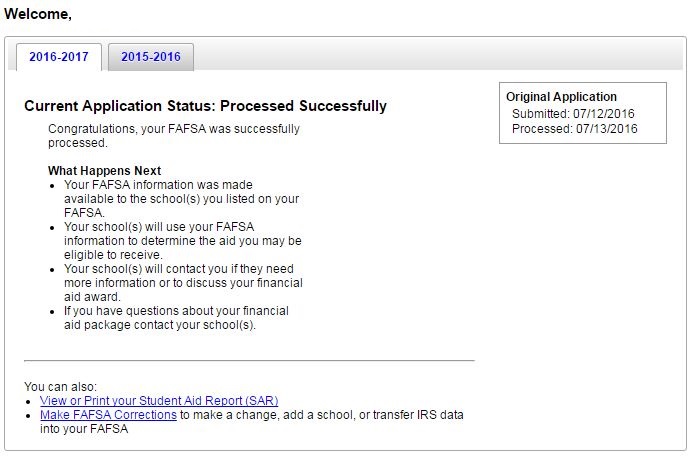 #3. After the student/parent have entered the student's password and PIN information, click on the "Financial Information" tab.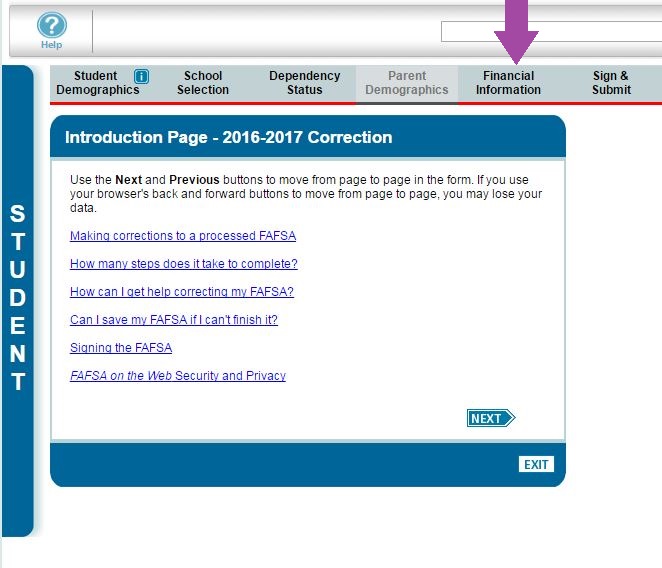 #4. The FAFSA will verify if the student is eligible for the IRS Data Transfer process. Please note that in order to use the IRS tool, the tax filing status must be "Already Completed", or you must change it to "Already Completed".

#5. After clicking on "Link to IRS", a page will pop-up alerting that the student is leaving FAFSA on the Web. This is correct. Click "OK".

#6. This will then connect the student/parent to the IRS website. The next step is to enter the marital status, address and filing status of the student/parent. After this information has been entered, review the tax information for accuracy. Once accuracy has been ensured, the student/parent should indicate to "Transfer My Tax Information into the FAFSA" (red arrow) and then click on "Transfer Now" to actually transfer the information into the FAFSA (purple arrow).
 
#7. Once returned to the FAFSA, students and parents should be able to see text indicating that information has been "Transferred from the IRS". Students and families should NOT make any changes to any of this information. Changing the information will nullify the transfer process.
If you have questions or concerns about the information that was transferred, please contact the Financial Aid Office at finaid@stolaf.edu or 507-786-3019.
#8. After ensuring that the information has been transferred correctly, students and families can sign and submit the FAFSA with the Parent and Student PIN information.