Professor Emeritus of Philosophy and Emeritus Oscar and Gertrude Boe Overby Distinguished Professor
Member, Cambridge Centre for the Study of Platonism, Cambridge University
Taliaferro's email is taliafer@stolaf.edu. Mail can be sent to him at St. Olaf, but his home mailing address is best: 510 Groveland Avenue (#222), Minneapolis, MN 55403, USA. He welcomes meetings with students or scholars by appointment on the St. Olaf campus or in Minneapolis at a coffee shop or via zoom. Since retiring from full-time teaching in 2021, Taliaferro has published four books (including An Agrarian Proposal and A Narnian Vision of the Atonement), edited a journal dedicated to social justice and the practice of philosophy in prison in the USA; he has given in-person presentations at Oxford and Cambridge universities, and presentations by zoom at the University of Toronto, Manchester University (UK), St. Andrews University (Scotland), and at universities in Brazil, China, Iran, Italy, Peru, Turkey, Uruguay. He has co-authored popular culture and philosophy books in 2023 on the Godfather films and Anthony Bourdain.
Charles Taliaferro BA (Goddard College), MA (University of Rhode Island), Master of Theological Studies (Harvard Divinity School), MA, Ph.D. (Brown University) has been a professor at Sl. Olaf College for 36 years where he served as Chair of the Philosophy Department (2013-2019), teaching previously at the University of Massachusetts, the University of Notre Dame, and Middlesex Community College. He is the author, co-author or editor of over 35 books, four published by Cambridge University Press; three of his books are audio books that can be ordered here:
Aesthetics: A Beginner's Guide
Philosophy of Religion: A Beginner's Guide
A Brief History of the Soul
His books and papers have been translated into Russian, Chinese, Portugues, German, Farsi, Korean, Spanish, and Turkish (in process). He is the Editor-in-Chief of Open Theology and is on the editorial boards of Sophia, Religious Studies Review, and Philosophy Compass. He has given invited lectures at Oxford, Cambridge, Saint Andrews, the University of Glasgow, Uppsala University, Copenhagen University, the Gregorian (Rome), the University of London, the University of Toronto, Mount Royal University, the University of Chicago, Harvard, Yale, Princeton, Columbia, NYU, the University of Wisconsin, Middlebury, Carleton, Macalister, and at universities in China, Russia, Brazil, Germany, and Austria.  He has co-authored over twenty book chapters and articles with St. Olaf undergraduate students and recent graduates. With Elsa Marty (St. Olaf grad, University of Chicago doctoral student), he co-edited two editions of A Dictionary in Philosophy of Religion (London: Bloomsbury, 2010, 2018) involving over 35 scholars. He is the co-editor with Chad Meister of a six volume The History of Evil (Routledge). He is the senior co-editor with Stewart Goetz of the four volume The Wiley Blackwell Encyclopedia of Philosophy of Religion, with four Associate Editors, 15 Assistant Editors, over 450 entries by over 350 scholars from around the world.
Here is the poster for his presentation in China
Two of his most recent books: Is God Invisible? An Essay on Religion and Aesthetics, co-authored with Jil Evans. Here is an endorsement by Margaret Miles:
"What does it mean to describe God as invisible? How does this relate to God's transcendence? And in what sense, if any, can God be manifested in experience? Taliaferro and Evans offer an important, timely, and original contribution to these pressing questions, writing with erudition, enthusiasm, and depth, and engaging with a huge variety of thinkers and artists who have engaged with the relevant issues. Their approach is truly interdisciplinary, it cuts across the supposed distinction between analytic and continental philosophy, and it offers a compelling framework in terms of which to comprehend the relation between self and God. This remarkable book is a must-read for anyone interested in philosophy of religion, theology, aesthetics, and the question of life's meaning."
Taliaferro is the author of Religions; A Quick Immersion. Here are two endorsements:
"You will not find a better guide for a quick immersion into religion than Charles Taliaferro. With his erudite knowledge of the history and nature of religion, his even-handed presentation, and his concise and engaging prose, he takes the reader on a journey in this book that is both stimulating and highly instructive. A splendid read!"
– Chad Meister, Professor of Philosophy and Theology, Bethel University
"Serious without being sombre, Religions: A Quick Immersion provides a comprehensive account of the breadth and depth of the worldviews of the major world religions. As it does so, it displays much learning, lightly worn."
– T. J. Mawson, University of Oxford
Taliaferro reports that the great love of his life has been 40 years of professor-student relations; to be continued… Two drawings of CT by students: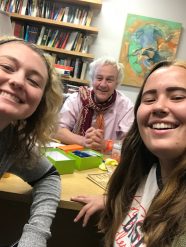 Charles in October 2019 with two Rugby philosophy students.
Taliaferro reports: "I am in awe of the diversity of professions that students have gone on to undertake after graduation, including becoming professors in Philosophy, Theology, Religious Studies, Classics, History, English, and Archeology, teachers in High School, lawyers in multiple fields including Space Law at the U.S. Space Command in Colorado, medical doctors, dentists, nurses, and health professionals, social workers, therapists, vetinarians, the arts (painting, music, filmmaking, theatre), the religious life (two monks, one nun, an Orthodox Bishop, and many Pastors), working in business and financial firms, insurance and real estate, chefs and food industry, farmers, librarians, a pilot, stand-up comedy, circus work, a police officer, the military, a magician, scientists (physics, chemistry, biology, ecology) and mathematics, professional sports, computer companies, two novelists, and more. It has been a huge honor to have worked with each of them when they were in college or university."
Charles's CV may be found here.
This CV was last updated in 2021. More recent book publications include the two referenced earlier (Is God Invisible co-authored with Jil Evans and Religions; A Quick Immersion) as well as An Agrarian Proposal; New England Agrarianism in the Service of the Common Good co-authored with Rebecca Judge (Cascade Books), A Narnian Vision of the Atonement; A Defense of the Ransom Theory (Cascade Books), and Christian Philosophy and the Problem of God (a contribution to the Elements series with Cambridge University Press). For an update on articles and reviews, please see PhilPapers or other online philosophy research sites.
His television work on Mental Engineering may be found here.
Professor Taliaferro rarely uses conventional mid-term or final exams. Instead, Taliaferro assigns students "creative finals" in which they can create some final project that reflects some aspect of the course they have taken. In the course Philosophical Theology two students made a casket with the writings of Kierkegaard printed on the inside and outside, encouraging the professor and class members to enter the casket to contemplate the meaning of life and death.

Prof. Taliaferro contemplating Kierkegaard.