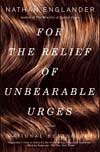 For the Relief of Unbearable Urges
By Nathan Englander
Vintage Books, 1999
For the Relief of Unbearable Urges, a gift from St. Olaf Regent Nancy Anderson, is a collection of nine short stories that each take as their subject the Jewish experience, though each story approaches that subject in a different way. "The Tumblers" tells the story of a group of hassidim who accidentally board a circus train instead of the train to the death camps and end up escaping the Holocaust by pretending to be acrobats. It's as funny as a story about the Holocaust can be. In another, "The Gilgul of Park Avenue," a non-observing Christian suddenly believes that he is Jewish, much to the consternation of his wife. It is a funny and touching story about religious belief and about marriage. "The Wig" is a sensual story about a woman's sense of her own beauty. Others, like "In this Way We Are Wise" and "The Last One Way" are as bleak as anything you will read.
Because short fiction is — well, short — its writers need to extract the maximum value from each word. At its best short fiction is powerful because it is so economical. Every word has to matter, and every word does in Englander's stories. This is a very fine, book, and I recommend it to you.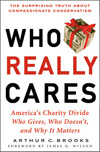 Who Really Cares
By Arthur C. Brooks
Basic Books, 2006
I was led to Brooks's study by an article in The Wall Street Journal that discussed his conclusions. Because one of a college president's important responsibilities is gathering resources to enable the college to accomplish its mission, I spend a lot of time thinking about philanthropy in general and asking people to extend their personal philanthropy to St. Olaf College. This, I thought, is a book I should read.
Brooks, an economist who teaches at Syracuse University, makes a striking argument based on his analysis of numerous data sets: that religious people are much more charitable, both with money and in volunteerism, than non-religious people; that people who believe that income inequality is a problem and who believe that the government is responsible for equalizing income (for example, through a progressive tax system) give far less than people who believe differently; and that habits of charitable giving most frequently emerge from intact families where charity is taught and modeled. Because politically conservative Americans are more likely than politically liberal ones to be religious and to be skeptical of the role of the government in economic affairs, political conservatives are far more personally charitable than political liberals. Religious liberals are personally charitable at the same rate as religious conservatives; the problem is that there are far fewer of them. The working poor, Brooks notes, give very generously in proportion to their family income.
Apparently, according to Brooks, those who believe that the government should address the disparity of wealth in America actually substitute this belief for personal charity, which is why their giving of time and treasure is so low. (An appendix to the book names the data sets Brooks used in his analysis and discusses his use of them.)
Brooks also offers in passing a helpful metaphor to describe the role of charitable institutions, like St. Olaf, in the broader economy of philanthropy. "Most of us rely on reputable charitable institutions to steward our donations properly to create the social value we seek. [Non-profit organizations] are the conduit between those who need services and those who need to give" (p. 54).
Another fascinating aspect of this book, Chapter 7, sets forth the research that shows personally generous individuals are, on average, happier and live longer than the less generous sector of the population.
This is one of the most provocative books I have read in a long time, and I recommend it to you.
Two Minute Rule
By Robert Crais
Pocket Star Books, 2007; published in hardcover, 2006
I know that as the president of one of America's great colleges I should be spending my time thinking deep thoughts about the future of St. Olaf and of American higher education in general, but from time to time circumstances just call for a good crime novel. I was in an airport bookstore last week and my eye fell on a new novel by one of my favorite detective writers, Robert Crais. Crais writes the Elvis Cole novels about a hip detective in Los Angeles and his scary friend Joe Pike. The first-person narrative is very funny, the action is fast-paced, and the plotting is tight. If you like Robert B. Parker's Spenser novels, set in Boston, you'll probably like the Elvis Cole Novels.
The Two Minute Rule is not an Elvis Cole novel. Rather, it tells the story of Max Holman, just released from prison after serving a sentence for bank robbery. On the day of his release he discovers that his son, whom he has never really known and who is now an L.A. cop, has been gunned down. None of the official explanations of what happened make sense, so Holman sets out to expose the killer himself. In an interesting twist he joins forces with the F.B.I. agent who arrested him on the bank charges. It's a great read with an exciting conclusion.
The Two Minute Rule governs bank robberies, by the way: if you're a bank robber you need to get in, get the cash, and get out within two minutes or you're done for.
Crais has also begun writing Joe Pike novels, and this edition of The Two Minute Rule includes a teaser from the new Pike novel The Watchman. I'm looking forward to that.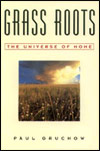 Grass Roots: The Universe of Home
By Paul Gruchow
Minneapolis: Milkweed Press, 1995
Grass Roots is a collection of essays, many of them autobiographical. Thus, it is a book about many things, but at the end of the day it strikes me as a celebration of the specific, the particular, the concrete, the local. The author writes eloquently about the landscape in which he grew up, naming the plants, the animals, the birds. He gives a nice account of the process of canning garden produce. I didn't know snails had faces until I read this book. It's fun to think about pocket gophers. There's a discipline that flourished in the 18th and 19th centuries but is little practiced now called Natural History, and many passages in this book belong firmly in that tradition. If you like this kind of writing I recommend Gilbert White's The Natural History of Selbourne (1788) which is readily available in paperback.
Gruchow argues persuasively for the benefits of humans finding their place within their environment rather than re-shaping the land based on their vision of how it should look or what it should produce. He has scant patience for corporate farming, government farm programs and the agronomists, economists, and geographers who help shape them, literary theorists and anyone else who hasn't anchored their thinking in the realities of place. There's a great chapter on an encounter with a grizzly bear and a moving final essay on bones.
I won't lie to you: I found the book a little cranky at times. But these are fine exemplars of the genre of the personal essay, and I'd encourage you to read this collection.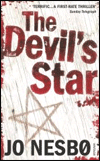 The Devil's Star
By Jo Nesbo
Trans. Don Bartlett
London: Harvill Secker (published in Norwegian 2003;
English translation published 2005)
The Oslo newspaper Aftenposten is quoted on the back cover of this book as claiming of Jo Nesbo's novels, "There are no better crime novels being written." That's quite a claim, but it may be correct. The Devil's Star was a gift of my new friend Einar Vannebo, who directs the University of Oslo International Summer School with which St. Olaf has had a long and strong relationship, and it is one of the best detective novels I have read in years. It features Harry Hole, detective for the Oslo police. Making imaginative use of all of the conventions of the "tough guy" detective novel, The Devil's Star tracks Harry's pursuit of a serial killer during a long, hot, Oslo summer. In the course of catching this creepy murderer, Harry also uncovers corruption in the department, loses and then wins the affection of the lovely Rakel, and gains the upper hand on his drinking problem. If you like hard-boiled crime fiction, this book is for you, but it is not for the faint of heart.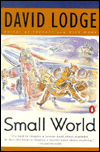 Small World
By David Lodge
Penguin Books (first published by Secker and Warburg, 1984)
This book was a Christmas present from my wife, Priscilla. The author, David Lodge, has written a series of absolutely hilarious novels about academics and academic life. Small World is his most famous one, and I must be about the last English professor left who hadn't read it. When I was in college and graduate school Kingsley Amis' novel Lucky Jim was pretty much universally regarded as the funniest academic novel. Small World bears that accolade for this generation. Like Lodge's other academic novels, it hilariously exposes pomposity, self-serving, self-importance, and pettiness. Also like his other novels, it does so with a generosity of spirit that keeps the satire from being mean when it would be so easy to veer in that direction. Read it, and you'll never think about academic conferences in the same way again.

Good to Great: Why Some Companies Make the Leap … and Others Don't
By Jim Collins
Harper Collins, 2001
Good to Great sounds like a business book, but in reality it studies organizational effectiveness, and many of its insights appear to me to be transferable to colleges. American higher education does many things well, but systematic self-scrutiny of colleges as organizations isn't what we're best at. I read this book in hopes of seeing what St. Olaf could choose to do differently to become an even better intensely residential liberal arts college of the Lutheran Church. At its core, the book's most important message may be that complacency poses the greatest threat to successful organizations, and its most valuable information is a set of strategies to prevent complacency for locking you into the status of "pretty good."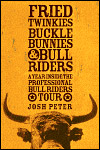 Fried Twinkies, Buckle Bunnies, and Bull Riders: A Year Inside the Professional Bull Riders Tour
By Josh Peter
Rodale, 2005
One day this fall I walked into Buntrock Commons and was surprised to see deep-fried Hostess Twinkies being given away. What can this mean? Have our friends in St Olaf's excellent food service, Bon Appétit, gone mad? But opportunities like this don't come your way every day, so I sampled a twinkie. There I met Josh Peter. It turns out the twinkies were part of the promotion for his book that recounts a year on the professional bull riders tour. I bought it and read it. You should, too. There's a whole world out there we don't know about. Josh's account is fascinating, right down to the tension-filled finals to determine who will be the champion rider that year.
Josh is married to a distinguished St. Olaf alum, Vanessa Trice — another reason to read the book!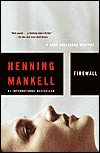 Firewall
By Henning Mankell
Translated from Swedish by Ebba Segerberg
Vintage Books, 2003.
This is the second Mankell novel I've read featuring his series detective Kurt Wallander, a police detective in a town in Sweden. Like The White Lioness (see below on my bookshelf) this novel begins with a local crime, but as the story unfolds an international conspiracy unfolds with it. The novel is as much about the detective as it is about the crime. Wallender is still plagued by angst, and his love life hasn't improved much either. He is the object of an internal police investigation for striking a witness, and he places an ad with a dating service. Not as compelling as The White Lioness.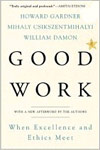 Good Work: When Excellence and Ethics Meet
By Howard Gardner, Mihaly Csikszentmihalyi, William Damon
Basic Books, 2001
Everyone should read this book. Three prominent psychologists collaborated on this study of "good work" which they define as work that is both at the highest level of the standard for the profession and thoughtful about the responsibilities and implications of the work that is being done. The opening and closing chapters contain profound insights for workers in any profession. The middle section of the book focuses on two particular professions — genetics and journalism — which are each in particularly dynamic situations with regard to challenges to "good work." There are important insights here for college presidents.