Intersectionality & Defining the Problem
"Systems of oppression give greater social power to some people over others based on race, gender, sexual orientation, ability, and other aspects of identity. Working towards a future without sexual violence means that advocates, survivors, and communities need to respond to a complex and layered reality that centers the needs of those survivors most marginalized, silenced, and unseen."
– California Coalition Against Sexual Assault
The Consent and Sexual Respect Initiative is committed to supporting our BIPOC and LGBTQIA+ community. We hope to foster a more complete understanding of sexual violence prevention in connection with anti-racism and LGBTQIA+ equity. Sexual violence disproportionally impacts BIWOC and LGBTQIA+ communities, and one of our goals is to promote awareness of this reality and offer additional support services for these vulnerable populations. Please check out the resources below for more information and support, as well as the services available through the Taylor Center for Equity and Inclusion, the Wellness Center, and students organizations including SAGA, REPRESENT, and CUBE
Sexual Violence Prevention is Anti-Racism Work
Defining the Problem at St. Olaf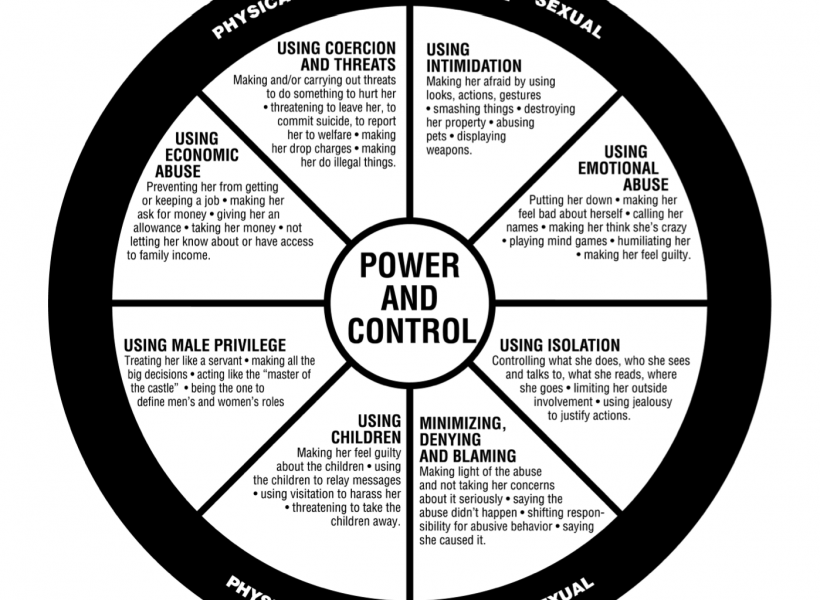 Power & Control Wheel
This can be a particularly helpful tool in understanding the overall pattern of abusive and violent behaviors, which are used by a perpetrator to establish and maintain control over their partner. Very often, one or more violent incidents are accompanied by an array of these other types of abuse. They are less easily identified, yet firmly establish a pattern of intimidation and control in the relationship.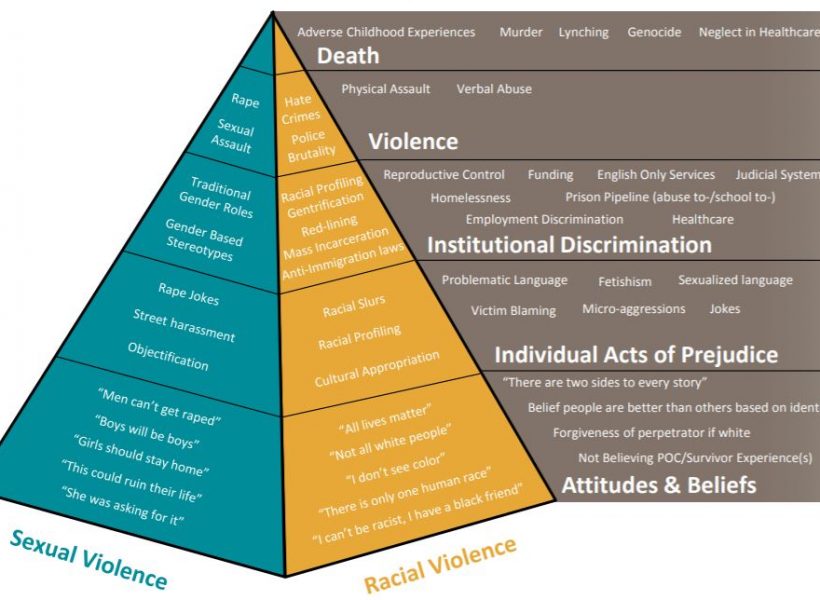 Racial & Sexual Violence Pyramid
This graphic depicts the connection and overlap between racial and sexual violence. The left side of the pyramid shows examples of sexual violence, and the right side shows examples of racial violence in five different categories: attitudes and beliefs, individual acts of prejudice, institutional discrimination, violence, and death. The examples outside the pyramid show where there is overlap between racial and sexual violence in these same categories. Attitudes and beliefs are the foundation that continues to uphold both individual acts of prejudice, and institutional and systemic discrimination, that contribute to violence and death. This is not an exhaustive list of examples but is a starting point to help others understand the connection.