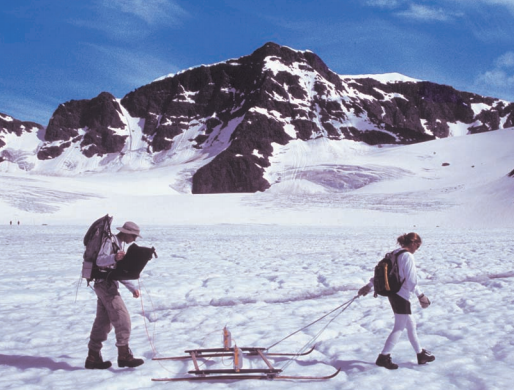 In addition to environmental emphases in the biology and chemistry curriculums, St. Olaf offers a major in environmental studies that includes three tracks of study.
Each student must complete a core course in Scientific Exploration and Discovery and one in Integrated Scientific Topics. Courses that complete this requirement include Ecological Principles, Introduction to Environmental Studies, Global Climate Change, Conservation Biology, and A Matter of the Environment (a chemistry course that examines human impact on natural processes, including damage to and protection of the environment). The St. Olaf Center for Geophysical Studies of Ice and Climate, a National Science Foundation-sponsored research project, engages faculty and students in important climate change research in West Antarctica, Alaska's Mount Veniaminof, and Storglaciaren in arctic Sweden.
St. Olaf environmental studies and biology faculty and students have been instrumental in supporting the research projects of the Cannon River Watershed Partnership, which is concerned with water quality and agricultural and urban runoff for a watershed that drains 1,460 square miles of land in southeastern Minnesota.
St. Olaf is one of the first undergraduate institutions in the nation to fully embrace "green chemistry" in its science curriculum and to construct a major facility — Regents Hall of Natural and Mathematical Sciences — around its principles and practices. Laboratory experiments use water-based and nontoxic chemicals, and more efficient processes generate less waste, which limits dependence on energy-intensive fume hoods.
In pursuing green chemistry principles such as less hazardous chemical syntheses, utilizing safer solvents and auxiliaries, and reducing or avoiding chemical derivatives, St. Olaf is both leading the way in green practices and preparing a generation of chemists who are sensitive to how the chemical profession impacts local and global environments.
The popular course Campus Ecology focuses on the ideal of ecological sustainability for the St. Olaf College campus. Students examine the moral ecology of everyday life on a college campus and learn how people (students, faculty, staff, administrators) can contribute to campus policies and campus culture that harmonize human life and the teeming life of the planet.
Video Stories
News Stories
From St. Olaf Magazine