The late Samir Habash founded United Travel in 1966, and managed it for many years with his wife, Aghavni. As Christians from Jerusalem, they brought a sensitivity to group needs,  as well as expertise in the travel industry. The business is now owned and operated by their daughter Dalia Habash, who attended Washington State University where she received her degree in Business Administration in 1993.
How long have you had a travel connection with St. Olaf, including student study abroad?
As far as I can remember, 1975/6 might be when we first started working with St. Olaf. Here is a photo of a plaque made during a study tour that was here in 1978.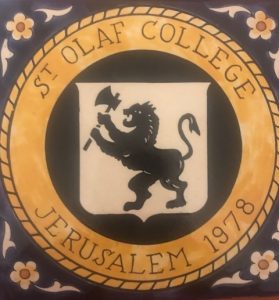 Do you know or can you guess how many trips you've planned with St. Olaf, both students and adults, over the years?
I'll have to estimate as we don't have all the ledgers from the start, but I would assume not less than 35, between Adult (Alumni), Term in the Middle East, the History and Geography Tour and so on.
Where are you during the pandemic and what does daily life look like for you right now?
Currently in Jerusalem where life is more or less back to normal. We were in a semi-lockdown at the beginning, then Israel decided to open up in May. Things went out of control and now we are at around 1,000 cases per day but still no lockdown imposed on the second wave. Both the Palestinian Authority areas and Israel are battling with this as numbers are increasing and the economy is deteriorating. We try to stay at home as much as possible – keeping busy in the kitchen and on our iPads, binge-watching TV. Since our work is all gone, we don't have to do the Zoom meetings everyone has to do, so basically it's more free time and a bit of planning for future groups.
Do you have family members in other countries, and if so, how are they doing and what does daily life look like for them right now?
We have my brother and his family in Seattle, my sister and husband in Switzerland and their son in Australia – so we try to keep informed on the situation in all these places and make sure they are keeping safe and healthy.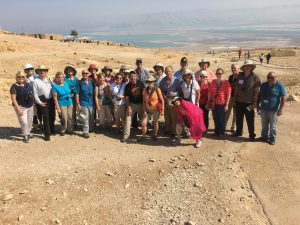 How has your travel business been affected since the pandemic took hold?
We had to cut short the tours we had here and made sure everyone got on flights back home as soon as the country here decided to start shutting down. We canceled the rest and since we've been working with these agents for a long time, we had to refund them as we didn't know when they will be back again. So far, the tourism sector doesn't look too promising and once back, I think we will be dealing with a completely different approach on how to handle visitors in hotels, coaches, sites, etc.
Israel and Palestine have dealt with the loss of tourism in ways that other countries have not had to. How does the loss of tourism during this pandemic compare/feel like to the loss of tourism during the Intifadas? Do you feel like you might be more prepared than tour operators in other countries to bounce back from the loss of tourism because you have had to survive reduced business before?
It's a very good questions actually. When at the beginning we started to get cancelations, my mother said don't worry – we're already used to this as we went for years without tourism in this country due to wars. I said we are used to a war that is only in this country but not a world-wide pandemic. During the Intifadas and the different small wars we had here, the rest of the world was still operating normally, and once things calmed down, people would slowly regain confidence and come back to visit. This one is something no one I think, was ever prepared for: We are all in it together this time, and I think until a vaccine is found, it will be difficult for folks to plan for their holidays. Yet no one knows, people are so fed up with their lockdowns that as soon as a vaccine is found, they'll be planning 10 trips at a time – I think I fall in the latter category!!!
But having said that, yes we are more prepared as again, we've gone through years of no business and we had to look for employment elsewhere to sustain our livelihoods – both my late father during the first Intifada and I during the second Intifada worked outside the office until tourism started coming back.
For the past couple of years, we kept on saying there's going to be a war between Israel and Iran – some were more serious about it than others, but we were always apprehensive. Alas, never did we know that it would be a pandemic, one without an end if the pharmaceutical companies don't come up with a vaccine as soon as possible to combat a virus that's mutating so quickly.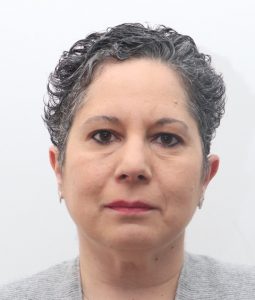 What do you see the immediate future of group travel looking like? What do you think some permanent changes to group travel might be?
I was hoping that we would start seeing tours in the country as early as January 2020, but I am not too optimistic. I have been told that hotels will not serve meals in a dining room, that we will need to reserve a time slot for each and every site, buses will have to have a maximum number of travelers, etc., but to be honest, it's all hearsay and we have absolutely no concrete answers yet.
What do you want educational group travelers to know right now?
To stay informed, read about the countries you were supposed to visit or planning on visiting, and keep on learning! You have great professors who will be open to answering all your questions about the countries you wish to visit and should you require further information, we will be happy to help through Heidi.
What else would you like to share with St. Olaf travelers?
Stay safe as we all are in this together. It's just another episode in our lives where things are constantly changing and you will have lots to talk to your children about in 20 years.