The renowned St. Olaf Choir has brought its message of hope and faith to audiences around the world for more than a century.
The St. Olaf Choir was founded in 1912 by F. Melius Christiansen, whose work established the ensemble's standard of excellence and its tradition of bringing music to audiences outside of campus. Christiansen chose spiritually profound music and pushed student musicians to perfect a tone that was disciplined, controlled, and free of excessive vibrato. That sound — securely in tune, controlled in pitch, smooth in delivery — became the choir's hallmark.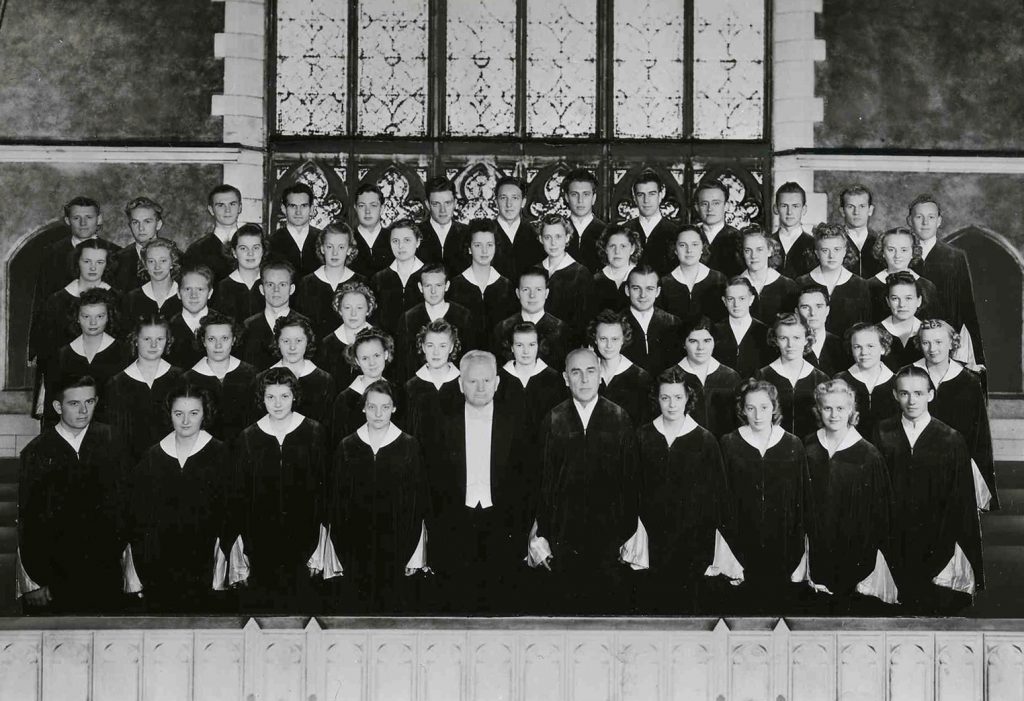 Olaf Christiansen '25, who succeeded his father as conductor of the choir in 1943, remained deeply committed to retaining the St. Olaf Choir's purity of tone while exploring new genres and interpretations of music. He added contemporary compositions, more Renaissance music, and American folk hymns to the repertoire of traditional church chorales.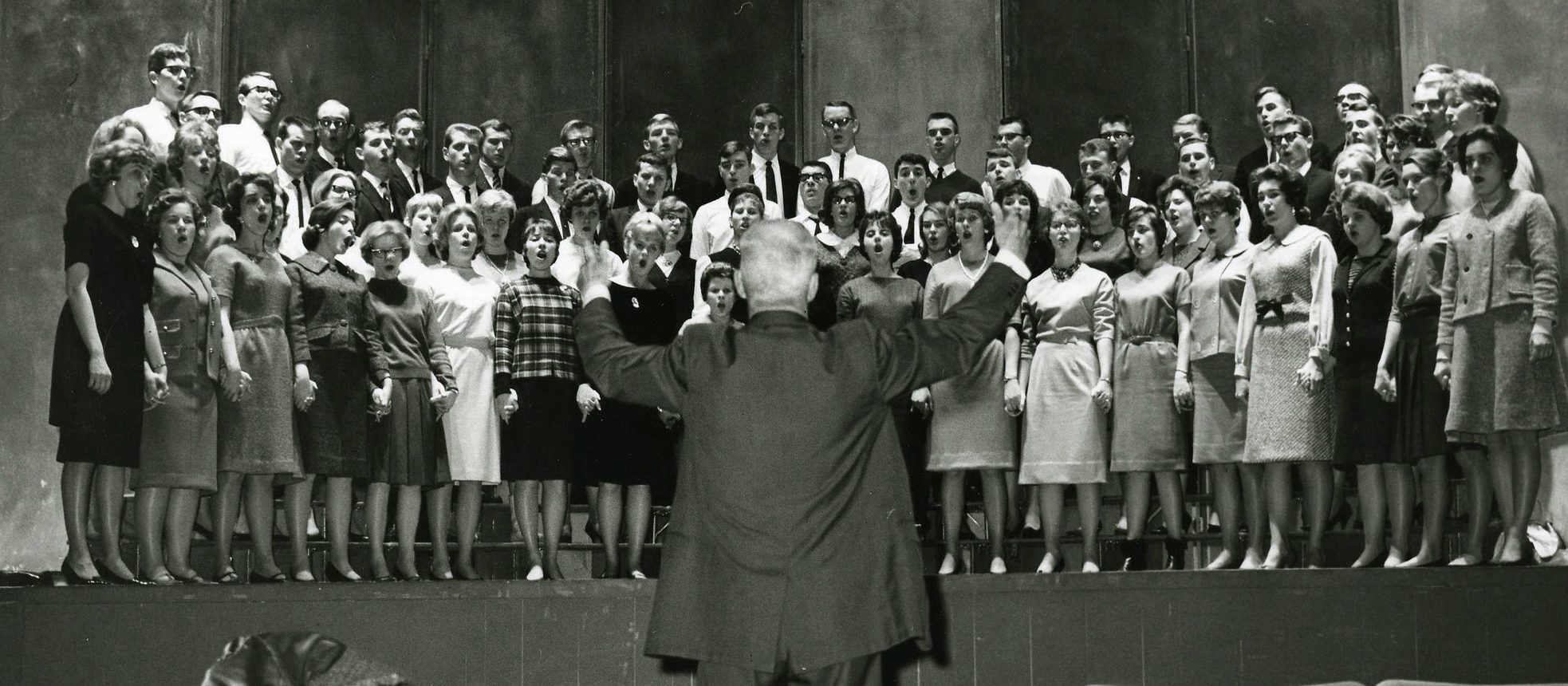 In 1953, Kenneth Jennings '50 — an alumnus of the choir — returned to campus to join the music faculty, and later became the third conductor of the St. Olaf Choir in 1968. Until then, the choir had largely performed a smaller, art song–like repertoire of motets and anthems. Jennings programmed larger choral works, including oratorios, masses, and passions, as well as more 20th-century pieces, focusing on historically informed renditions. He retained much of the choir's a cappella repertoire, but also introduced pieces with instrumental accompaniment, opening the door for full orchestral collaborations. Jennings also changed the "shape" of the choir by turning students toward the audience and using wider and deeper risers. One reviewer noted that the choir now had "a more vibrant, warm tone — a resonant, lively, brilliant sound that rings with vitality and conviction." The choir expanded its global reach with a tour of Asia in celebration of its 75th anniversary in 1986. In 1988, it was one of only five choirs in the world — and the only non-professional one — invited to participate in the Olympic Arts Festival in Seoul, South Korea.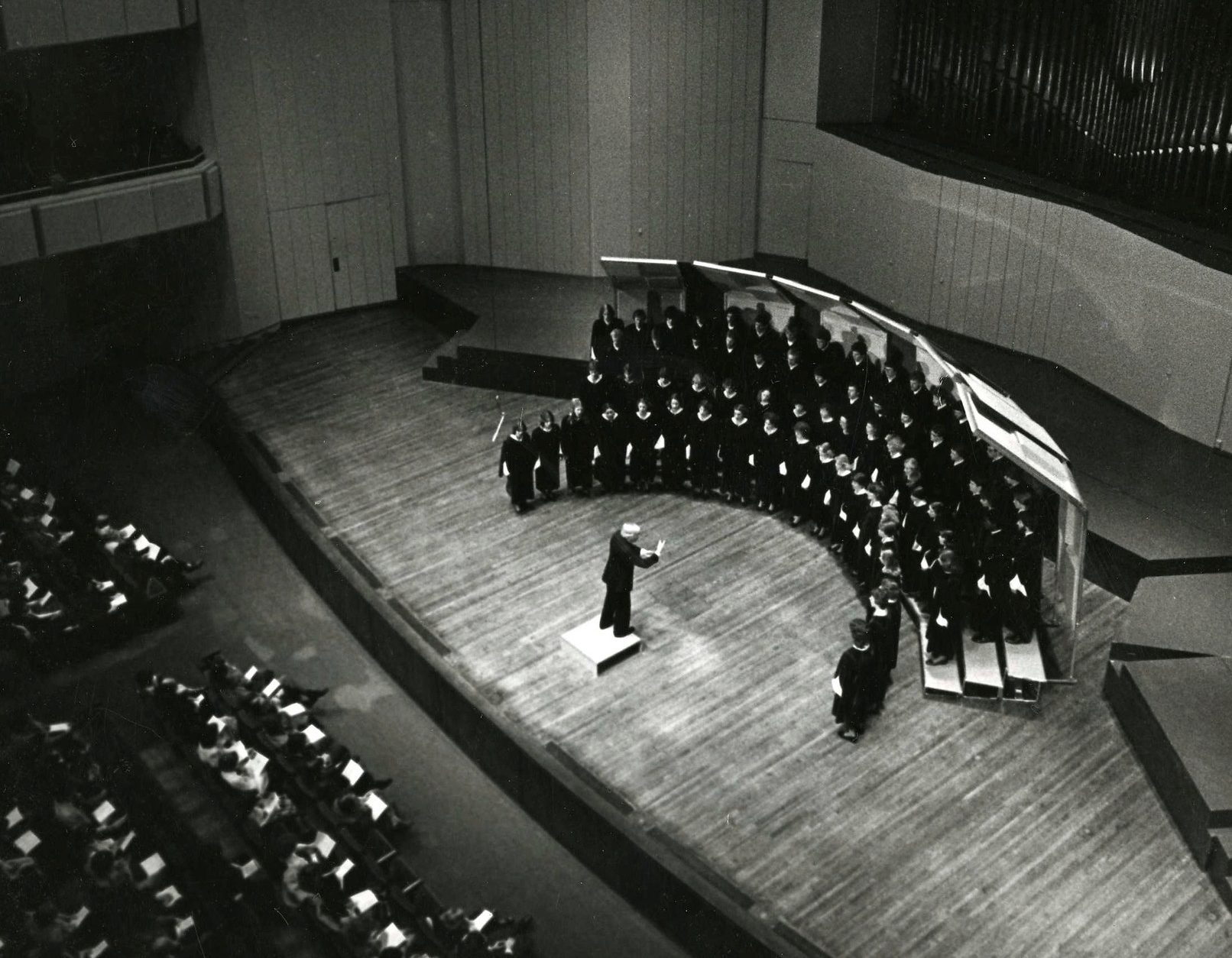 When Anton Armstrong Armstrong '78 took the helm in 1990, his vast knowledge of music and his ability to articulate a vision to singers and audiences alike took the St. Olaf Choir to the next level, adding more flavor to its signature sound and further expanding its repertoire to include music of the Pacific Rim, Africa, and Latin America.
"The choir's palate is broader and more colorful, retaining its characteristic sound while adding a lot of spice," Armstrong says. The ensemble also has begun to move, as members sway back and forth — sometimes choreographed, sometimes not — during certain pieces.
Under Armstrong's leadership, the choir continues to expand its tour horizons, engaging capacity audiences in major concert halls throughout the United States and worldwide. The ensemble has toured internationally 15 times. Most recently, in June 2019, the St. Olaf Choir toured Norway for two weeks with the St. Olaf Orchestra.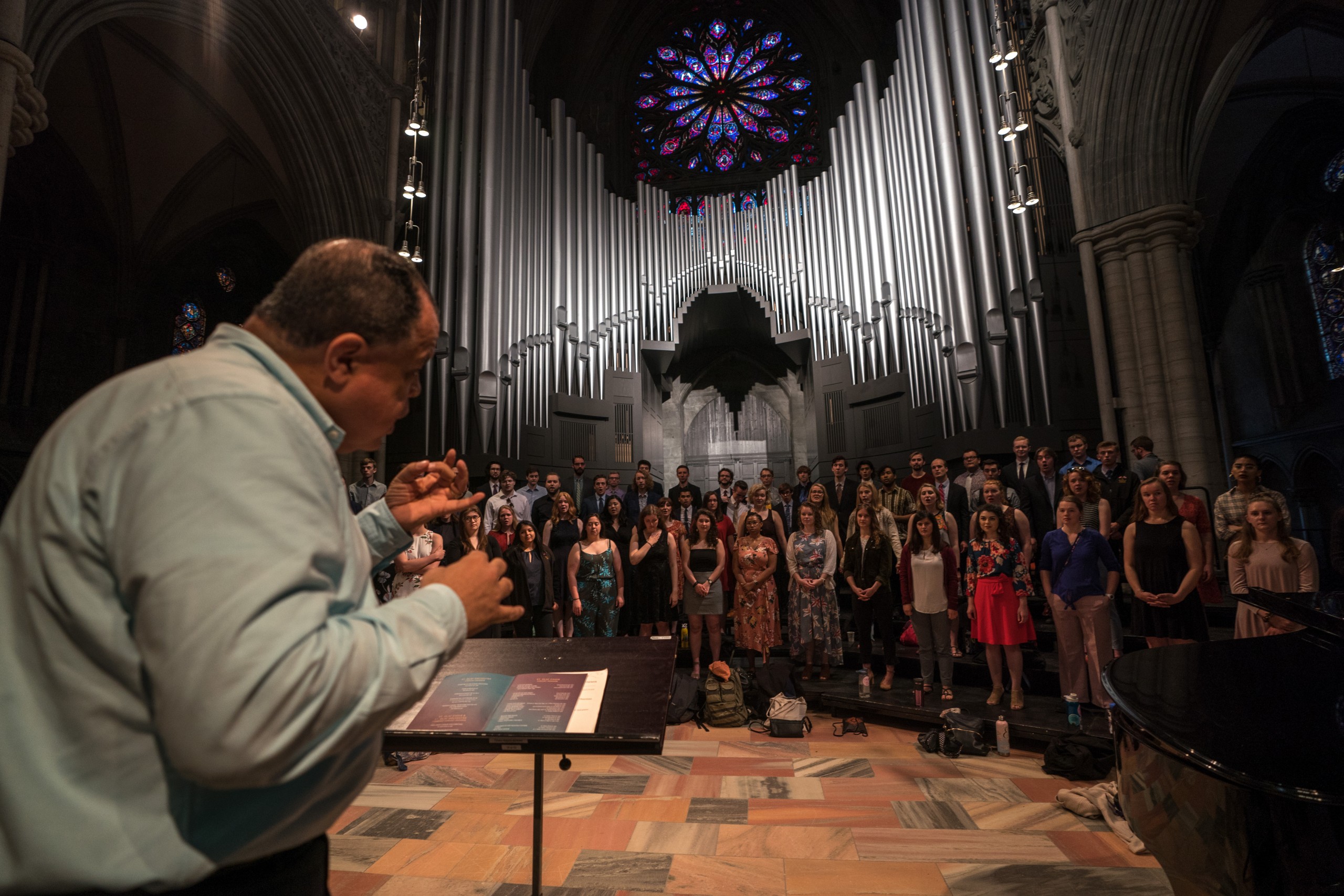 The choir's many honors include being chosen as American Public Media's sole American representative at the prestigious European Broadcasting Union's Choral Competition, at which it was named one of four finalists. The choir's 2013 PBS Christmas special, filmed in Norway, won two Upper Midwest Regional Emmy awards. In March 2017, the St. Olaf Choir was among the 6 St. Olaf ensembles invited to perform the St. Olaf Christmas Festival program at the National Conference of the American Choral Directors Association, held at Orchestra Hall.
While Armstrong embraces the choir's rich legacy and tradition, his eyes are firmly fixed on the future. As technology advances and audiences connect with choral music in new ways, Armstrong is confident that the St. Olaf Choir will remain at the forefront of choral singing.
"We seek to be a transforming force in society through choral performance, bringing understanding, mercy, justice, peace, and hope to a world that desperately cries out for these things."
Conductors of the St. Olaf Choir
F. Melius Christiansen
1912–43
Olaf C. Christiansen
1941–68
Kenneth Jennings
1968–90
Anton Armstrong
1990–present