Anton Armstrong, Conductor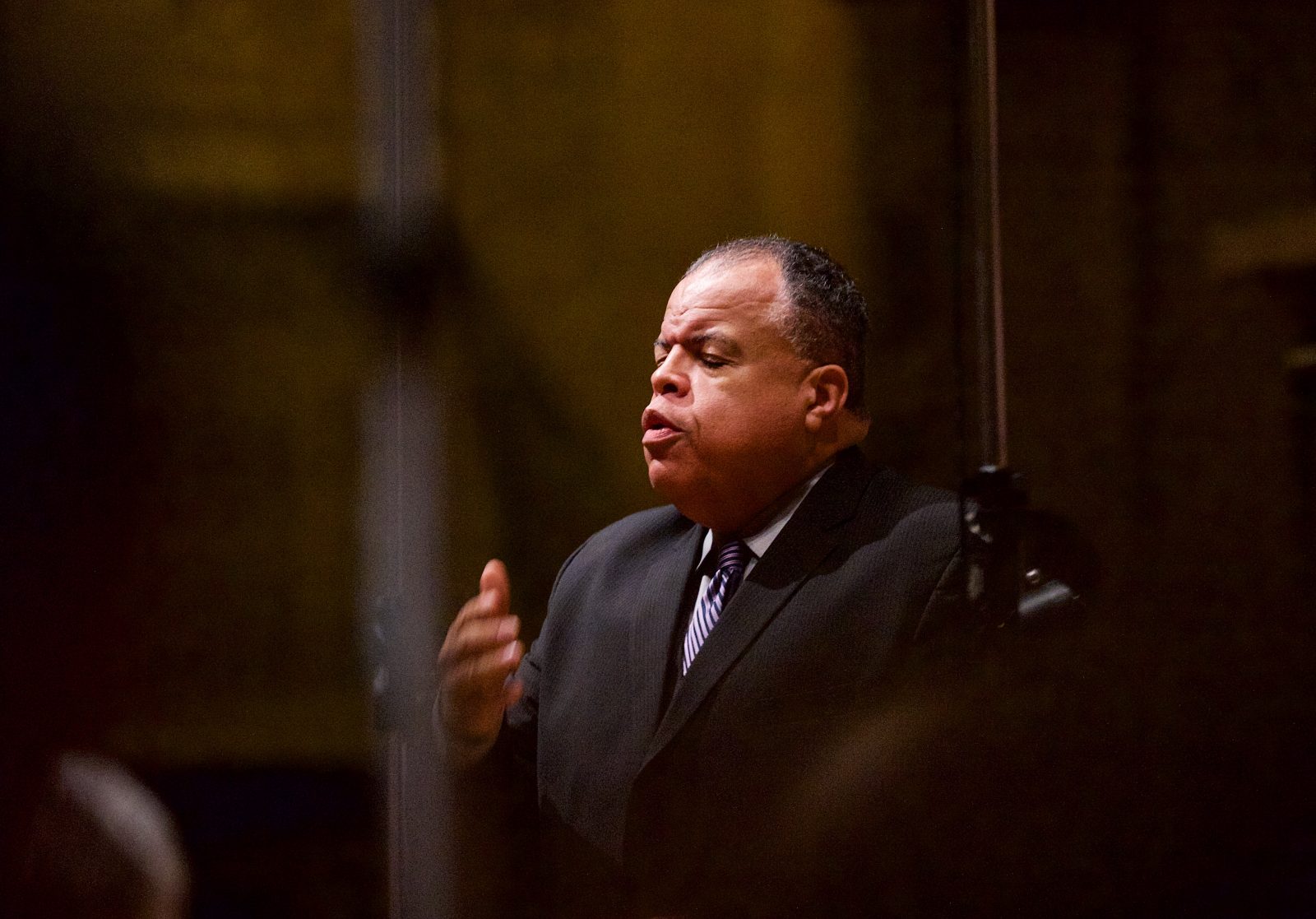 I want the power of music — that Spirit — to transform those who perform and those who will hear the message. For me, that is a very powerful reason for doing what we do.Anton Armstrong
Anton Armstrong '78, Tosdal Professor of Music and Conductor of the St. Olaf Choir since 1990, believes that it takes the whole person — body, mind, spirit, and voice — to sing and rejoice. This belief was inspired by his mentor, Helen Kemp, professor emerita of voice and church music at Westminster Choir College and one of the most influential people in Armstrong's life. He credits Kemp with shaping his calling as a vocal music educator and conductor.
"Helen was instrumental in forming my understanding of being a servant-artist-teacher," says Armstrong, whose teaching style has evolved over his 40-year conducting career. He began with a take-charge attitude, but now sees himself as a catalyst who strives to create whole musicians, not just musical moments. "I want to bring out the best in my students, as musicians and as individuals," he says.
In addition to conducting the St. Olaf Choir and the Collegiate Chorale, Armstrong teaches conducting, choral pedagogy, and vocal performance courses. He is the artistic director of the St. Olaf Christmas Festival, an event featuring over 500 student musicians. He and his music faculty colleagues are responsible for the growth and quality of St. Olaf's acclaimed choral program.
Armstrong is committed to sharing the experience of making truly beautiful choral art with others, and his work has influenced thousands of singers. He leads choral workshops throughout the world and is a frequent guest conductor of choirs with singers ranging in age from young children to senior-aged choristers. He is the founding music director of the Oregon Bach Festival's Stangeland Family Youth Choral Academy. He is editor of the Anton Armstrong Multicultural Series of Earthsong Publications and co-editor of the St. Olaf Choral Series, two endeavors that bring new music to choirs worldwide.
Armstrong previously taught at Calvin College and is a graduate of the American Boychoir School, St. Olaf College, the University of Illinois, and Michigan State University. His honors include the 2006 Robert Frost Cherry Award for Great Alumni Award, and a Distinguished Alumni Award from Michigan State. In June 2013, Armstrong received the Saltzman Award from the Oregon Bach Festival. The festival's highest honor, the Saltzman Award, is bestowed upon individuals who have provided exceptional levels of leadership to the organization. In 2014, the St. Olaf Choir and Armstrong received a regional Emmy award for the 2013 PBS television program Christmas in Norway with the St. Olaf Choir.
Armstrong has shared his choral knowledge and conducting prowess in locations from New Zealand to Israel and South America to Scandinavia and at such events as the World Symposium on Choral Music. Armstrong was the guest conductor of the Republic of Korea's 2018 Jeju Island International Choir Festival and Symposium and a member of the Choral Jury for the first Tokyo International Choir Competition in Japan.
These international experiences greatly shape the repertoire performed by the St. Olaf Choir, further expanding a world of music for the singers.
"We are constantly examining repertoire from a global perspective, but the core of our being is still a proclamation of the Christian Gospel — a message of faith, love, and truth," Armstrong says. "I want the power of music — that Spirit — to transform those who perform and those who will hear the message. For me, that is a very powerful reason for doing what we do."
---
Press contact: Karl Reichert, publicist
Phone: 612-708-5275
Email: karl@karlreichert.com
---