Companydance©, open by audition to all students, is one of two faculty-directed companies within the dance department. Modeled to provide students with a pre-professional repertory dance company experience, Companydance also serves as an extension of the dance faculty's teaching and creative practices. Companydance consists of separate projects and pieces, including First-Year Dance Project, Senior Dance Capstone Concert, and Companydance Spring Concert (typically dance faculty, guest artist, and student choreographed dances), and offers student dancers a wide variety of performing opportunities.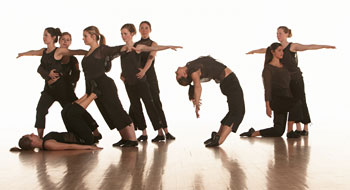 Companydance strives to be inclusive and accommodating to the evolving interests, needs and abilities of a broad spectrum of students (dance majors and non-majors), while encouraging student responsibility, creative collaboration, community building and of course, great dancing.
Students may select to participate in only one Companydance project, or they may choose to be more intensely involved. Student involvement also carries expectations for participation beyond the dancing (i.e. technical work, publicity, etc.). Students new to the college or Companydance are involved in First Year Dance Project, which provides opportunities to work with each dance faculty member in a range of movement settings, while developing a sense of community and working toward a year-end concert. Companydance has consistently included performing opportunities in:
Works choreographed by faculty, students, and guest artists
Improvisational dance pieces
Site specific dances
Special dance projects (dedication of buildings, presidential inaugurations, Peace Prize Forums, American College Dance Festivals)
Works-in-progress showings (Family/Homecoming Weekend, guest artist residencies)
Lecture-demonstrations (public schools, formal and informal performance spaces on campus, church spaces)
To provide for the optimum growth and safety for the students in Companydance, each member is required to be concurrently enrolled in a Dance Movement intensive class at an appropriate level.