Required Courses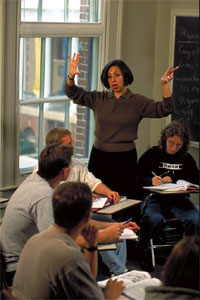 160 Mass Media
This introductory-level course is part of a two-course sequence that encourages students to assess and shape their personal relationship to mass media. Its premise is that we are all, to some extent, uninformed and uncritical consumers of media products and services rather than conscientious and socially minded users of them. In this spirit, the course provides a comprehensive historical overview of the various print and electronic media that have shaped, and continue to shape, our lives. By examining the issues that have influenced the development of the mass media, the course considers ideological, cultural, aesthetic and ethical perspectives.
Suggested Courses
260 Media and Contemporary Culture
This course focuses on contemporary media, primarily film and television, from theoretical and critical perspectives. Primary emphasis is given to the specific identifying characteristics of news, advertising and entertainment media, and to how those media serve as forums for cultural negotiation in our society. In particular, attention is paid to how media representations of race, class and gender presently exist as both products and producers of contemporary cultures. Prerequisite: Media Studies 160 or permission of instructor.
American Film History Fall 2010
How has American film reflected and shaped American lives? This course will explore both classic and contemporary Hollywood cinema in its artistic, cultural, technological and economic contexts. Films studied will range from silent movie classics. screwball comedy, film noir and the Hollywood musical through the work of Scorsese, Coppola, and Spielberg. In addition to assigned reading and writing, students will be required to watch two films per week, one of them at a formal screening on Monday evenings.
294, 394 Internship
298 Independent Study
398 Independent Research
Approved Courses
The following courses are offered annually or biannually:
Art 115 Foundation Photography
Art 124 Foundation Photography
Art 145 Foundation Photography
Art 238 Computer-Generated Imagery
Art 240 Motion Graphics
Art 248 Photography
Art 249 Video Art Production
Asian Studies 156 Contemporary China through Film
Chinese 256 Chinese Drama and Film
English 255 Journalistic Writing
English 275 Literature and Film
History 140 America Since World War II
Music 225 Music in the Electronic Medium
Physics 252 Musical Acoustics
The following courses are offered occasionally; some courses are often, but not always, media-related in content:
American Studies 201-210 A Topical Approach
American Studies 301 Seminar
Art 250 U.S. Visions and Identities
Art 256 History of Cinema: Beginnings to 1950s
Art 257 History of Cinema: 1950s-Present
Asian Studies 124 Introduction to Japanese Film
Asian Studies 156 Contemporary China through Film
English 226 19th Century Myths and 20th Century Movies
English 345 Topics in American Racial and Multicultural Literatures
Environmental Studies 270 Nature and the American Landscape
French 373 Genre Studies
German 249 German Cinema
German 350 German Literature Seminar (some years focuses on films)
History 125 American Consumer Culture
History 239 Media in American Society
History 338 Problems of Contemporary America
Integrative Studies 203 Performance Studies
Physics 120 The Physics of Photography
Political Science 227 Media and Politics
Religion 229 Bergman and the Possibility of Christian Theology
Russian and Central European Studies 265 Introduction to Russian and Soviet Film
Russian and Central European Studies 382 The Russian Press
Sociology/Anthropology 122 Culture and Sociology of Films
Sociology/Anthropology 123 The 1970s and Beyond
Please consult Student Information System for course descriptions
Additional courses that count for Media Studies may be offered on a periodic or one-time basis. Students interested in having a course approved for Media Studies should consult with the program director.