The St. Olaf College Title IX Office is committed to educating and mobilizing all members of our community concerning the prevention of sexual violence, intimate partner violence, and any other forms of sexual misconduct. Incoming students are required to complete bystander intervention training and online training through EVERFI focused on sexual assault prevention. All employees of St. Olaf College are required to complete online sexual violence training within their first two weeks of employment. The Title IX Office also funds prevention and education speakers and events throughout each academic year. Whilst the Title IX Coordinator and Team are primarily focused on the reporting and investigation aspects of the Title IX Policy, primary prevention efforts serve as a secondary focus. 
Affirmative Consent:
What Is Sexual Consent? | Facts About Rape & Sexual Assault 
Consent F.R.I.E.S.
Freely given – Doing something sexual with someone is a decision that should be made without pressure, force, manipulation, or while drunk or high. 
Reversible – Anyone can change their mind about what they want to do, at any time. Even if you've done it before or are in the middle of having sex.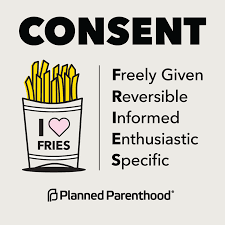 Informed – Be honest. For example, if someone says they'll use a condom and then they don't, that's not consent.

Enthusiastic-If someone isn't excited, or they seem a little hesitant, that's not consent.
Specific – Saying yes to one thing doesn't mean they've said yes to others.