Dating back to 1892, the Alumni Board is a diverse group of alumni who volunteer their time, talents, and energy to provide leadership within the alumni community on behalf of the programs and mission of the college.
Arriving from various locations throughout the nation, they meet twice a year, on campus, in an effort to better understand the college and its needs. As an advisory board, they offer suggestions and perspectives gleaned from the larger alumni community, and work with Office of Alumni and Parent Relations on various components of the alumni program.
Sixteen alumni and parents are chosen for single four-year terms and a fourth of the Board is elected annually.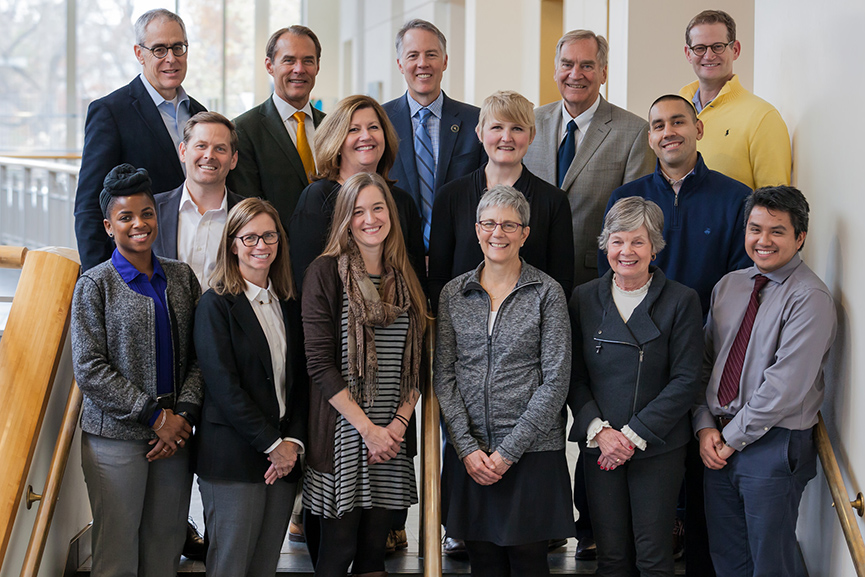 St. Olaf Alumni Board Members
Janine Braman P'17, '20 (2017-2019)
Saint Paul, MN
Kim Hansen Brody '78 (2014-2018)
Boulder, CO
Sonja Clark '03 (2015-2019)
San Rafael, CA
Eirik Davey-Gislason '94 (2017-2021)
Jackson Heights, NY
Mariah DuBose '16 (2017-2021)
Chicago, IL
Autumn Berggren Hilden '99 (2015-2019)
Burbank, CA
Henry Latimer P'20 (2017-2019)
Evanston, IL
Jody Miesel '01 (2016-2020)
Carnation, WA
Curt Nelson '91 (2014-2018)
St. Louis Park, MN
Rebecca Odland '74 (2014-2018)
Edina, MN
Mario Paez '01 (2015-2019)
St. Paul, MN
Abraham Payton '08 (2016-2020)
Baltimore, MD
Cheryl Philip '10 (2014-2018)
Chicago, IL
Lee Sather '66 (2017-2021)
Stillwater, MN
Lisa Warren '86 (2014-2018)
Bloomington, MN
Mark Williamson '88 (2015-2019)
St. Paul, MN
*Profiles of new board members will be published with the winter St. Olaf Magazine.