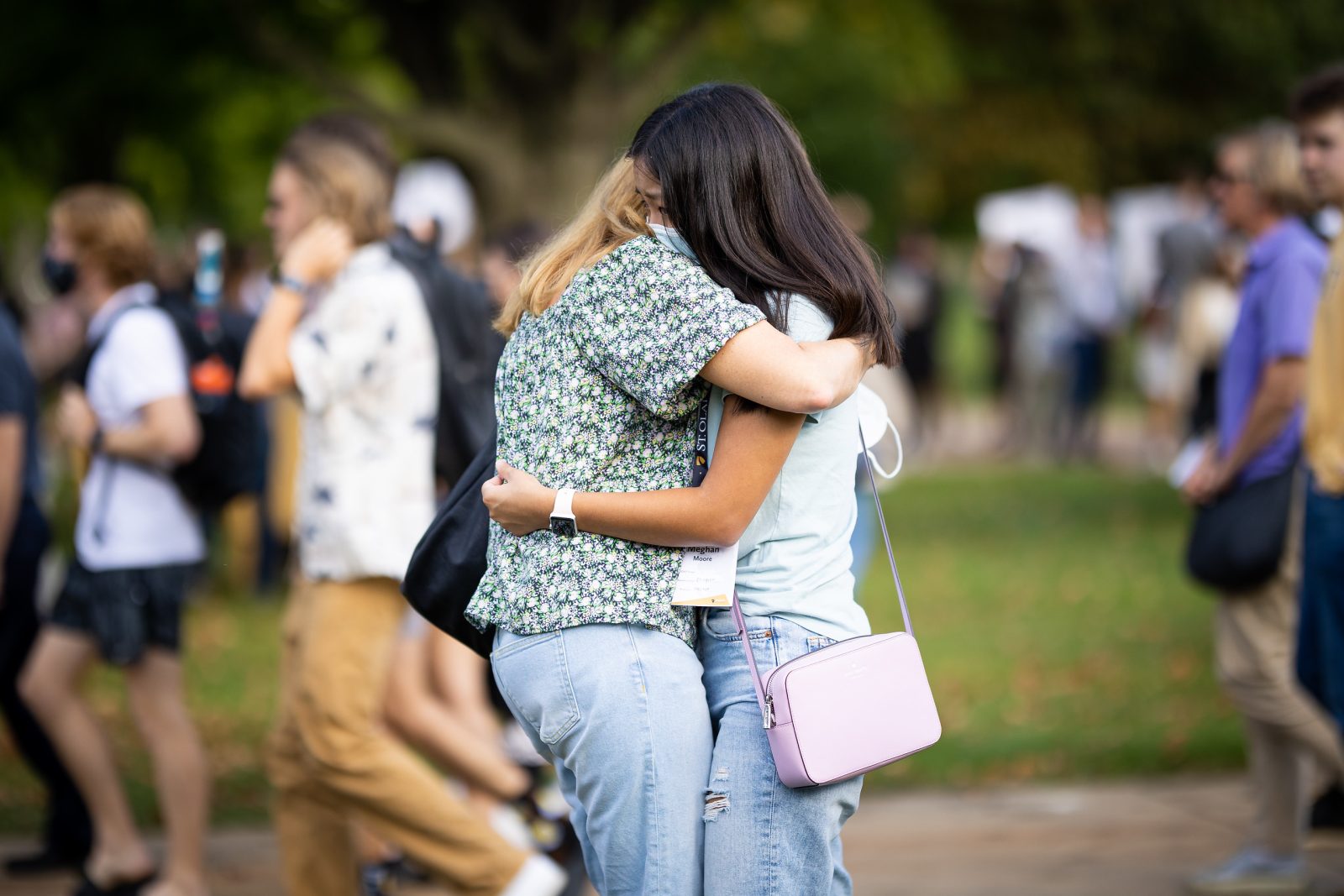 Parents and Families
Parents and families are an essential part of life on the Hill. We invite you to take advantage of our vibrant campus and participate in the events that create our tight-knit Ole community.
How Ole Parents and Families Get Involved
While current students are our primary focus, parents and families are also important members of the St. Olaf community. We want you to take full advantage of the Ole experience: Enjoy concerts and theater productions, come to campus for art exhibits and lectures, cheer on our teams, and take part in the traditional events that bring Oles together—Homecoming and Family Weekend, and the annual St. Olaf Christmas Festival.
Parents and Families are Important Members of the St. Olaf Community
Academic Resources for Students
Academic Success Center
LEARN MORE
The Academic Success Center provides a range of services, programs, and resources for all St. Olaf students as they work to maximize their full academic potential. Students can take advantage of peer tutoring, group study, workshops, one-on-one coaching as well as disability and access services.
Disability and Access is dedicated to ensuring equal access to educational opportunities, and the equity and inclusion of all students with disabilities at St. Olaf College. Disability and Access serves Oles who have temporary or permanent physical, learning, sensory, health, or psychological disabilities.
Deans of Students Office/Class Deans LEARN MORE
The Dean of Students Office coordinates and directs services and programs that help students take full advantage of their St. Olaf experience—inside and outside the classroom.  The deans serve as consultants to individual students and student groups about student issues and concerns, including personal and academic matters.
The job of the Registrar's Office is to ensure that all students, from the first semester through graduation and are appropriately enrolled in courses. Answers students' questions about navigating graduation, general education and major requirements.
The Office of Student Activities (OSA) oversees New Student Orientation, a variety of social, cultural, intellectual, and governance programs.  Whether you're a new student, a current student looking to join a student organization, make change through the Student Government Association (SGA), grow as a leader, or plan events on campus, the OSA can help!
Recreation at St. Olaf offers a very diverse range of activities for the entire St. Olaf community, which includes all full-and part-time students.
The Office of Residence Life is committed to promoting student learning in a safe and secure living environment. In collaboration with our colleagues across campus, we strive to connect in-class and out-of-class experiences to foster individual growth
Wellness & Safety Resources for Students
In support of the college's mission, the St. Olaf Wellness Center strives to educate and support a community that encourages healthy and safe behaviors through promotion of personal responsibility, positive social norms, and campus engagement.
We offer a variety of services and programs, including individual counseling, group counseling, workshops, testing, consultation and referrals. Services are provided without cost to all currently enrolled St. Olaf students.
St. Olaf College's partnership with Northfield Hospital & Clinics provides access to certified nurse practitioners and physician assistants who can diagnose, treat, and write prescriptions for common illnesses and injuries.
St. Olaf is committed to promptly, impartially, and equitably addressing and resolving all reports of sex discrimination, sexual harassment, and sexual misconduct. When the college finds that such behavior has occurred it will take steps to stop the behavior, to prevent its recurrence, and to remedy its effects.
Staffed with a director, and nine full-time officers, Public Safety provides 24-hour security services, patrol and response throughout the year.
Vocational Resources for Students
Piper Center for Vocation and Career  LEARN MORE
The Piper Center for Vocation and Career helps students explore careers, gain experience outside of the classroom, and pursue meaningful post-graduate work, service, and education.
Taylor Center for Diversity & Inclusion  LEARN MORE
The Glenn and Myretta Taylor Center for Equity and Inclusion fosters a welcoming and inclusive community for students at St. Olaf by providing resources and programs that support student success, engagement, leadership, and intercultural understanding.
Lutheran Center for Faith, Values & Community  LEARN MORE
St. Olaf encourages the exploration of faith, values and personal fulfillment. While the college is grounded in its Lutheran tradition, students and faculty participate in many different faiths, or none at all. St. Olaf respects others' beliefs and allows for the exploration of religion and faith in all cultures both in and out of the classroom.
Institute for Freedom & Community LEARN MORE
The IFC is committed to educating students with a passion for public affairs and a commitment to free inquiry and the search for truth. Exploring diverse ideas about politics, markets, and society, The Institute seeks to challenge presuppositions, question easy answers, and foster constructive dialogue.
The Financial Aid Office strives to provide access to a St. Olaf education by proactively serving and educating families of varied economic backgrounds. We administer financial aid programs with a commitment to equity, consistency, and transparency in awarding resources.
St. Olaf employs nearly 2,000 eligible students each year through the student employment program. These experiences provide students with the opportunity to gain professional skills and build relationships while earning money toward their higher education expenses.
Study Abroad Student Resources
International & Off-Campus Studies LEARN MORE
St. Olaf has more than 70 approved semester and yearlong destinations for off-campus study in Africa, Asia, Central and South America, Europe, the Middle East, and the United States. In addition, each year we offer about 30 January Interim programs led by St. Olaf faculty to domestic and international destinations around the world.