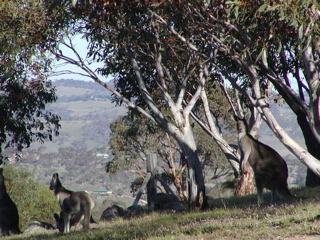 Typically this program is offered in spring semester during alternate years, operating  spring 2022, spring 2024, spring 2026, etc. It is open to ALL qualified students interested in environmental studies. A combination of lectures, extensive field experiences and brief research projects enable students to learn about the interconnected human-nature system and appreciate this fascinating continent. All courses are taken concurrently and are highly integrated to provide a strong interdisciplinary focus.
Students are free to travel independently after the program as well as during spring break.
To see blogs and videos from prior groups, click the blog and video page.
Eligibility
The prerequisite course requirement for this program is Biology 150 (Evolutionary Foundations of Biodiversity) OR Environmental Studies 137 (Introduction to Environmental Studies) OR Biology/Enviromental Studies 226 (Conservation Biology). Group size is limited to 26 students and is open to qualified sophomores, juniors and seniors. In other words, interested students should be in their first, sophomore, or junior year when applying. The program is also open to qualified students from other institutions. Selection is made on the basis of each applicant's professional interest, scholastic standing, aptitude for rigorous travel conditions, class in college, faculty recommendations, and an interview.
2024 program
Application Due: Feb 15, 2023 – see how to apply on Study Abroad/Away welcome page
Smith Center for Global Engagement
Interviews for program: Feb 17 – Mar 2, 2023
Selection & notification:  March 8, 2023
Orientation Retreats: late April 2023, fall 2023
Obligations
Except during spring break, participants are required to remain with the group at all times and take part in all curricular and co-curricular activities, and to travel with the group in accordance with the planned program.
Fees
Please see the Study Abroad/Away semester cost grid under Financing your Experience for an estimate of program costs.
Itinerary/Proposed Locations
Courses of Study
Five courses are offered (two biology, one sociology/anthropology, one political science, and a reflection seminar).
Biology 226: Terrestrial Ecology

This course examines organism-environment interactions and the study of populations and biological communities across New Zealand and Eastern Australia's diverse terrestrial ecosystems.  Special consideration is given to the use of ecological studies in ecosystem management and its influence on policy and practice.  The island characteristics, long geologic isolation of Australia from other land masses, and climatic change makes the assemblages of organisms across the landscapes unique relative to other parts of the world.  Counts toward Biology major (biology majors see note below for information on core requirements), and Environmental Studies major and concentration (natural science or elective). GE: Oral Communications (ORC), Scientific Exploration & Discovery (SED).
OLE CORE: Natural Science (NTS)
Biology 224: Marine Biology
A focus on marine organisms and the dynamics of the marine system grounds the course topics in a variety of places, including mud flats and coral reefs.  Students are challenged to forge connections between the biological and environmental realms as well as to policy and practice.  Specific examples and field excursions occur at several marine research facilities located throughout New Zealand and Eastern Australia. Seven days are spent studying part of the Great Barrier Reef at the Heron Island Research Station. Counts toward Biology major (biology majors see note below for information on core requirements), and Environmental Studies major and concentration (natural science or elective).
Special Note for Biology Majors: Biology majors may choose to fulfill EITHER the comparative organismal biology core course OR the ecology core course of the major (not both). The other biology course counts as an elective in the major.  Example 1:  You count Bio 224 as the comparative organismal core course.  The Bio 226 course then serves as a level II elective and you would need to take Bio 261 (ecology) on-campus.   Example 2: You count Bio 226 as the ecology core course.  The Bio 224 course then serves as a level II elective and you would need to take a comparative organismal course on-campus.
Sociology/Anthropology 222: Cultural Anthropology
This course asks how culture influences every aspect of human life and society with an eye toward environmental decision-making and social justice.  Ethnography provides insight into the ways of life and culture structures in New Zealand and Australia as well as provides an introduction to the diverse traditional and contemporary cultures of Māori and Aboriginal Australians.  Special attention is given to the European impact on the Māori and Aborigines and the influence of cultural meanings on the Australian environment over the last 200 years.  Counts toward major. GE: Multicultural Studies (MCG). Counts toward Environmental Studies major and concentration (social science or elective).
Political Science 221: Environmental Policy
Course studies the New Zealand and Australia governmental system, political parties, and civic expectations about the role of government as it relates to the making and enforcement of environmental policy and practice.  Comparisons and contrasts between governmental structures, policy and environmental law between the USA and NZ and Australia provide opportunities to gain insight between various approaches to environmental challenges and solutions.  The historic contexts of European colonization, immigration and displacement of the First Nation peoples expose continuing cultural challenges in both environmental and social domains.  Highlights of the experience include:  visits to Parliament, and excursions associated with water resources, mining, and the Great Barrier Reef.  Counts toward major. GE: Studies in Human Behavior and Society (HBS). Counts toward Environmental Studies major and concentration (social science or elective). OLE CORE: Social Science (SCS)
OFFC 251: Ole Experience in Practice (0.25 credit) – 2024 Theme: Environment & Vocation
The course offers guided inquiry and reflection to explore the faculty chosen organizing theme while on site in locations and communities hosting the faculty-led semester abroad group. Students integrate academic and experiential learning throughout the semester, creating space for students to better understand the social, political, economic, interpersonal, and cultural dimensions of their study abroad experiences. Students reflect and discuss topics related to the course theme and the Ole Experience in Practice learning outcomes and develop insights into their academic and vocational interests and skills. OLE CORE: OEP.
Grades
Letter grades are recorded on the student's transcript but only the course in which the Field Supervisor makes the most contributions count in the St. Olaf computed grade point average. Students have the option of taking the terrestrial ecology course for a grade or for S/U (if S/U, no course credit is given where the grade earned is below C).
Field Supervisors – 2024
Paul Jackson & Ann Marie Boyle
RNS 422, jackson@stolaf.edu; annmarie@annmarieboyle.com
Paul Jackson, Professor of Chemistry & Environmental Studies, developed environmental curiosities during his work on dairy farms and through building custom homes to pay for college. In addition to teaching courses across both departments, he co-created the environmental conversations program, encourages off-campus studies, and chairs the Environmental Sustainability Committee at the college. His research interests include emerging contaminants in surface waters, watershed health, sustainable communities, and community participation in environmental solution making. You can find him frequently wading the waters of the Cannon River watershed.
Ann Marie Boyle started her love affair with words early in life and applied those to her work as an entrepreneur and genre fiction author. She has written copy for Fortune 500 companies and charities like the Ronald McDonald House. For nearly a decade, she owned her own communications company, and now, with the publication of the Storyhill Musicians series, her dreams of being a fiction author have come true. She feels lucky to have traveled to five of the seven continents, and she loves big bustling cities–Copenhagen, Sydney, and New York City top her favorites.
Paul and Ann Marie are married and live in Northfield adjacent to the Cannon River where they observe the daily dynamics of this vibrant system. In addition to their own international travels, including life in Copenhagen, Denmark at the start of the COVID-19 pandemic, they have accompanied students in multiple programs to Australia, New Zealand, and Japan.
Contacts
For further information, please contact:
Program Advisor: Paul Jackson, Regents 422, x3404, Email: jackson@stolaf.edu
CURRENT & PAST FIELD SUPERVISORS (#students)
2026 …to be named
2024 Paul Jackson and Ann Marie Boyle (20)
2023 Laura Listenberger and Jay Demas (20)
2020 Michon Weeks and David Weeks (20)
2018 Gary Muir and Sian Christie (23)
2016 David Nitz and Debby Nitz (20)
2014 Steve Freedberg and Kelly Wolford Freedberg (21)
2013 Dave Van Wylen and Pat Van Wylen (17)
2012 Paul Jackson and Ann Marie Boyle (26)
2010 Kim Kandl and Nathan Soland (26)
2008 Paul Jackson and Ann Marie Boyle (24)
2006 Anne Walter and Mike Swift (26)
2004 Ted and Michelle Johnson (24)
2002 Gene and Lois Bakko (24)
2000 Bob and Pam Jacobel (24)
1998 Kathy Shea and Mike Farris (24)
1996 Gene and Lois Bakko (24)
Smith Center for Global Engagement, Tomson Hall 380, X3069; Email: smith.center@stolaf.edu
Persons interested in leading this off-campus program in 2026, 2028, and beyond should contact the Program Advisor