May 7–28, 2017
Opening Reception: Sunday, May 7, 2017, 12–3 p.m.
Commencement Reception: Sunday, May 28, 10:30 a.m.–12:30 p.m.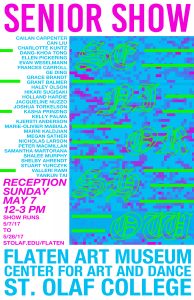 The Senior Show is an annual exhibition and culminating event in the curriculum of St. Olaf studio art majors. Themes from diverse disciplines run through the young artist's work as they draw on academic influences from their four years on the Hill.