Phi Sigma Tau is the international honor society in philosophy. Our chapter works to promote interest and outstanding achievement in philosophy among St. Olaf students by sponsoring a monthly colloquium series at which students present and discuss one another's papers on a variety of philosophical topics. We also bring in guest speakers from other institutions to present papers. Please contact any of the officers at the officer email alias (pst-officers-20-21@stolaf.edu) for more information about our next event or becoming a member or associate of the chapter.
Current Contacts:
President Emma Dougherty
Vice-President Logan Graham
Treasurer Finn Johnson
Secretary Max Bradley
Staff Adviser Brendon Westler
Academic Year 2020-21
Fall
Writing Session 10/1, 11-1
Induction Ceremony 10/15, 11:30-12:30
Student Colloquium 11/5, 11:30-12:30
Writing Session 11/12, 11-1
All events will be held online via Google Meet.
Writing Sessions bring members, associates, and other philosophy majors together to work on peer-editing, writing, or studying. These events are important in improving productivity, promoting camaraderie within the major, and giving junior majors a chance to learn from more experienced students! They are great opportunities to work on midterm or final papers for philosophy classes.
Our Induction Ceremony will celebrate new members and associates for their commitment to high academic standards and the study of philosophy.
Our Student Colloquium will give a student an opportunity to hone their presentation skills and present a research paper or thesis they have been working on. The date / time may change subject to the availability of presenters.
Academic Year 2019-20
Phi Sigma Tau held its fall induction ceremony on Oct. 24, 2019, welcoming four new members including one new board member, Alexis Rufi as treasurer.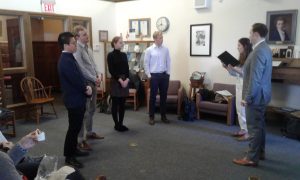 The four inductees.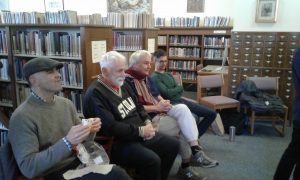 Faculty attendees.
Academic Year 2018-19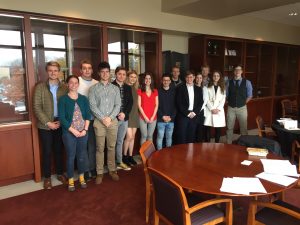 Phi Sigma Tau inductees, October 25 2018.
Academic Year 2017-18
Spring
A faculty workshop and public lecture entitled "The Hiddenness of Divine Hiddenness" were held by Professor Jon McGinnis (University of Missouri – St. Louis) on March 14th. Phi Sigma Tau members and Philosophy majors had the opportunity to have coffee and discuss philosophy with Professor McGinnis before his lecture. The event was sponsored by Phi Sigma Tau, the Philosophy department, Religion department, and the Great Conversation Program.
The Spring Induction Ceremony was held on March 8th.
Fall
The fall colloquium is on November 2 at 11:30 am in HH429. The speaker is Alex Cavender '19. His paper is entitled "Time, A Moving Image of Eternity."
The Fall Induction Ceremony was held on October 5th.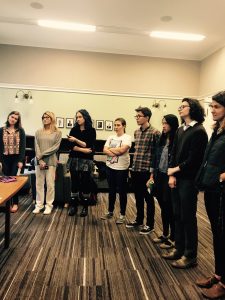 New students being inducted into Phi Sigma Tau.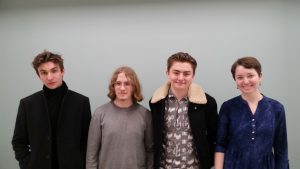 2017-18Phi Sigma Tau Board members (left to right): Dempsey Olsen '18, Alex Cavender '19, Elijah Viola '19, and Elise Steichen '18.
 Academic Year 2016-17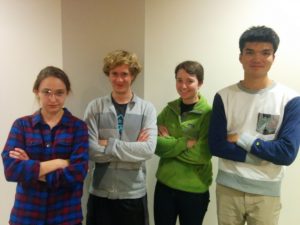 2016-17 Phi Sigma Tau Board members (left to right): Annika Beck '17, Alexander Quanbeck '17, Elise Steichen '18, Zhaoqi Hu '17.
April Colloquium
Annika Beck '17
Thursday, April 20th at 11:30 a.m.
Tomson 316
Annika Beck will present her paper, "The Theaetetus as a Superior Apology."  Dempsey Olsen will provide commentary.
2017-18 Induction
Phi Sigma Tau held its Spring Induction Ceremony on April 6, welcoming nine new full members to the Society: Alexander Betley, Astrid Caruso, Alexander Cavender, Matthew Ferguson, George Grimm-Howell, Christopher Koziel, Merve Mert, Owen Sandercox, and Elijah Viola.  Members also elected the officers for next year: Elise Steichen as President, Alexander Cavender as Vice-President, Elijah Viola as Treasurer, and Dempsey Olsen as Secretary and Historian.  We are immensely proud of our new Phi Sigma Tau members, and look forward to their engagement with the Society and department in the coming years.
February Colloquium
Yishu Dai '17
Thursday, February 23rd, 11:20 a.m.
Tomson 316
Yishu Dai presented her paper, "Understanding Moral Understanding"
October Colloquium
Z Quanbeck '17
Thursday, October 6th, 11:30 am
Location Tomson 316
Z Quanbeck delivered his paper on moral reasoning in the human and divine realms. Z guided listeners through the arguments of his paper, followed by a commentary session by Annika Beck. Then, Z  graciously took questions from the audience, further explicating his points.
Archives for Phi Sigma Tau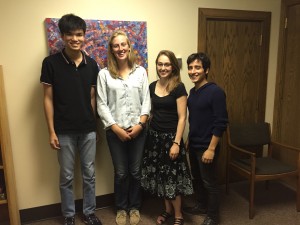 2015-16 Phi Sigma Tau Board members (left to right): Zhaoqi Hu '17, Meredith Varie '16, Annika Beck '17, Pedro Monque '16.
2015-16
Faculty Lecture
Professor Jeanine Grenberg
Thursday, April 28, 11:30 am
Professor Grenberg's lecture is titled "Moral Humility as a Condition for Epistemic Humility."
April Colloquium
Vera Lochtefeld '16
Thursday, April 14th, 11:30 am
Location TBA
Senior Vera Lochtefeld will be presenting her paper concerning gender roles and the philosophy of Lucretius' epic poem De Rerum Natura. Sophomores Elise Steichen and Anna Wolle will be commenting. The colloquium will consist of a 25-30 minute presentation from Vera, followed by 10-15 minutes of commentary, and then it will be open for general discussion. Click here to read the paper.
Everyone is invited to attend, and we would love to see some new faces! Student colloquia are a great way to learn about work other students have been doing and to engage in philosophical conversation.
Induction Ceremony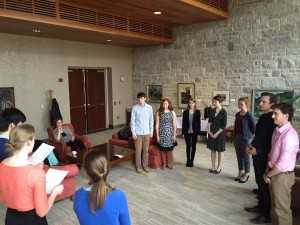 Phi Sigma Tau held the spring induction on March 15th. Nine new members joined the honor society: Philip Boldt ('18), Courtney Kein ('16), Natalie Kopp ('16), Annika Lee ('17), Dempsey Olson ('18), Julia Pilkington ('17); James Rehwaldt ('16), Kirby L. Schoephoerster ('17), Emma Shrum ('16) and Elise Steichen ('18). We are glad that these academically outstanding students can become part of Phi Sigma Tau, and we believe our future events will be even more inspiring with their participation. We were also honored to have two professors attend the induction; Professor D.M. Hutchinson and Professor Swain.
October Colloquium
Kate Villa '17
Thursday, October 22nd, 11:30 am
Holland Hall 516
Kate Villa will be presenting her paper "To Exist or Not to Exist: Reimagining the Non-Consent Problem in Procreative Ethics."  Kate's paper will bring up questions about ethics, existence and wellbeing.
2014-15
Phi Sigma Tau Member Samuel Benson Gives March Colloquium
On March 12, 2015, member Samuel Benson '15, presented his paper entitled, "Who Do You Trust?: Expertise and the Pitfalls of Democratic Decision Making"  for Phi Sigma Tau sponsored colloquium series. The paper, which discussed the epistemic difficulties of trusting any source of expertise in a democratic discourse, was initially reviewed by Margaret Schweiger '15 before being opened to an enthusiastic discussion between faculty and students.  Though unable to solve the epistemic struggles of democracy, the participants enjoyed pizza and quality discussion during the colloquium. Plans are currently underway for another student colloquium in April. If you would be interested in presenting a paper at a colloquium, please contact, Bergen Nelson (nelsonb@stolaf.edu).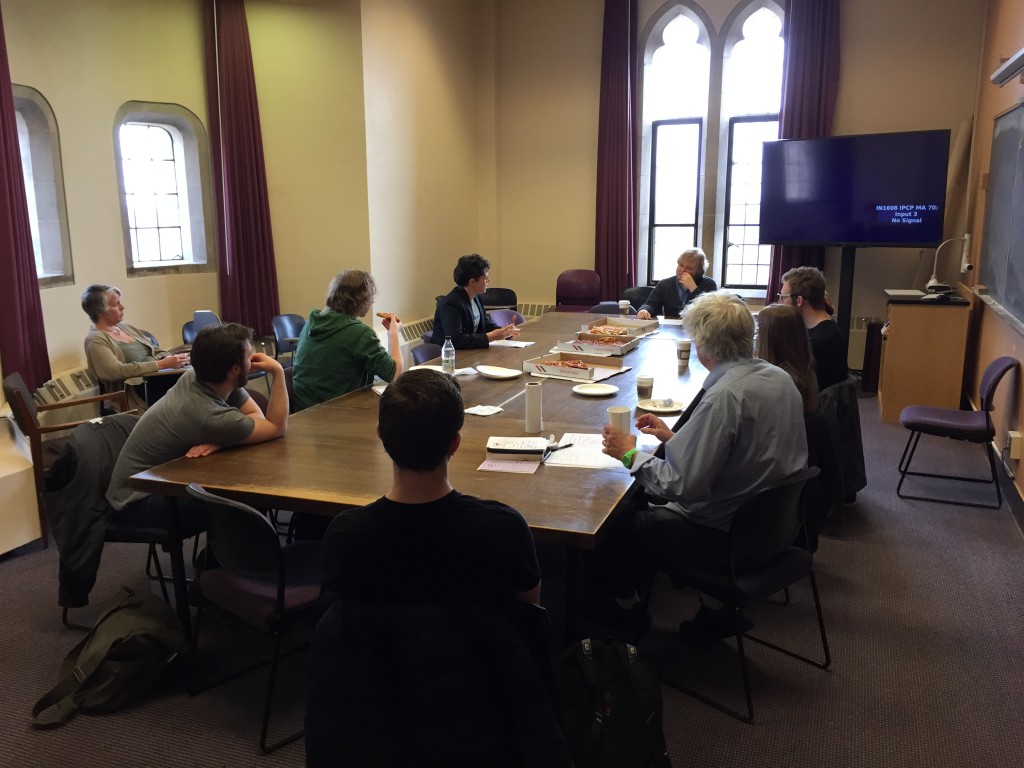 INDUCTION CEREMONY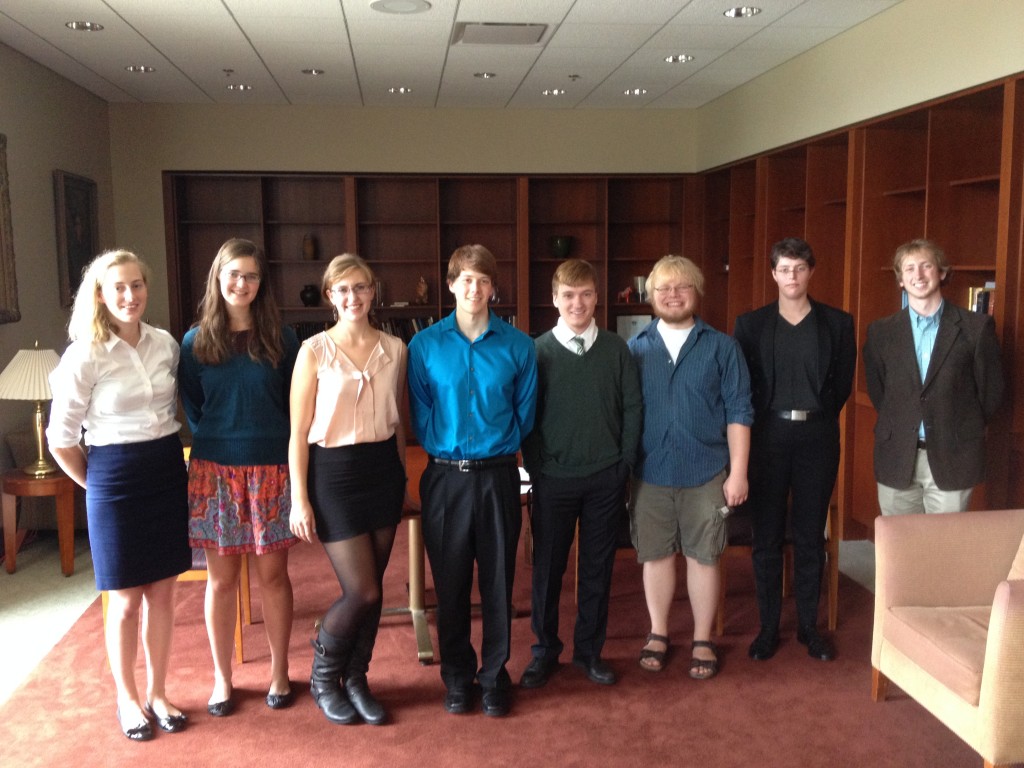 Phi Sigma Tau 2014-2015 Initiation Ceremony
On September 25, 2014, Phi Sigma Tau held their initiation ceremony to welcome and induct new members and associates. After an opening speech by President Bergen Nelson '15, he and Vice-President Meredith Varie '16 led the initiation of ten new members into the Minnesota beta chapter of the honor society. Afterwards, members old and new voted Nelson and Varie to their positions as President and Vice-President respectively, and also elected Mitchell Kampf '15 as Treasurer and Emma Ritter '15 as Secretary.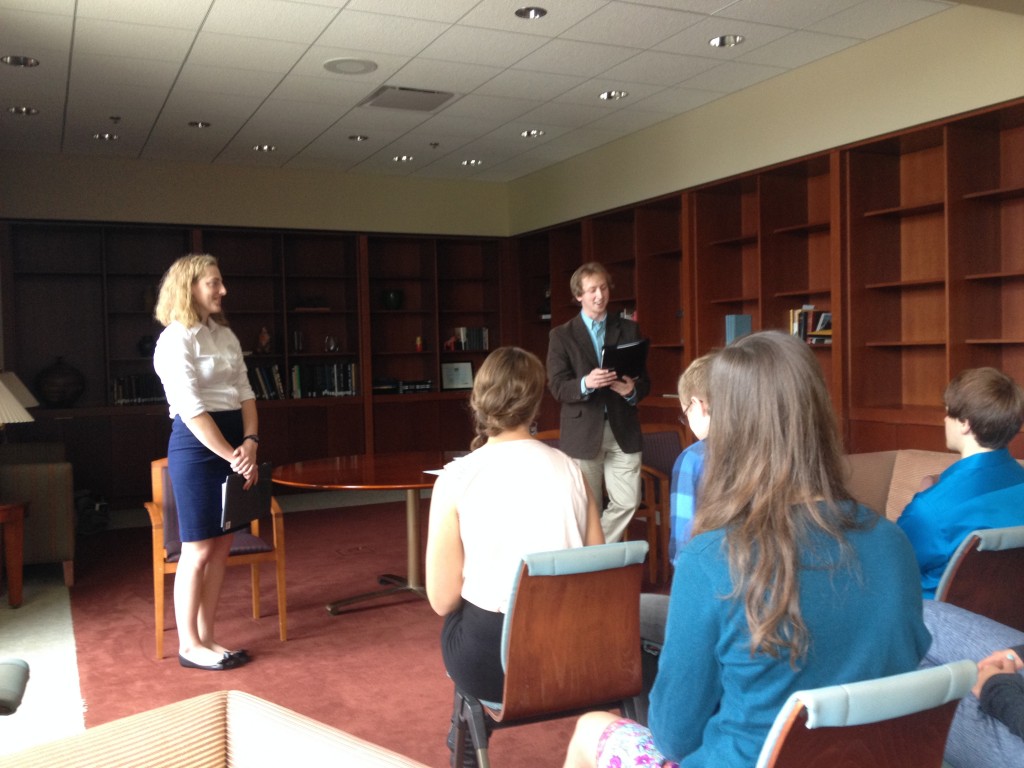 Varie and Nelson then welcomed all associates of Phi Sigma Tau, and invited them to participate in any of the events and colloquiums that were planned for the coming year. A time for refreshment and community was held after the ceremony, and a delicious, thick sugary cake was enjoyed by the students of Philosophy as they discussed issues like the possibility of Moral Expertise and questioned the reality of the cake until they were forced out of the Heritage Room.