2017-2018
Psi Chi Speaker
Tuesday, February 20, 2017
5:30 P.M., Buntrock 142

Olaf W. and Juta R. Millert Memorial Speaker Series in Psychology
Please join us for a lecture by renowned clinical/cultural psychologist Dr. Jeanne Tsai, Professor of Psychology at Stanford University, who will be delivering our Psychology Department's annual Millert Memorial lecture.
Talk Title:  "How Culture Influences Our Emotions"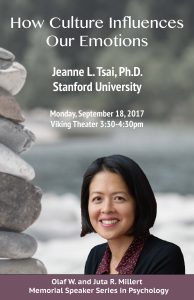 Date/Time: Monday, Sept. 18, 3:30-4:30 pm
Location:  Viking Theater
Abstract: Although most people want to feel good, people differ in the specific positive states they value and ideally want to feel (what we call their "ideal affect"). In this talk, I will describe a series of studies showing that: (1) how people want to feel differs from how they actually feel, (2) cultural factors shape how people want to feel even more than how they actually feel, and (3) these cultural differences in ideal affect have important implications for what people do, how they define health and well-being, and even how they perceive and treat other people. Finally, I will discuss how these cultural differences in ideal affect may play themselves out in clinics, corporations, and classrooms in multicultural societies like the United States.
Bio: Jeanne L. Tsai is currently professor of psychology in the Department of Psychology at Stanford University, and Director of the Stanford Culture and Emotion Lab. She is broadly interested in the cultural shaping of emotion and its implications for health, decision-making, and person perception. Her work is currently funded by the National Science Foundation and has been funded by the National Institute of Mental Health, the National Institute on Aging, and the National Alliance for Research on Schizophrenia and Depression. She is fellow of the Association for Psychological Science, the American Psychological Association Division 8, the Society for Personality and Social Psychology, and the Society for Experimental Social Psychology. At Stanford, she has received the Dean's Award for Distinguished Teaching and the Asian American Activities Center Faculty Award.