2020-2021
Olaf W. and Juta R. Millert Memorial Speaker Series in Psychology
Talk Title: If you say 'gullible' slowly, it sounds like 'oranges':  The neuropsychology of human credulity.
Speaker: Dr. Erik Asp ('03), Assistant Professor of Psychology in Hamline University's College of Liberal Arts, research appointment in the Department of Neurology at the University of Iowa and the director of the Wesley and Lorene Artz Cognitive Neuroscience Research Center.
Date/Time: Monday, May 3, 3:30pm
Link for talk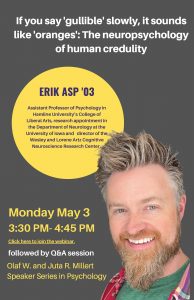 Next-Gen Psych Scholars Program – University of Minnesota
Olaf W. and Juta R. Millert Memorial Speaker Series in Psychology
Talk Title: " Hello? Overcoming Undersociality"
Speaker: Dr. Nicholas Epely '96, the John Templeton Keller Professor of Behavior Science and Director of the Center for Decision Research at the University of Chicago Booth School of Business
Date/Time: Monday, Oct. 5, 3:30-4:30 pm
You can find a recording of this talk here: https://www.stolaf.edu/multimedia/play/?e=3172
Abstract
Human beings are one the most social species on the planet, whose health and happiness depends largely on forming and maintaining positive relationships with others.  And yet, people often routinely forgo opportunities to connect with others in positive ways. One reason, we find, is because people consistently underestimate the positive consequences of reaching out and connecting with others.  From talking to strangers to expressing compliments to revealing personal secrets to engaging in constructive confrontations, our experiments reveal a systematic bias to underestimate how positively these actions will make others feels.  Misunderstanding the positive consequences of social engagement may leave people being less social than would be optimal for both their own, and others, wellbeing.
Bio
Nicholas Epley is the John Templeton Keller Professor of Behavior Science and Director of the Center for Decision Research at the University of Chicago Booth School of Business. He studies social cognition—how thinking people think about other thinking people—to understand why smart people so routinely misunderstand each other.  He teaches an ethics and wellbeing course to MBA students called Designing a Good Life. His research has appeared in more than two dozen empirical journals, been featured by the New York Times, Wall Street Journal, CNN, Wired, and National Public Radio, among many others, and has been funded by the National Science Foundation and the Templeton Foundation.  He has been awarded the 2008 Theoretical Innovation Award from the Society for Personality and Social Psychology, the 2011 Distinguished Scientific Award for Early Career Contribution to Psychology from the American Psychological Association, the 2015 Book Prize for the Promotion of Social and Personality Science, and the 2018 Career Trajectory Award from the Society for Experimental Social Psychology.  Epley was named a "professor to watch" by the Financial Times, one of the "World's Best 40 under 40 Business School Professors" by Poets and Quants, and one of the 100 Most Influential in Business Ethics by Ethisphere.  He is the author of Mindwise: How We Understand What Others Think, Believe, Feel, and Want. Perhaps most important, he is an Ole ('96). Um Yah Yah!
2019-2020
What Can I Do with a Psychology Major? Alumni Showcase and Networking Event
Wed, Feb 19 at 7- 8:30 pm
Buntrock Commons, BC225 C Sun Ballroom
To register go HERE.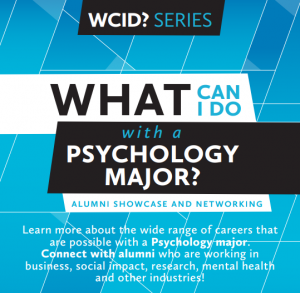 CV Workshop
Are you starting to think about summer jobs, future careers, and/or graduate school? Get started on your CV early!
Psi Chi is hosting a ! Next Monday, November 18th, at 6:30pm in Buntrock 145. A Piper Center Peer Advisor will be leading the session with several juniors and senior psych majors to give advice. Treats will be provided!
What is a CV? A CV, Curriculum Vitae, is a document that describes your education, career, achievements, awards, honors, and publications that is used for applying to research positions, graduate school, and fellowships!
It's important to have a well-crafted CV, so come to this event for psychology-specific information to include!
Alumni Speaker – Brian Felton
Psych club is proud to host Brian Felton who is an alumnus from the class of '87. He graduated with an undergraduate degree in Psychology and pursued a postgraduate degree in Law at the University of Minnesota. Brian will be speaking to us about how his educational experiences impacted his career journey.
Date/Time: Wednesday, Oct 23, 4:00-5:00 pm
Location: Regents Hall 124
Olaf W. and Juta R. Millert Memorial Speaker Series in Psychology
Talk Title: " Stereotype Threat and Identity Threat: The Science of a Diverse Community"
Date/Time: Monday, Oct. 7, 3:30-4:30 pm
Location:  Viking Theater
Abstract:
Drawing on stereotype threat and social identity threat research, this talk will address the why, what and how of diverse learning communities: why they are important, a working hypothesis about what is critical to their success and what research reveals about how to achieve that success. The talk's practical aim is to identify features of diverse learning communities—schools, universities and academic disciplines—that while good for all students, are especially helpful for minority students generally, and for women in STEM fields. The talk will also explore the psychological significance of community and its role in learning.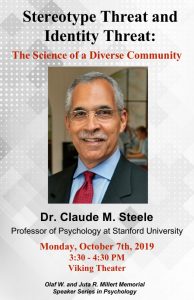 Bio:
Claude M. Steele is a Social Psychologist and a Professor of Psychology at Stanford University. He received his Ph.D. in Social Psychology and Statistical Psychology from Ohio State University and his B.A. in Psychology from Hiram College. Dr. Steele is renowned for his work on stereotype threat and its application to minority student academic performance. His research also examines self-evaluative processes (e.g., self-image, self-affirmation, identification) in the school achievement of black Americans and women in natural sciences, as well as the role of self-regulation in addictive behaviors. In 2010, he released his book, Whistling Vivaldi and Other Clues to How Stereotypes Affect Us, summarizing years of research on stereotype threat and minority students in higher education.
Dr. Steele is elected to the American Academy of Arts and Sciences, the National Academy of Sciences, the National Science Board, the National Academy of Education, and the American Philosophical Society. He currently serves as the Chair of the Russell Sage Foundation Board of Directors, and on the board of the John D. and Catherine T. MacArthur Foundation. He is a Fellow for the American Institutes for Research and the American Academy of Political and Social Science, and previously served as President of the Society for Personality and Social Psychology, President of the Western Psychological Association, and on the Board of Directors of the American Psychological Society. He has also served in academic leadership positions as the Executive Vice Chancellor and Provost at UC Berkeley, the I. James Quillen Dean for the School of Education at Stanford University, and as Provost of Columbia University.
Psych Faculty in the News – Jessica Benson
Researchers study the benefits of discussing discrimination
St. Olaf College Assistant Professor of Psychology Jessica Benson's research has found that when people disclose their emotions about discriminatory events in their life, they have a boost in cognitive performance.  MORE
2018-2019
Olaf W. and Juta R. Millert Memorial Speaker Series in Psychology
Talk Title:  "The Altruistic Brain"
Date/Time: Monday, Oct. 1, 3:30-4:30 pm
Location:  Viking Theater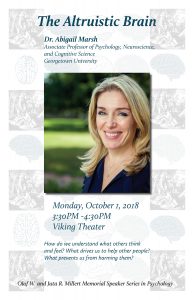 Abstract:  Every year in the United States, over 100 Americans donate one of their own kidneys to a stranger. Dozens more receive the Carnegie Medal for heroism for rescuing strangers from danger. The question is: why? What drives people to take risks and make sacrifices to help strangers? Our work includes behavioraland brain imaging research aimed at understanding the roots of extraordinary altruism. Results of our behavioral and brain imaging research suggest that extraordinary altruists possess neural and cognitive characteristics that may predispose them to high levels of care and compassion. In terms of their brain structure and function, they look the opposite of highly callous individuals (such as psychopaths). They also show unusually strong connections between brain areas that support parental care. These variations may increase altruists' capacity for empathic responding and bias them toward protective responses to others' distress. Together, these results suggest that extraordinary altruism may result from variations in established neural and cognitive phenomena that support social and emotional responsiveness. They also suggest that human altruism may be subserved by ancient neural systems that support parental care.
Bio:  Abigail Marsh is Associate Professor of Psychology, Neuroscience, and Cognitive Science at Georgetown.  She received her Ph.D. from Harvard University and conducted post-doctoral research at the National Institute of Mental Health. Her research is aimed at answering the questions: How do we understand what others think and feel? What drives us to help other people? What prevents us from harming them? She addresses these questions using functional and structural brain imaging in adolescents and adults, as well as behavioral, cognitive, genetic, and pharmacological techniques. She is the author of over 70 publications in journals that include Proceedings of the National Academy of Sciences, Nature Human Behavior, American Journal of Psychiatry, and JAMA Psychiatry, as well as a trade book about her research on the brain basis of empathy and compassion called THE FEAR FACTOR (2017, Hachette). Her work has received awards that include the Cozzarelli Prize for scientific excellence and originality from the Proceedings of the National Academy of Sciences, The S&R Kuno Award for Applied Science for the Social Good, and the Richard J. Wyatt Fellowship award for translational research from the NIMH.
****************************************************************************
INAUGURAL PSYCHOLOGY IN ART COMPETITION
Congratulations to
Corinne Kieras, 
 winner of the 2018 Psychology in Art competition.  The 
Psychology
 Department hosted an 
art
 competition to showcase how 
Psychology
 inspires 
art
. The competition was open to many mediums of 
art
, including paintings, d
rawings, printmaking, photography, sculptures, ceramics, and mixed-media. 
First Place                  
Artist:       CORINNE KIERAS (Seattle, WA)
Major:      Psychology and Computer Science, 2020
Title:         Nature vs. Nurture
Artist Statement: The aim of this piece is to surprise the viewer through the optical illusion that is presented but also allow the viewer to think about the themes that are presented. At the time this piece was created, I was interested in exploring the psychological concepts of nature versus nurture. In the psychology class I was taking at the time, these concepts were defined separately. Yet, the more I thought about what nature and nurture mean, I realized that they are inherently intertwined. In addition, I realized that dividing them into two separate concepts may inhibit our ability to empathize. Often, we view others behavior as their nature, while we view our own behavior as stemming from our nurture. Yet, these two concepts should never be thought of as two separate entities. Without our inherent nature, we would not be able to nurture those around us or learn from experience and vice versa. This message is what I hope to express through my piece. In optical illusions, it is almost impossible to view both parts (i.e. the woman and the tree) simultaneously, but seeing one without seeing the other inhibits the ability of an individual to absorb the entire picture.
Second Place
Artist:       ELISSA KRAUSE (Johnston, IA)
Major:      Studio Art and French, 2020
Title:         Schema
Honorable Mention 
Artist:       LESLY RAMOS (Chicago, IL)
Major:      Studio Art and Latin American Studies, 2020
Title:         Estereotipos del Cerebro (Stereotypes of the Brain)
2017-2018
Psi Chi Speaker
Tuesday, February 20, 2017
5:30 P.M., Buntrock 142

Olaf W. and Juta R. Millert Memorial Speaker Series in Psychology
Please join us for a lecture by renowned clinical/cultural psychologist Dr. Jeanne Tsai, Professor of Psychology at Stanford University, who will be delivering our Psychology Department's annual Millert Memorial lecture.
Talk Title:  "How Culture Influences Our Emotions"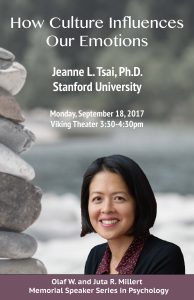 Date/Time: Monday, Sept. 18, 3:30-4:30 pm
Location:  Viking Theater
Abstract: Although most people want to feel good, people differ in the specific positive states they value and ideally want to feel (what we call their "ideal affect"). In this talk, I will describe a series of studies showing that: (1) how people want to feel differs from how they actually feel, (2) cultural factors shape how people want to feel even more than how they actually feel, and (3) these cultural differences in ideal affect have important implications for what people do, how they define health and well-being, and even how they perceive and treat other people. Finally, I will discuss how these cultural differences in ideal affect may play themselves out in clinics, corporations, and classrooms in multicultural societies like the United States.
Bio: Jeanne L. Tsai is currently professor of psychology in the Department of Psychology at Stanford University, and Director of the Stanford Culture and Emotion Lab. She is broadly interested in the cultural shaping of emotion and its implications for health, decision-making, and person perception. Her work is currently funded by the National Science Foundation and has been funded by the National Institute of Mental Health, the National Institute on Aging, and the National Alliance for Research on Schizophrenia and Depression. She is fellow of the Association for Psychological Science, the American Psychological Association Division 8, the Society for Personality and Social Psychology, and the Society for Experimental Social Psychology. At Stanford, she has received the Dean's Award for Distinguished Teaching and the Asian American Activities Center Faculty Award.